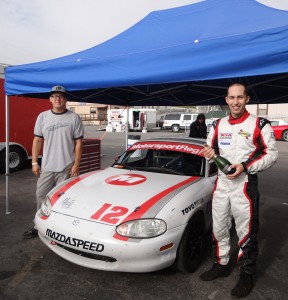 Last time I did it, I was quitting my job and taking a European sabbatical six years ago. Bitten by the travel bug a few years prior on a spontaneous trip to Spain, it was a transformational experience in my life and one that has since led to circling the globe twice and exploring remote corners of the planet. This week I'm feeling the same way. At Mazda Raceway Laguna Seca last week, I won Round #13 of the San Francisco Region SCCA Spec Miata season clinching the championship win for myself and the people and companies that have supported me during the year.
Like with my sabbatical, this accomplishment didn't happen overnight. Last year I sat down and planned a multi-year program to test my skill in driving a racecar. Although I had reasonable success with limited time in 2005 and 2006, I had not put together a complete season or run for a championship. I made it on to the front row and podium several times against guys who won the SCCA Run Offs, raced in World Challenge and Grand-Am but never put it all together nor took pole position nor won a race. Close, but no cigar. So I drafted a personal ladder that each year would test my competitiveness and if I could prove to myself that I belonged, I would continue forward to the next level. Step number one was to challenge at the regional level in the competitive San Francisco Region Spec Miata program where each race is contested by an average of fifty equally prepared cars. The cars aren't that fast in a straight line but the field size and limited preparation options place an emphasis on driver skill and consistency.
Starting in late 2009 with a rolling 1999 Mazda Miata chassis and my crew chief Thomas Barrett, we stripped the car to the tub and rebuilt it paying attention to all of the details. This is my third racecar but the first I've built; I knew what I wanted in the cockpit and we knew what we needed to be competitive in the drivetrain and setup. Thanks to SafeRacer, I had the best of the best in driver gear and safety equipment and we worked with Mike Haag of Haag Performance to make sure we had the motor to compete. Despite a generous build schedule, we fell behind due to illness and missed our first two shakedown opportunities. We rolled the car off the trailer before the first race weekend with less than sixty minutes of running time and parts still waiting to be bolted on. By all measures though, the car ran flawlessly on the test day and finished 7th in the Saturday regional while a torrential downpour was too much for our tires and we sat out the second race using up one of our two permitted drops.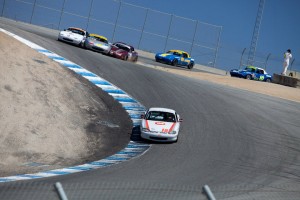 Thankfully our preparation, though late, paid off and things got better. I scored my first pole position and race win in round 3 at Laguna Seca. A group of fast racers from the Pacific Northwest came down for rounds 5 and 6 and I scored another pole and win and a 3rd place finish. We had found a groove for the car, the driver and the team and our confidence was high. The car was still new though and after a failed wheel bearing at Laguna (which we caught and repaired without issue), we doubled down on between-race prep to make sure mechanical issues wouldn't keep us on the sidelines.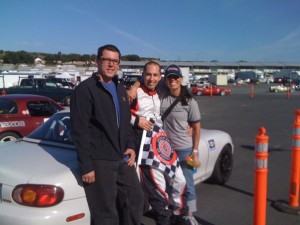 Rounds 7 and 8 at Thunderhill were redemption after our slow season starter with a pole position and both race wins falling our way putting our car into the championship lead by just a few slim points against who was ultimately our primary challenger, the #51 of Darin Polsley.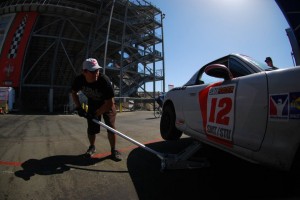 Rounds 9 and 10 were the most challenging for our car at Infineon Raceway because our minimum weight is nearly 200# heavier than earlier model cars. The constantly turning circuit was burning up our rear tires and causing the car to lose its handling later in the race. The car was crazy fast in qualifying taking both poles but it was a real dogfight to stay out in front in the 30-minute races. Polsley and I split the weekend each taking a 1st. We rewarded our sponsors, friends and families with a paddock party on Sunday and then put on a proper show as we won the non-points Spec Miata Challenge race.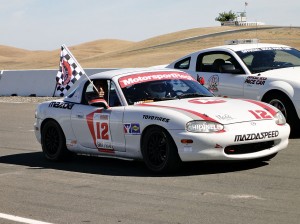 We found ourselves back at Thunderhill for Rounds 11 and 12 and the fast cars from Oregon once again joined us as well as former regional champ and Run Offs podium finisher Matt Cross. Despite the good results earlier in the season, we've struggled at Thunderhill to balance the long fast sweeping parts of the course with the tight twisty bits. The weight difference really shows up in the quick transitions and off-camber turns between T2 and T6. Tim Barber from TFB Performance played an instrumental part (all season long) to find the right setup to be P1 for race 11. Then I made my first serious driving mistake of the season and spun from the lead finishing 6th while Polsley finished 2nd. I was not happy! I was down on myself, knowing that I had thrown those points away and tightened up the championship race by being too aggressive. I slept terribly that night, just replaying the incident over and over again in my head but come Sunday I got my head together, put the car on pole again and made a dramatic last-corner pass for the win while Polsley did not finish after hitting a tire wall and bending a tie rod.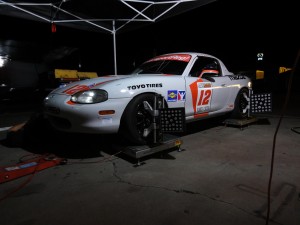 All of this jockeying back and forth only set us up for a big finale. The final race was double points which meant my slim lead over Polsley counted for nothing. Although I had won 7 of 12 races, Polsley usually finished second so whomever finished ahead of the other would be the regional champion. Everyone I spoke to loved how close the race was and the drama continued as Polsley just edged me out for pole position in the final lap of split qualifying. But as the title of this post states, the cards fell my way and a spin in turn six by Polsley helped me drive to my 8th win and the season championship. My #1 fan, radio operator and incredible wife Jennifer met me at the finish line for a victory lap that both of us will remember for a long time. Here are the final points:
| Driver | Total Points | Points (w/ drops) |
| --- | --- | --- |
| #1 – Brian Ghidinelli | 596 | 564 |
| #2 – Darin Posley | 558 | 544 |
| #3 – Tommy Olivier | 483 | 483 |
While this is a just one small feat in a local racing series, the emotions I felt were as powerful as what you see on TV after a big race: my team set out with a plan, we worked hard to meet our goals and we were rewarded for our hard work and consistency with a championship. I've succeeded at meeting my own (demanding) goals of my ladder system and before the trophies are handed out on November 14th, we're already planning the next step: SCCA National racing for 2011. It's going to be a much deeper pool both of talent and money and we'll be spending a lot of time at tracks we've never raced like California Speedway, Willow Springs and Portland International Raceway. If we qualify for the superbowl of amateur racing, the SCCA Run Offs, we'll ship everything back East to Road America in Wisconsin to see how we stack up on the National stage against the best drivers and cars in the country.
Thanks again to everyone who supported us financially and emotionally and to everyone who came out to the track. We hope you'll be back next year as we try this crazy thing again!