Authored By Brian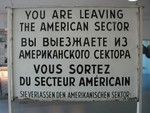 Given that I've quit my job and am in the process of moving to Europe, "I did it" could apply to a number of items. At the moment, it refers to shaving my head. I've always wanted to do it and I figured with at least a couple months of hiding out in the European cities and countryside that I could look like a complete fool without harming my self-esteem.
So now I'm a little less hairy but remarkably quicker when getting ready in the morning. With my brother and father, I'm spending the first three weeks sightseeing between Berlin and Rome. Starting out, the itinerary looked like Berlin-Prague-Munich-Lago di Garda-Florence-Rome with a variety of breathtaking side stops and overnights in our transit phases.
I wanted to get some of this down in writing before I forget everything so this first entry is a pretty lengthy account of the fun, funny and trying aspects of life in a foreign country where you don't speak the language(s).
The groundwork for this trip started out late last year as I labored away on a project at work as a "flashcoder" developing a multi-channel application in Flash MX for a large manufacturer. I was brought in primarily as a development resource and was spending too much time programming and way too much time in Flash to stay sane. The idea of doing something radical like heading to Europe for a long period of time took root and brewed. It would nearly percolate each time the application stopped working and Flash refused to give me a meaningful error message. My optometrist prescribed goggles to stop me from clawing my eyes out.
Then, at a beautiful weekend racing at Laguna Seca in Monterey, CA, I had a really inspiring conversation with fellow racer Joe Elwell who told me about five years he spent living in Germany and Italy. He described some of the things he did and summed it up by declaring it was the best time of his life and he wouldn't give it up for anything. He said he did it when there was nothing to hold him back – no house, no wife, no kids, no permanence that prevented him from picking up sticks and trading spaces for awhile. Realizing that my life is in very much the same place, the seed had been planted.
I began thinking about places to go and things to do and by January, I had decided that I was quitting my job at IconMedialab in San Francisco to pursue the fantasy. I sold my racecar, found the right time to make an announcement and broke it to my team. Things at Icon had definitely turned between the time I made up my mind in January and when I made my announcement in May so I exited on a "leave of absence" with an anticipated return date of October 1. I'm not sure if I should stay or go but that's a decision I don't yet have to make.
The first step was to sell off my extra junk, pack up my life and put it into storage. It's a daunting task to decide what goes into your luggage for the next several months. I'm by no means a fashionista; picking out my daily outfit is neither systematic nor always well executed. Knowing I need to figure out a fixed set of outfits for the next several months is downright scary. Thankfully I had some key help in both the packing and the wardrobe selection. Other than U-Haul "promising" me a 14' truck and "providing" me with a 10' truck in which to move my belongings into Hunter's Point shipyard, consider it another to-do checked off my list. I might not ever see that stuff again, but at least it's not costing me more than a grand to keep my apartment each month.
Although I'm treating this like a vacation, I'm fully planning to work on my motorsports venture Pukka Software and do some contract work to pay my bills. My IBM T41 Thinkpad is a great machine but I couldn't imagine working several hours every day looking down at the screen and using the trackpoint. The last detail for me was to buy a Pelican 1620 case with high-density foam and pack up a box of computer equipment like flat screen monitor, keyboard, mouse, wifi router and backup hard drive to take with me. I'm only planning to unpack it when I'm situated somewhere for several weeks at a time and need to do some real work. It's very much an experiment so we'll see how this plays out.
The second step was spending a week in New York City working for IconMedialab with our anchor customer, a financial services firm. I was there to perform some interaction design research such as performing contextual inquiries to find improvements for their key applications that weren't being uncovered in the engineer-driven XP process. One of my best friends from college, Jerry, lives his fabulous lifestyle in Manhattan as a designer at Perry Ellis women's wear. Perry Ellis may not sound like Gucci, but these guys are on a roll right now. I toured their office and was disappointed to find not a single Victoria's Secret model trying on clothes. Bogus.
I love Manhattan. I've spent a week here and a week there over the past few years thanks to having some clients based there. I've never had a bad experience. Sure, it's expensive, sometimes hot and crazy humid, and it's noisy 24/7, but that, to me, is the draw of the place. You don't go to Vegas because you want a quiet respite and you don't go to New York because you want to go antiquing. Although if you're into antiquing, you might consider offing yourself anyways. I often say that New York is the only other place in the states that I would really like to live. It's got an incredible energy, attitude, food and, of course, nearby racetracks like Watkins Glen. Although I was "working", I had as much fun as any other vacation there and it was refreshing to spend some out-of-office time with my coworkers. Besides seeing a circus-like acrobatic show gone rock-n-roll called La Guardia, the only other excitement was watching Kelly, a rock star party girl friend of Jerry's, pass out after two drinks hitting head first on the sidewalk. She gave herself a bump the size of a golf ball on her forehead and a ride downtown to St. Patrick's hospital courtesy of the NYFD. I hope she has medical insurance.
The Fourth of July weekend I spent in Jerry's apartment on the upper West side about three blocks from Central Park. I took a nice jog through the park Saturday morning which is such a great place to exercise. The park, probably best recognized in photos of a large meadow with skyscrapers looming in the background, has a wide variety of treasures including a little carnival, some restaurants, several ponds and I swear I saw a petting zoo through the sweat. Just don't go too North in the park or you'll wind up in the Bronx and out of breath. The fireworks show Sunday night did not disappoint as the city provides five barges full of China's best ready to light up whatever part of the East side you're at. Standing a few blocks back, the reverberations of the sound in the city canyons was impressive. It added a subwoofer component you would normally get only in a theatre making you really feel each boom. Very cool.
It's the fifth of July and that's the same date as on my departure ticket. A call to Jerry's Chinese car service turns up a $38 flat rate ride in a Lincoln to JFK. We might have driven through New Jersey given the ass-backwards route the driver took but there's no complaining to be had; I arrived on time and caught my Air France flight with no drama even including the inspection of my Pelican case.
The flight from JFK to Paris (CDG) would take me to meet my brother Steven and father Dan where we would then take the same flight to Berlin (STX). Then again, what are the odds that Air France would deliver me on time? Somehow, even with a scheduled two hour layover, I missed my connection flight. Since I didn't have the name of the hotel in Berlin, I wasn't sure how I was going to meet up with my brother and dad but I planned to worry about that when (if…?) I arrived. Thankfully, there was another flight just a couple hours later. As I turned around to look for a place to use my newly printed Air France "mea culpa" voucher for a free sandwich and drink, Steven and my old man are walking straight towards me! That's a welcome omen of luck for the trip ahead.
Let me describe my traveling companions. My brother graduated two years ago from UC Davis and is a hardliner Christian. He has been working as a bookslinger at Barnes & Noble in Orange County for the last nine months. He's been complaining about being broke so he decided to fix that by volunteering for $450 per month at a homeless shelter in Jacksonville starting at the end of July. He's genuinely an idealist yet to be broken by the red tape that society shoves down your throat each day forcing conformance to our sex, drugs and rock-n-roll society. Although I admire his spirit, I hope he never looks back on his decisions with disappointment. It's tough going on the straight and narrow so say a prayer for him.
My dad is senior partner at a CPA firm in Redding, California and does very well. We used to butt heads at every possible chance before I went to college but absolving him from the responsibility of making my daily routine on my behalf, our relationship really improved. My parents loaned me money when I started VFIVE in 1998 and I have relied on my dad many times for business and financial advice over the years. I think of him quite fondly now whereas I used to consider him quite an adversary. Permitting fun to occur was not dad's strong point back in the day.
The three of us are spending the first 18 days together touring by car from Berlin to Rome before they return home and I head to Madrid.