Travel Gear Archives
Traveling naked is frowned upon in most places. Here's what I'm carying with an emphasis on the technology I tote.
Wednesday, October 11th, 2006 by Brian
Friday, October 6th, 2006 by Brian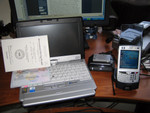 Both of my big purchases for the trip showed up today, the Fujitsu P1510D Lifebook laptop/tablet and HP HW6915 quad-band GSM phone with Wi-fi, bluetooth and GPS. Pictured next to my Indian Visa and Int'l Driving Permit, you can see the relative size of the Lifebook. …
Wednesday, September 27th, 2006 by Brian
The technology I'm hauling around for 7 months to stay connected.