Authored By Brian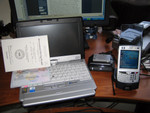 Both of my big purchases for the trip showed up today, the Fujitsu P1510D Lifebook laptop/tablet and HP HW6915 quad-band GSM phone with Wi-fi, bluetooth and GPS. Pictured next to my Indian Visa and Int'l Driving Permit, you can see the relative size of the Lifebook. It's tiny. Kind of thick, but tiny. The bloody phone is half the size! Tiny!
Not all was chocolate and roses though; I bought the HP from an Ebay seller in Hong Kong and sure enough, the box showed up with a European wall plug format. D'oh. The good news is the USB charger/cradle that was included (along with a bonus 12v car charger) so after installing Microsoft ActiveSync, I had it connected, powered up and charging the extra capacity battery that also came with my auction.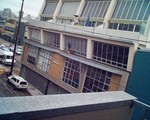 Matching its claims, I took a quick snap from my balcony with the GPS enabled and was able to map the location using mobile MapQuest. The EXIF data shows the latitude and longitude tagged. This serves a couple of purposes… first, we can tag where photos come from, either to backup pictures taken on a "real" camera or to help us locate "where we were" when we're off the beaten path. Second, we can use it as a navigational aid. Take a picture of where we start from, go meander around some foreign city or countryside and let the voice-spoken turn by turn directions navigate us back to our start point. Might also use it to make sure Cabbies aren't taking the "scenic route" like my friend in Cairo.
I've only turned the Fujitsu on for about two minutes and, for a computer, it's really cute. The fact that you can pack a full computer into this form factor is stunning and it's got this cool pop-out stylus and an SD card slot that I can use to grab my pictures at any time. I'm going to stuff both of these along with my Canon and iPod into a watertight, crush-proof and dust-proof 2.5lb Pelican 1080 Hardcase. I've used a Pelican 1640 before and it was absolutely bulletproof. This case will give me peace of mind if I need to check my bag at the airport, slip while trekking Machu Picchu or drop it into the Ganges River.
We also ordered our packs this week and Jennifer already received hers. We were looking at a very highly rated Eagle Creek Switchback 22″ pack with wheels. Then I read this page on OneBag.com and started questioning whether or not I wanted to pack around an extra 4-6lbs just to have wheels for traveling to countries that don't have paved roads. We're in this gray area between full-on backpacking and long-term luggage traveling. We need to be able to carry everything but we probably won't be carrying it for long stretches very often. We instead went with the Explorer LT, also from Eagle Creek, which is pretty much the same bag as the Switchback but without the weight and storage limitations of the wheels and handle setup. I hope I don't regret this in the long run. I saved 6lbs on switching bags and then added back 2.5lbs for the protection of the Pelican case.
Now if I could only find a pair of light hiking/trail running shoes I liked…