Fantastic race weekend coming from 7th to best a field of the 45 best racers on the west coast: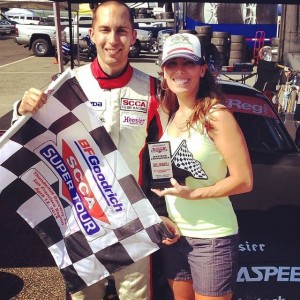 Spec Miata came in its traditional form, with six cars up front in the lead back through the early stages. Kyle Kaiser's metallic blue No. 88 Miata was the first of the lead group to fall back when he spun, and with two to go it was down to Charlie Hayes, Tyler Vance, Brian Ghidinelli and Joey Jordan.

Hayes, in the 22 TFB/AIM Tires/RM Autosports Miata, and Vance, in the No. 85 TMG/RM Autosports/Sparco Miata, were racing hard to hold the top spot when they went side by side, and then off the track, in turn nine on the way to the one to go board. Both Ghidinelli and Jordan took advantage of the off to move into the lead and begin the final lap.

Ghidinelli kept Jordan behind him for the final circuit, and entered the last turn conscientiously reminding himself not to overcook the corner. With that in mind, Ghidinelli's No. 12 RaceHero.io/MotorsportReg.com Mazda Miata probably slowed too much, and Jordan got a run up the front straight to the finish. It was too little, too late for Jordan's No. 47 Minxnails.com/Protomotive Miata, and Ghidinelli crossed the stripe in front by less than a car length.
Next up, Laguna Seca… and then onwards to the SCCA Runoffs in October.