We bought a fancy tempur-pedic mattress not long ago. At first I was sleeping like a baby. Now I'm tossing and turning again. I don't think it's related to the mattress, which is great, but rather my own sleep cycles, stress, etc.
I decided to get nerdy and I ordered a WakeMate. It's a bluetooth enabled wristband you wear while you sleep that talks to your android or iphone. It records when you're awake vs. sleeping and attempts to wake you up when you will be the least groggy.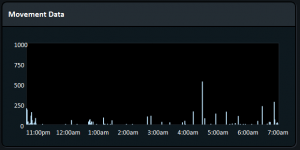 This is my movement data from last night. I'm going to monitor for awhile before I draw any conclusions but it can't hurt to try and improve the quality of my sleep if I can't solve it through quantity.