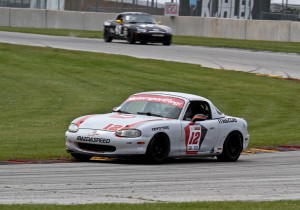 I am back from Road America where I raced in the June Sprints, probably the 2nd most prestigious amateur road race in the country. I had an eventful week to say the least which ended with a gamble and poor result but overall had a good time.
My transport to the Sprints wound up blowing his T1 Corvette motor and hitting the wall in his first session at an open track day on Monday ahead of the race. He packed up his car and left, leaving me stranded with not so much as a torque wrench to my name. The guys from Long Road Racing were testing an MX-5 and SM and were nice enough to let me use their impact guns and jackstands so that I could at least rotate tires. I was running mid-pack times on junky tires in my first couple of sessions but without any tools I couldn't really make a lot of setup changes so I focused on getting comfortable with the track and getting my braking points figured out. Road America is 4 miles long and we get into 5th gear three times which is unusual for (west coast) Spec Miata.
Short video of qualifying through Canada Corner
Thankfully once the official event started, Jason Hoover and AMG were supporting me. It was like a high school reunion with Justin Hall present as part of the concurrent MX-5 Cup race and Tony Silva helping run AMG's show. Lots of fun to be around old friends and have some familiar faces since everything else was new: track, racers, cars, setup, fuel, etc.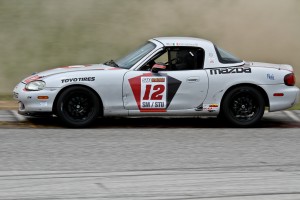 SM allows adjustable fuel pressure and timing this year and from the California 87 I usually run here, the spec'd 93 (at a bloody $9.50/gallon!!!) did not make the car happy. lumpy/crappy idle and with a brand-new AFR gauge in the car, we weren't 100% sure how much to adjust the pressure. Without a truck or trailer, there was also no way to get to a dyno so we had to wing it. I was warned in advance that the top 10-15 '99 miatas would be sporting 128-130 horsepower and they weren't joking. I had to drive the wheels off the car to stay in the front runners draft and after the two qualifying sessions I sat P6 out of 45 cars.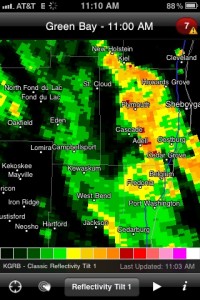 Then the fun began. While rain was forecast all weekend, Saturday held off but Sunday would not bring the same luck. Radar showed a big front moving towards the track and at the 10 minute mark, Hoover made the call to switch to rains and we rolled the dice. We were the only car up front on rains but a grid worker mistake and subsequent failure to correct the situation resulted in the P1-P10 cars starting P11-P20. Yes, you read that correct, I started P16 and the pole sitter started P11! Major cluster.
The race was a scheduled 13 laps and we had incidents right away. With all of the slower cars up front, I think the field was 5 wide at 115mph going into T5 and it was ugly with a lot of bent cars. I was trying not to give up too many spots running on brand new full-tread Toyos, biding my time until the rain came. There was a black flag all after about 4 laps because of the number of safety trucks on course and the general lack of respect that the drivers were showing for hot tows. At this point, we're thinking we're golden: the weather is taking a bit long to get here, but here's a little extra time for the race to come to us.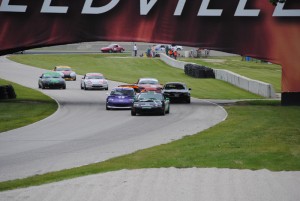 Race restarts and a few laps later, we get the first sprinkles. We're working lap 10 at that point and by the time we come out of Canada corner, it's full on raining and suddenly everyone is sliding around but us. Yes! I started using my advantage on lap 11 and passing cars under braking into T5, T8, before the Kink and Canada corner. I'm thinking we made the right call, there's a really good chance that in the next two laps I can make up all that time and win this thing. Then I crest the hill coming towards start/finish and…. they throw the checker! Two laps early, the checkered is out and the race is over and I finished P16, right back where I started.
What a week! On one hand it was a great week/end for me: drive a (great) new track, meet some new people and get a bearing for where we stand on the National stage competitively.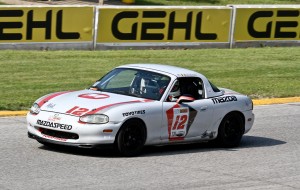 On the other hand, it's hard not to be upset that our race was over before we started with the grid screw up and the subsequent shortening of the race meant that a smart strategic call was nullified. Being far from home and my regular supporters compounded logistical issues; getting a replacement radiator from SafeRacer, vinyl from RacingVinyl.com and a set of rain tires from AIM Tires in Sonoma on short notice were all expensive propositions.
Ultimately the goal is to be competitive at the Runoffs… if my credit card hasn't been cut in two and we can find a few more hp, I think we'll be in the hunt.
Final results still aren't posted, but here are qualifying results.