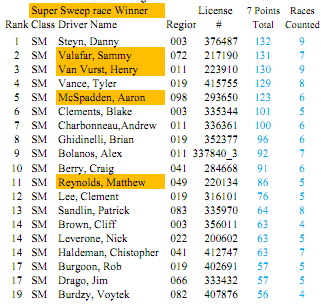 Unlike the regional race season which has just kicked off in the last month, the SCCA National race season starts in early January in many parts of the country. Because racers need to qualify for the Run Offs in September, the races are staggered earlier in the season.
Due to work, I missed the first two opportunities of the year at Phoenix and California Speedway (also the longest tow…) but we hit the road for Willow Springs, Thunderhill and, two weeks ago, Buttonwillow.
We struggled with our first-ever trip to Willow Springs for a Double National, getting a late start and not bringing the right tires. Unlike our smooth Northern Californian tracks, Willow Springs demands fresher, more treaded Toyo RA-1s. Weather predictions included heavy rain, snow and very cold temperatures. It actually stayed dry for the weekend but it was below freezing at night and never warmer than about 50F during the day. We brought home a 5th and a 4th but the event was a Rational (combined Regional and National on track at the same time) and half the field were running as Regionals. Typically we earn one point up to 10 for each car we finish ahead of so our points pull was about 10 points less than it would have been at a regular double national.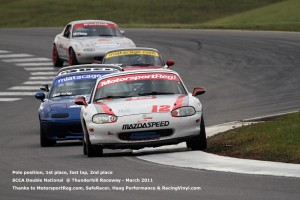 Thunderhill was the next race, our home track, and we had a good field of competitive cars including one of the Willow Springs race winners and a group of always-fast Oregonians who came down to compete. The weather prediction was, again, for lots of rain but the skies were mostly kind, only raining on one practice session. We were much better prepared for this event and brought home a pole position, win and 2nd place for an almost maximum points weekend.
We just returned from Buttonwillow for another Double National. This event was a bit special in that it was a BFG Super Tour event, one of six special events held around the country as part of the SCCA Super Tour. The feature race on Sunday would include a podium, press releases, live timing and scoring and a champagne spray so we were excited to take part. We were racing configuration 25CCW which includes Star Mazda and the Dog Leg (back straight). I've driven Buttonwillow back in 2003 but never in this configuration so we headed into the weekend confident we would be able to get on the pace more quickly than Willow Springs but still have something to learn. Adding to the mix was a complete driveline refresh; just before this event we swapped in a new motor, transmission, differential and brakes.
The Friday test day went relatively well but we learned primarily one thing: the track surface is ROUGH. We're talking radiator-cracking rough! Cotton corners, a series of S turns on the East side of the track was like an off-track 4×4 excursion each and every lap. The car was oversteering and understeering each lap in different parts of the track due to the rough and inconsistent surface so we wound up making very little changes to the car aside from tire pressures.
In Saturday qualifying, we ran a reasonable time, qualifying third, but Tyler Vance was 1s/lap faster and Sammy Valfar was another 1.2s ahead of Vance! The finishing order Saturday was reversed for P1 and P2 but the closest race was between myself and Clement Lee as we ran mostly nose to tail for the race trading positions several times. In the closing two laps, lapped traffic played into my hands and I was right up on Lees bumper and made a last-lap pass for third coming out of Riverside onto the back straight. Unfortunately we made contact with Lee's front wheel hitting just in front of my rear wheel turning me around at 112mph and sending both of us into the infield dirt. I came out the loser dropping from the (almost) 3rd place to 5th as I limped the car around with a torn up fender and smoking tire. The contact was deemed a "racing incident" so no action was taken and that's how we finished.
My mechanic Thomas beat the hell out of the fender and aside from some missing paint, made it look racy again. We re-aligned the front end of the car and resolved to run Sunday and see how things looked. Sunday qualifying we were much closer to both Vance and Valafar and again started P3. Unfortunately I missed a shift on the start and fell back to 5th and Valafar, Vance and Lee raced off as a train pulling a gap. By the time I recovered to 4th, I had my work cut out for me to catch back up. A lap or two later, Lee had an off at Riverside allowing me to drive by and then the 5th place car Westmoreland had issues at the end of the back straight causing him to spin into the weeds and cause some back up. At that point I had no immediate pressure and clean track ahead so I set about trying to track down the two leaders and secure a Super Tour podium. In contact with Thomas over the radio, I was slowly reeling in the leaders setting the fast lap of the race at the mid-point but my hard pace eventually drove the tires off and my lap times started to slide. I kept pushing to maintain my gap to 4th and be sure that if anything happened between the leaders that I could capitalize on it. Valafar made a last-lap pass on Vance for 1st and I finished 3rd.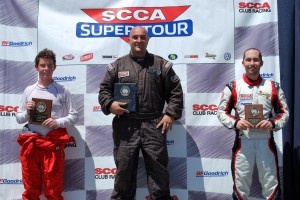 I was pleased with my performance up to that point as I felt we were a little off on some of our driveline changes but we finished 13s behind the leaders and 17s ahead of P4, just 1/10th of a second off of the fast lap set by Valafar. Unfortunately, what should have been the best part of the weekend also turned out to be a major goof on my part. Eric Prill from SCCA Pro called me up to the podium first as the 3rd place finisher and began interviewing me. I wasn't really prepared for that. He asked me a few questions and then asked if there was anyone I wanted to thank. Have you ever wondered how someone can go to the Grammys, be nominated for an award and then freak out when it's time to acknowledge the people that support them? Well, now I know why kids aiming to race professionally receive media training. I raced to plug my sponsors MotorsportReg.com, engine supplier Haag Performance, safety equipment and parts from SafeRacer and graphics company RacingVinyl.com. But I forgot to thank the people who make my racing possible. Specifically my rock star mechanic Thomas Barrett who was standing in the crowd. Ouch.
To be honest, the entire thing was a blur. I don't exactly remember what Eric asked or what I said. I've done a lot of public speaking but I'm used to being prepared and I really dropped the ball by failing to thank Thomas' efforts to get us back on track and on the podium. It hurt his feelings and although it was a mistake, it was my fault. It wasn't a lesson I didn't already know, but it reinforced that people are the most important part of any program.
At this point, we're qualified for the Run Offs and sorting out logistics to send the car back to Wisconsin for the remainder of the season. We're hoping to race the June Sprints as a recon for the track and drivers we'll be competing against in September. Lots of work to do between now and then so… time to get to it!