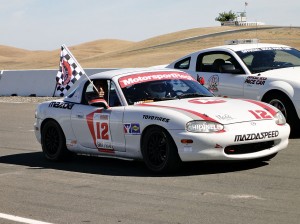 Thunderhill Raceway was host in September to Rounds 11 and 12 of the San Francisco Region SCCA Championship. Joining the regulars were the always-fast boys from Oregon who have enjoyed good results at Thunderhill over the years. The weekend was a mixed bag for our car featuring a big mistake (spinning from the lead at T5) as well as two pole positions and a win. My main competitor in the points race, Darin Posley, took 2nd place on Saturday but broke a tie rod on Sunday taking him out of the race so we left the weekend the way we entered: me leading the championship by about four points.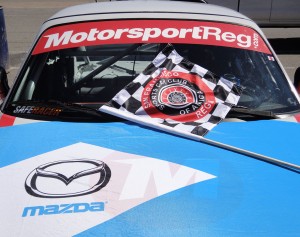 Unfortunately four points does not a lead make, because the final race of the season is a double-points race and the separation between the top positions are four points. So, it's going to be a single race winner-take-all showdown at Laguna Seca on October 17th. If I finish ahead of Darin, I win the championship. If he finishes ahead, he wins. Laguna has been home to some great racing for me this season including my first overall win so I am glad to be heading to a track that suits our package. We had some minor mechanical issues at Thunderhill with a CV joint going bad and that will be repaired in time for the next race putting us back at 100%.
There is also a four-hour enduro on Sunday which while the #12 car will be sitting in the trailer (hopefully covered in champagne!), I may be co-driving another car at the race, possibly in preparation for the 25 Hours of Thunderhill enduro in December. I will post here when I return and you can follow along in real-time on the event weekend as I post updates on twitter as @ghidinelli.
Regional #11 Qualifying (1st overall)
Regional #11 Race (6th overall)
Regional #12 Qualifying (1st overall)
Regional #12 Race (1st overall)
With twelve of thirteen races in the books, the current standings are:
| Driver | Total Points | Points (w/ drops) |
| --- | --- | --- |
| Brian Ghidinelli | 496 | 464 |
| Darin Posley | 474 | 460 |
| Tommy Olivier | 405 | 405 |
The final race will pay a total of 100 points so if Tommy is still mathematically in the hunt. If either Darin or I DNF and Tommy places inside the top few cars, we will swap season-ending positions. To finish first you must first finish!