Ignore the drama, the danger and the mAD sKillZ necessary to successfully pilot a racecar around a road course at speed lap after lap after lap. This is why professional racers spend so much time in the gym and why successful club racers are generally quite fit: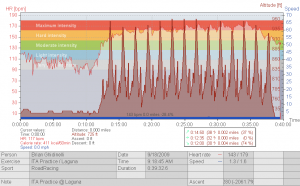 I go to FUSE gym which is a crossfit-style circuit training gym. Consider reading Motorsport Fitness Manual if you want more details and programs.
I love my Polar heart rate monitor. It's an indispensable tool for exercising… if you're working out and not using an HRM, you're not getting the most you can from your time in the gym or on the trail.
Update!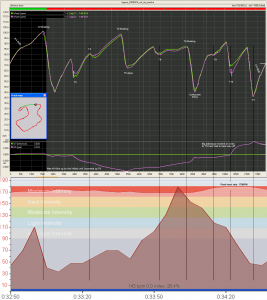 I have added a second graph – this time it's the last two hot laps of the session from the data acquisition system which shows relative performance. As this was my first session in an unfamiliar car at a racetrack I haven't been to in 3 years, I was trying different lines and approaches. Clearly some parts of each lap were better than others.