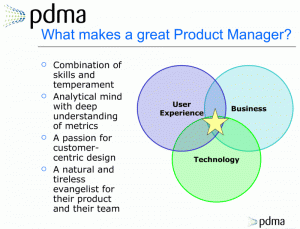 This slide by Adam Nash of LinkedIn via Christina that describes the skills of a successful Product Manager for a web company. It graphs what I love about my job as an entrepreneur: the opportunity to participate in many disciplines. This week I coded a major new feature, negotiated a travel booking commission deal and put together a 15-minute video for a convention next week. Oh, and I answered some customer support email too.
Is a product manager just an entrepreneur with a support organization? Or put another way, is an entrepreneur a product manager with a support organization of themselves?
I feel lucky to do what I do. I don't love my job every day, like being in the office today for the fourth or fifth Saturday in a row, but I'd far rather be passionate and working overtime than be apathetic from 9-5.