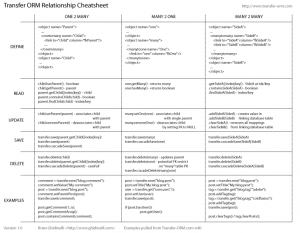 For the last year, I've had a document posted next to my computer with a short list of the generated Transfer methods for onetomany, manytoone and manytomany relationships. I've found it helpful to have a quick reminder of which relationships have which methods. And it was a huge help the once-in-awhile when my bookmarked documentation link is offline.

I put together this chart for my own use. If anyone finds this useful, I will post a high-resolution version later this week. Let me know!
Update – Download a high-res PNG or a PDF for printing. Both are 300dpi. Enjoy!