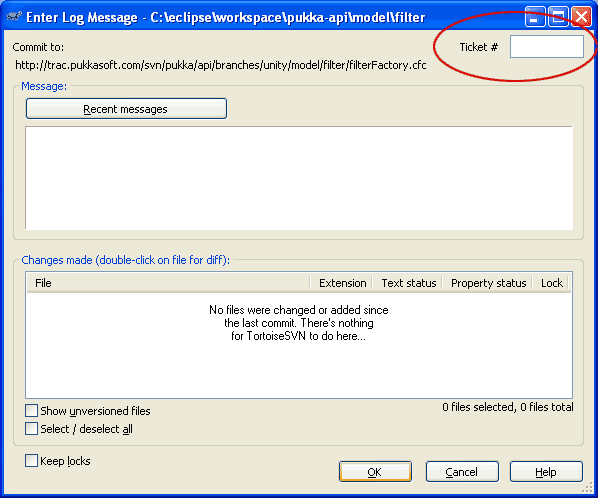 I searched like crazy and couldn't find this information very easily anywhere so here's the documentation. Many subversion clients, like TortoiseSVN, look for bugtraq properties in your repository. When it sees these properties, in the case of TortoiseSVN, it adds a new box to the UI when you're committing code changes that allows you to enter a ticket number you want to close/reference.
You can also run regular expressions to open up the language you can use to link to include things like "closes", "fixes", "re" and so forth, followed by a #<ticket number>.
bugtraq:logregex = '(?:closes|fixes|addresses|references|refs|re)?(#[0-9]+(?:(?:[, &]+| *and *)#[0-9]+)*)
(\d+)'
bugtraq:number = 'true'
bugtraq:label = 'Ticket #:'
bugtraq:url = 'http://yourdomain.com/trac/ticket/%BUGID%'
bugtraq:message = 'Ticket #%BUGID%'
Note that your Trac URL needs to be the URL where you view a ticket. So just log in to your Trac install, view a ticket and copy the URL. Replace the actual ticket number at the end with %BUGID% and you're done. You can add these from TortoiseSVN by right-clicking and choosing "TortoiseSVN" -> "Properties". Be sure to apply them recursively but note you can't set them on a directory created from svn:externals!
Enjoy!