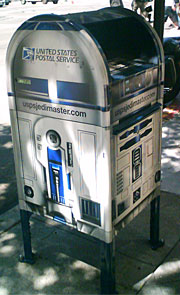 I saw this mailbox in front of Moscone center today advertising uspsjedimaster.com. Dressed as R2D2 from Star Wars, there are apparently a lot of these mailboxes around the country. This was the first I had heard about it.
Although I think it's cute, and if done extremely rarely, could be a successful buzz builder, I am not a fan of concealing the obvious. People depend upon the shape and the standard blue color for identifying a mailbox. While many "users" of this mailbox will be "local", the design is a standard that people everywhere rely upon for usage whether they come from Manhattan, NY or Missoula, MT.
People strive to be different. Not everything should be unique. This principle applies to the web as much as to mailboxes.