SFR SCCA Championship-Winning Spec Miata – $19,000
UPDATE: SOLD! Car has been sold and kept in the SFR region.
UPDATE 2 1/8/2009: Car is Available – The driver who bought the car from me has issues that force him to sell. If you're interested, I can put you in touch.
Championship Winning Spec Miata For Sale – $19,000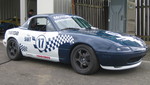 The car that Justin Hall won the 2004 San Francisco Region Spec Miata championship was driven in 2005 by Brian Ghidinelli in his rookie season to 6th in the overall points including a 3rd at Laguna and 2nd at Thunderhill with the fastest lap of the race.
Car was updated by Jason Hoover in 2006 with a rebuilt differential, new clutch, new shocks and fresh Hoover Speed setup. Due to a busy work life, the car has seen a limited 2006 schedule with two 2nd and one 3rd place qualifying efforts and despite some poor luck in the races, a 4th place at Laguna in April and a 3rd place at the Infineon national/regional a couple of weeks ago. New plans for 2007 make passing along this complete package to someone with more time the best option.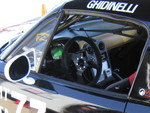 The car has the best of everything and the buyer will receive a *very* robust set of AIM data with a 2:08.1 at Thunderhill, a 1:55.2 at Infineon and 1:47.9 at Laguna. Sale will include video from each track as available, coaching for how to maximize the data for personal improvement and a day of knowledge transfer with detailed track notes at the local track of your choice prior to November 1st. click here to see in-car footage from Infineon Regional (110mb, ~25 mins) at JustRacing.com.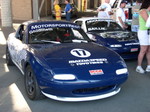 If you want to eliminate the car as the variable in your personal success formula, you can hop in and take this car to the podium at the next race. Contact Brian Ghidinelli at work – 415.462.5603 or by email at brian (at) MotorsportReg (dot) com.
Car can be delivered to the upcoming August Regional or the Infineon Regional in September.
Equipment list
1992 Spec Miata, built by Off Camber Racing & Justin Hall
1.6L Sunbelt Motor
Custom Off-camber/TC Design straight air intake
TC Design cage with NASCAR door bars covered in SFI-rated roll bar padding
TC Design quick-release steering wheel (absolutely zero slop – the best!)
TC Design tow hooks front and rear
Rear subframe brace
Gutted driver side door with NACA duct window
Recaro SPG seat with low-profile TC Design seat mounts
Coleman bar-style mounted Teamtech window net
Teamtech Center net
19″ Longacre design rear-view mirror
Willans 6-point harnesses (FIA rated, good for 2 more seasons)
AIM MyChron 3 Data Acquisition System with shift lights, oil/water temp lights and beacon
Fresh blue/white paint and vinyl sticker scheme
Refreshed comp differential
New lightweight racing clutch
New bilstein shocks
New windshield
Team Dynamics Wheels in anthracite color
Max power exhaust for 103db tracks + special "Laguna" exhaust for 92db
AMB hardwired transponder
Current SCCA annual tech, no issues.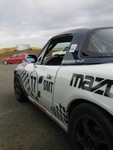 Car is light – I weigh 140lbs and use 50lbs of ballast and a couple gallons of gas to make 2300lb minimum weight. If you're carrying a few extra pounds, this will help you run at or near the class minimum. A few additional pounds could be removed from car if needed for greater savings. Don't underestimate the importance of running light – it impacts acceleration and braking!
Options
Complete bullet cam setup including Sony HC40 camera, sport-action one-button LANC, 480 line bullet camera with optional wide-screen lens, new 12v mic and switched power adapter (no batteries needed to run bullet cam). Includes my "special" bullet cam contrast and brightness fix for improved video quality and padded box for camera.
Radio system + antenna and two 5-watt radios. Allows driver control of the radio while buckled in and runs off switched 12v car power so no charging batteries!
Spares Package
2 sets of extra TD2 wheels, one set with rain tires mounted, one set practice tires
Complete front subframe including upper, lower a-arms, knuckle, hubs, steering rack, tie rods and brake calipers
Complete rear subframes including upper, lower a-arms, knuckle, hub/shaft assmbys, e-brake fittings, brake calipers
2 extra front calipers
2 extra AFMs
Driveshaft
Rear bumper insert
Rear bumper cover and insert – cracked but serviceable
Complete passenger door with glass
Master brake cylinder
Master clutch cylinder
Spare hood – bent but serviceable
Odds and ends
I will sell the complete spares package for $1500 to the buyer of the car.
Also available: a triple-axle 2-car 40′ enclosed gooseneck trailer with diamond plate flooring, air conditioner, roof observation deck, generator with shore power connect, cabinets, work countertop and closet, fuel jug holder, e-track, tire racks, interior lighting and beavertail. Has been towed with a Dodge diesel 3/4 ton pickup (not for sale).
Interested? Questions? Contact Brian Ghidinelli at work – 415.462.5603 or by email at brian (at) MotorsportReg (dot) com.