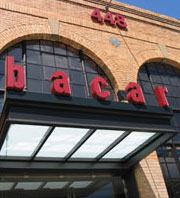 Jennifer and I ate at Bacar for the first time on Brannan Street in San Francisco's SOMA district on Friday night. The restaurant is famous for their giant wine list – something like 38 pages of options. It's only about 3 blocks from my house so we walked. My impression from the outside was that it was a dark and intimate dining experience inside. From the street level, you can't really see much because there are an immediate set of stairs that go up about a half-level.
We called Friday evening at 5:30 on a whim to see if we could score a reservation and were able to get in at 6:15. When we were seated, there were two immediately obvious things. First, it was light and airy inside with high ceilings and a lot of sunlight. Two, seated in small booth along a half-rise wall, the top of the half-rise wall was absolutely filthy. It was thick with dust which we might not have noticed except that someone had obviously laid a jacket which had swept clean a small area making the difference obvious. The live jazz they promote 6 nights a week strangely doesn't start until 9pm.
Our waiter was pretty tight-lipped; not unfriendly, just not very talkative. The next waiter over was thoroughly explaining all of the dishes and wines and ours pretty much asked us what we wanted. We started with the grilled peach and watercrest salad which was great. The server even split the salad into two for us. Jennifer ordered a glass of white wine and I ordered the Spanish Flight to try 4 red wines from Spain.
For dinner Jennifer had the fresh pacific wild Salmon. Apparently they had opened up fishing for a single day on the 26th and we were eating on the 27th, so this was about as fresh as it would get since they aren't allowed to fish for it much. I had the braised lamb shank which came with an apple-barley risotto.
The lamb was perfect – it was well-cooked and falling off the bone. I didn't need a knife which is good because the first one I was given had a large chunk of foodstuff still crusted to it. The barley risotto was interesting; where regular risotto is creamy and very rice-like, the barley version was almost squishy, a bit like a corn kernel pops in your mouth but more subtle. I really liked the texture and the taste was a perfect match for the lamb. One of the best executions of lamb I've ever had.
Those who know me know I don't really eat much seafood but there was a breakthrough. While some fish makes me gag, mostly I just haven't found fish that I would order over another meat. I tried Jennifer's salmon and, I think, I would maybe just order that. It was grilled and had a little bit of a crust and the flavor was mild but really good (by my wacky standards). Combine this with the crab leg I tried last week and didn't find fully offensive and my taste buds just might be coming around.
For dessert we ordered a cheese sampler (at a kind-of-ridiculous $18 price) and a "Strawberry Milkshake Panna Cotta". The cheeses were well-presented and we chose a nice selection of a blue, a goat and a triple-creme. The panna cotta was incredible. It had a creamy texture that reminded me of a upside-down jello mold my grandmother makes at Thanksgiving and was accompanied with a couple of snickerdoodle cookies and a mint couriri. You could eat each component separately or combine them in any way and it was like an entirely new dish.
The waitstaff was excellent in always being there are more or less the right time and without intruding on our conversation.
Entrees run between about $25 and $36, appetizers and desserts are all in the $8-20 range and wine could max out your American Express Black Card if you aren't careful. Minus the dirtyness we experienced, we both felt the dinner was excellent but the ambiance of our visit lacked the same "pizazz" from other eateries like Boulevards.