Authored By Jennifer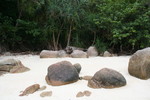 There was only one thing on our to-do list on our first full day on Ko Lipe , maxing and relaxing. Ko Lipe is a really small island and has 3 small dirt trails that lead you from beach to beach. There are a few motorbikes, but otherwise, you walk from place to place. We headed to Sunset Beach, the least populated beach, and found our own little cove. It was gorgeous and we had it all to ourselves. I set up shop on my sarong on the beach and Brian put on his snorkel and mask and hit the water.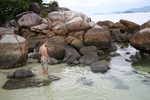 While Brian enjoyed the fish, I enjoyed looking at all the beautiful shells washed up on shore. There are some coral reefs just off the island, so the shells were abundant and gorgeous.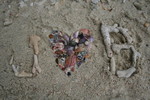 I even got a little creative. After awhile I joined Brian in the water but quickly got out. There were microscopic jelly fish in the water and they kept stinging me. Makes snorkeling not so fun.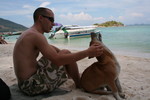 After some lunch we headed to another beach and made a new friend with one of the 1 million stray dogs on the island. He followed us all the way down the beach to another snorkel spot.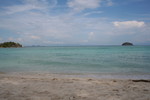 We repeated the same routine, Brian snorkeled and I laid on the beach. Pure bliss! After some dinner, it was back to our bungalow and one of the best days we'd had in awhile came to a close.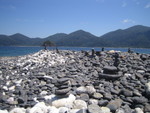 The next morning we rented a longboat with a fellow German couple and did a little island hopping. We snorkeled at most of the islands, but again the jelly fish kept me from staying in the water too long as well as my shitty, shitty rented snorkel and mask. One of the islands had cool striped rocks covering the beach. Legend has it that if you remove one of these rocks, the spirits come after you. Needless to say, we left the rocks on the beach.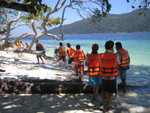 At our last island we had a little lunch and got to know our German friends a little better. We had some interesting conversations on politics and traveling in SE Asia. I was happy to finally have someone agree with me that Vietnam really sucks. The site we were snorkeling was well known and there were tons of Korean tourists there. They all had bright orange life jackets on and snorkeled with the current from one end of the beach to the other. It was an interesting sight.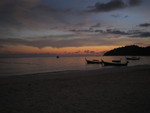 The next day we left Ko Lipe, on the wonderful high-speed jet boat, and headed to Ko Phi Phi. Most people know Ko Phi Phi as one of the islands hardest hit by the Tsunami in 2004. They have since rebuilt the island and we went because we heard it was beautiful. After arriving at the port we were supposed to be driven by car to the bus stop and get on a bus at 1 pm to Krabi. From there we would take another ferry to Ko Phi Phi. We met up with the guy that would drive us the bus stop, but we never actually made it there.
In the car was myself, Brian, a woman from Hong-Kong in the back seat, and a Thai woman and the Thai driver in the front seat. I was getting worried that we would miss our bus because we didn't leave the port until close to 1 pm. Soon it was 1:15 and we weren't stopping anywhere. Brian quickly fell asleep, as usual, the woman on the other side of me also fell asleep and kept falling on me, and the two Thai people in the front were chatting away. Eventually we catch up to a bus in front of us, and I assume that the driver knows we missed our bus and he's driving us to the next stop. But after half an hour or so, the bus turns and we keep driving. And we're driving through the jungle basically, not on the highway. Brian is still asleep, the Hong Kong woman is still laying on me, the Thais are chatting away, and I'm wondering if we're getting kidnapped. I finally ask "where are we going?" and I get this look like I should know exactly where we're going. Unbeknownst to us, we're being driven to Trang where we'll catch a bus to Krabi. Of course!
Needless to say, we weren't kidnapped and we finally made it to Ko Phi Phi.