Authored By Jennifer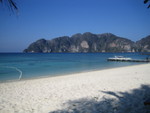 Our fellow travelers were right, Ko Phi Phi is beautiful. There are actually two islands, Ko Phi Phi Don, which is fully developed and Ko Phi Phi Leh which is restricted from any development. What makes them beautiful is the large limestone formations that surround them. Imagine huge limestone cliffs plunging straight into turquoise water. It is gorgeous!
Our ferry ride was 100 times better than our ferry to Ko Lipe, thank God. We took a longtail boat to Long Beach, and began the hunt for a room. Out of the six resorts on this island, only one had rooms available. I took a look and refused to stay in them. They were disgusting. I felt bad because we had already been looking for an hour, and it was bloody hot outside.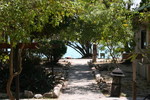 But I just couldn't do it. We went back to a resort we already visited and asked again. He had one bungalow available that they don't normally rent out, but he took pity on us. It was like in the movie "Best in Show" when the hotel manager lets the couple stay in the janitor's closet because everything else is booked up. Our bungalow was much better than the janitor's closet, but it was right next to the giant trash burn pile they kept at the back of the resort. But we had no choice. The next night we upgraded to a nice bungalow that was not next to the trash burn pile.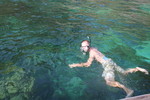 Once we got our room situated, I quickly headed to the beach to cool off. The beach is gorgeous and the water was just the right temperature. After a quick dip I found a nice spot in the shade and read my book, and Brian did some snorkeling. I love that Brian likes to snorkel. Previous to his snorkeling kick, Brian was not a big beach fan. And since I love the beach, this was a bit of an issue. I can spend hours going from the water to my towel, reading and enjoying the sunshine. But I didn't fully enjoy it when Brian was with me and I knew he wasn't loving it as much as I was. Now that he has a beach activity he loves, I can go to the beach guilt free!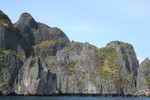 We didn't do much on Ko Phi Phi, just relaxed and enjoyed the island. We took a snorkel trip over to Ko Phi Phi Leh, which was gorgeous. The limestone is even more beautiful there and the fish are abundant. In one of the coves, they filmed the movie "The Beach." We were going to check it out, but you had to pay to see it, and we weren't willing to pay. Regardless, we still had a great trip. On the way back to Ko Phi Phi Don, we had the longtail boat drop us at the main harbor. This is where most of the tsunami devastation took place, but you'd never know it. It has been completely rebuilt with dive shops, restaurants, bars, hotels, and vendors selling everything from t-shirts to bracelets.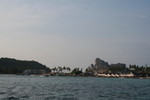 Unfortunately, it seems the business owners didn't learn their lesson. The buildings were very poorly built and would suffer the same amount of damage if another tsunami came through the island. Apparently the government doesn't allow anyone to build in this area because of the tsunami danger, but no one is listening to the government.
The next morning we caught a ferry to Phuket in order to hop a bus up to Khao Lak where we would start our dive trip. When we got to the ferry it was packed and the only place to sit was on the floor of the upper deck. There were people everywhere. I grabbed a spot along the side of the boat, my back against a wall and my legs hanging over the side. Brian was standing on the deck and then eventually managed a seat on the inside.
About halfway through the trip, the ferry started rocking quite a bit. People along the side I was sitting on were getting splashed with water. Suddenly the ferry made an abrupt stop. The boat settled a bit and then continued at a slower pace. Once again the ferry started rocking back and forth. Several times I had to hold on to the railing because I thought I was going to fall overboard. I started to look for Brian in case the ferry started sinking. I couldn't see him, and I wasn't in a great spot to get up and go look for him. I began thinking about the ferry that sank in Indonesia recently, we're really not that far from Indonesia. I formed an escape plan in my head and tried to look for the closest island or boat to swim to. Meanwhile, Brian was on the inside but on the opposite side of the boat from me. He said that people were gasping inside, the noise just before screaming starts. From his side, when the boat rocked all he saw was water and then sky, water and then sky. He was also forming an escape plan in his head and had figured out how to get two lifejackets, come find me, and swim us safety. Clearly, this is our "we almost died" story. The drama lasted about 30 to 40 minutes, and it truly was scary. But we eventually found each other and made it safely to land.
Once in Phuket we hopped a bus to Khao Lak and finally arrived at the Sea Dragon Dive Center to begin our dive trip. No more ferries for us!
Here are some more great pics of Ko Phi Phi.