Authored By Brian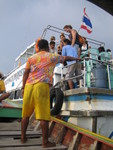 Have you seen those ferry disaster news stories from developing countries and wonder how hundreds of people die? I'm sitting on one of those boats now with every seat filled and every inch of available deck space filled upstairs. I can't stand in the sun without sunblock for three hours as we travel from Ko Phi Phi to Phuket so I am sitting on a piece of hard side luggage in the back of the cabin sniffing mad diesel fumes.
Although shitty, this pretty much sums up Thailand. Contrary to my expectations that Thailand would be the modern, efficient, service-oriented jewel of Southeast Asia, instead it has been a glaring contradiction to the friendly and organized people of the rest of the mainland.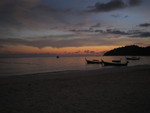 What Thailand was gifted in terms of natural beauty and weather, they have failed to develop in even basic courtesies such as "hello". The Thais are quick to frustration when you don't immediately understand their (surprisingly, given the touristy locale) limited English.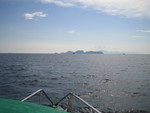 From my last post, we finally arrived in southern Thailand (two hours late), found a bus and boat combo to Krabi and then Ko Lipe, a low-key island off the western coast. Our ride was pretty uneventful except that our ferry left more than 40 minutes late as they continued to load supplies for island operations and we had to stop once so that 10 people could go ashore and take a picture.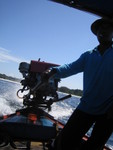 Upon arriving we found that the ferry doesn't drop you at shore but instead you are permitted the opportunity to funnel another 50 baht per person into the local economy with a water taxi. The Lonely Planet from September 2005 described the island as having about 10 resorts total but we found the main beach alone had that many when we landed. And none of them had any rooms. After much walking we found a bungalow for 700 baht while the next couple in line was told "full". Just a f–
Holy hell!!! This goddamn boat just about capsized!! Out one side all I saw was fish and out the other was clouds and then they cut the engine to let things start tilting back to normal!! Man that was scary; I have a little shake going on now.
WOW. Ok, so, the bungalow was just a fan room but it had a bed so game on. The big problem with fan rooms is that it's about 15 degrees hotter in the bungalow than outside but if you open the door, you let a thousand mozzies in the room which makes sleeping agonizing without a mosquito net.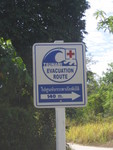 Given that the customers at this pretty nice place are almost exclusively western, the service was appallingly poor (even by SE Asian standards) and the staff spoke very little English. That's not a problem – I don't speak much Thai – but it was the dismissive attitude when asking questions that was off-putting. It just said, "There are plenty more where you came from…"
I have to stop writing now because this boat may capsize and I want to be ready to swim.