Authored By Jennifer
Generally, in this blog we've talked about the great places we've seen, the wonderful people we've met, and the delicious food we've eaten. Those are the good parts of traveling. But it's not all fun and games. Let me tell you about the less glamorous side of travel.
We decided to take a holiday from traveling and spend most of our time in Thailand relaxing on the beautiful beaches and swimming in the clear warm water. After consulting our trusty Lonely Planet, we headed to Ko Lipe in the very south of Thailand, searching for paradise.
We're going to the beach, we're going to the beach, we're going to the beach…
The trip began with a very hot and sweaty half hour bus ride to the train station. We planned to get food before we hopped on board, but we arrived at 3:05 for a 3:10 departure. So no time for lunch. We bought 2nd class seats in a sleeper car for the 18 hour train ride ahead of us. Somehow, even though our car was air-conditioned, our two seats were a good 10 degrees warmer than all the other seats on the train. Hot and hungry, I began to have an anxiety attack thinking about the next 18 hours. I'm at the point in our trip where I just need a time out. I'm tired of traveling. I try to sit as still as possible so I can cool off and I just repeat to myself, "we're going to the beach, we're going to the beach." I finally cool down and calm down and now focus on getting some food.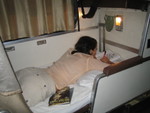 There are vendors with baskets of food that come to the train every few stops. But of course we don't know what it is, and the vendors don't speak English. Not the best option for us. We see other Thais on board who are being served food by the train staff. But no one asks us if we want to eat. We finally ask and they say they'll start serving at 6 or 7, we have 2 hours to wait. Seven comes and goes and I decided to head to the dining car and get the food myself. I sit in the dark dining car with the windows wide open, Thai music playing as loud as possible, and 3 men staring at me as I eat overpriced Thai food. At this point I don't care. Eventually we both eat and settle into our bunks for the night which is 100 times better than the overnight bus we took from Laos to Bangkok just a few days before.
We wake up early to prepare for our 7:00 am arrival. We don't actually arrive until 9. From the train station in Hat Yai, we find a mini van service to a port called Pak Bara. The minivan was packed with about 15 people, including 5 in the front seat alone. Along with packed passengers, packages were crammed into every open space available. So basically we had to sit in an uncomfortable, cramped position for 2 1/2 hours. Along the way people get on and off and packages are delivered. Far from door-to-door service, but we finally arrive in Pak Bara.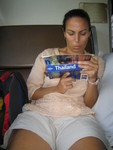 In Pak Bara we catch a ferry to take us to Ko Lipe. The ferry is only supposed to take 2 1/2 hours or 3 hours if the seas are rough. I wish we saw the boat before we bought the ticket. I'd swear this boat wasn't capable of running. But yet it was packed to the gills with people, luggage, food, beer, ice, sundries, everything! And people were sitting everywhere there was space. We got stuck below deck in an area that was supposed to have a/c, which it didn't, where anything metal was rusted, and where you had to sit sideways in the seat because otherwise your knees would touch the back of the seat in front of you. At this point it's 1 pm and we've been on the road non-stop for 23 hours. I'm starting to lose my patience.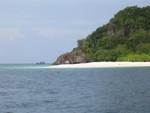 The ferry was supposed to leave at 1. It actually left at 1:30. About an hour into the ride, we stop at an island to pick up some people. We knew this was the halfway point. The ocean is very calm so we're expecting to be on Ko Lipe in 2 1/2 hours. We're getting close to that time and stop at a tiny island with no inhabitants. About 10 people get off and we sit and wait. Brian and I are wondering what the hell is going on. It seemed that these 10 people wanted to take some pictures on the island. So the ferry held up about 40 or 50 people so that 10 could go take some pics for 20 minutes. We were livid! But can you do? We knew if we complained nothing would happen. So we just sat there in misery for the rest of the trip. The 2 1/2 hour ferry took 4 long, hot, miserable hours.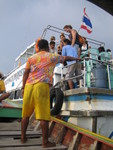 We finally arrive at Ko Lipe. But instead of pulling up to a dock, we sit just off the shore. Now we have to pay a guy 50 baht each to take us on his wooden long boat to reach the beach. We are too fed up to argue. When we reach the beach we hike all the way to the resort at the end, only to find it's full. So are the next 3 resorts we try. So while most people are enjoying the sunshine in their swimsuits, we're lugging 20 pound bags up and down the beach sweating our asses off.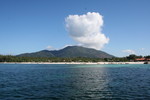 Eventually we find a place to stay and we immediately take showers. I must admit, I can't remember a time I've ever smelled worse than I did that day. I smelled worse than I did after hiking the Routeburn for 3 days without a shower. I was grossing myself out. After a shower, at 5:30 pm, 27 hours after we started this journey, we finally sat back and relaxed.