Authored By Brian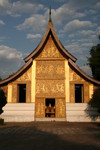 Everything we had read called Luang Prabang the jewel of Laos. Indeed, it's nestled in the north about six hours from Vang Vieng and enjoys certain protections from overdevelopment due to its UNESCO world heritage status making it similar to Hoi An, Vietnam. Luang Prabang was once the capital of the Northern Province. It gets its name from the sacred golden Pha Bang Buddha that belongs to the city.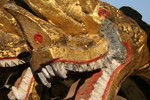 It was a shitty six hour ride in minivan with seven others from Vang Vieng. Although the minivan sounded better than a big bus for navigating the curvy mountain roads, we wound up with the two crappiest seats offering nothing to hold on to and no back support while Mario Andretti's Lao cousin hurtled his Toyota thru the mountains. Fooled us once… shame on you.
We spent three days in Luang Prabang without doing a ton and it was nice. Although we had a hard time finding a guest house when we got off the bus, we eventually landed at Sok Dee Guesthouse on the northern end of the old town. It was decent but without glass windows we learned the hard way that roosters don't really wait for the sun to come up to crow. Crowing endlessly. And without mercy.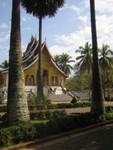 One morning we visited the Royal Palace and toured the areas where the king and queen lived until 1975. There were many fancy pieces of furniture but what stood out to me was the general understated nature of the palace. Rooms were big but contained mostly simple, wood furniture and were not very decorated. Compared to European royalty, these guys were minimalists. Around the tour were paintings that described the Buddhist story of (brain fade… forgot the name, not the Ramayana though. A story where a prince becomes a monk and a guy tries to steal his wife and kid while he lives exiled in the mountains). We also visited a photo and multimedia exhibition downstairs featuring work from international and local artists on various Laotian themes. The photos for me were most moving but the work was very authentic. We also watched a short movie about the construction of a Buddhist prayer boat that was built by a European designer and put into use on the Mekong River.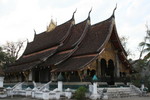 In the afternoon we rented a couple of bicycles and rode around the old quarter and visited largest holiest wat, Wat Xieng Thong. The architecture was beautiful and we saw many of the same features we have seen in other wats around SE Asia such as dragons, stupas, lotus buds, gold-gilded Buddhas and odd-numbered multi-tiered timber roofs. Although we have seen these details in many wats, the weather and afternoon sunlight made this visit memorable. We left via the lowest street of the old quarter above the Mekong River.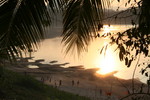 In the dry season, the river runs very low but you can see how much larger the river must be in the wet season by where the banks are devoid of trees. This is one mighty river: one of the longest in the world and millions of people depend on it for their livelihood.
We stopped halfway along our ride at a barber along the street as I needed a haircut. I'm on a quest to get haircuts in every country so long as they're less than $10. I mean, how much to shave a head? Well, in Laos, they use a different numbering system for the shaver lengths so the #2 I normally use was more like a 0.5. I got sheared like a sheep. Yikes!

Luang Prabang has a very popular night market where the main street is closed to motorized traffic (save the odd motorbike of a vendor) and people spread their carpets into two aisles for about two football fields in length. They're selling everything from silk goods to wood handicrafts to souvenir t-shirts (Beer Lao! Beer Lao!) and more. There is electricity provided so each vendor has a single light bulb free hanging over their wares. It's a little bit magical to walk through as the temperature finally drops and all of the vendors saying their sabaidees.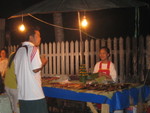 We wound up going to this market basically every night to just walk and to visit the other highlight of the nightlife: the night food market. On a tiny alley next to the Royal Palace is a long line of street vendors hawking meats and veggies and many of them have buffets of typical asian dishes. Jennifer fell in love with the grilled fish. I tried a little bite and it was not bad (for a fish) but I ate the grilled chicken. To give you some idea, this giant chicken breast, barbequed on a stick, cost something like 50 cents. That's why I'm gaining weight here despite how active we are.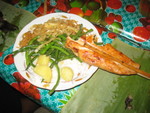 Sitting down at one of the buffet tables to eat our grub, we met a farang-thai couple and the guy was from San Francisco. He lived in San Francisco six months of every year doing house renovations and lived in Bangkok the remained of the year with his long-term girlfriend (or wife?) of 10 years. They were friendly and we ran into them several times during our night outings. One night at the market he told us he was going to try importing the silk scarves they make (and sell for about $5) because he could sell them for $30 in the states to shops who sell them for $70. He then went on this tirade of looking for low-quality thai versions to show us how they compare to the Laotian scarves. It was comical as he just tore through the carefully displayed scarves looking for a crappy version totally ignoring the vendor. He was also calling them "pashimas" instead of "pashminas" but what the hey. We meet a lot of interesting (and sometimes weird) people.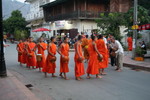 The next morning we got up early to watch the monks collect their alms. We have seen this all over SE Asia (on the rare occasion we are up around sunrise) but the high density of temples and monks makes Luang Prabang special. More than 500 monks head out each morning to collect food and many of them follow the same route creating wild scenes of orange robes moving silently to collect their rice and other offerings.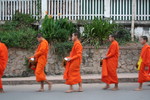 Unfortunately, this is a prime tourist attraction. While down by our guesthouse there were maybe a dozen or so people watching or taking photos, we walked up to the main street and found what looked like a Hollywood premier.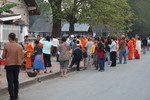 Flashes going off constantly, people crowding extremely close to the monks in order to get unobstructed shots and clueless westerners trying to give the monks food but going about it all wrong and violating important customs such as not pointing your feet at the monks or making sure you are sitting at a lower level than they are. It would be like walking into a Catholic church and using the holy water to wet a handkerchief to cool down!
We watched one guy literally run a few yards at a time, snap a photo and then run a few more trying to get his perfect picture. It was shocking and really disappointing that these monks put up with this day in and day out. We tried to minimize our impact by taking photos without a flash and sitting quietly across the street from where the monks walked. Maybe we are not any better but I feel like we tried to put the tradition first instead of our need for a souvenir. I like our blurry photos anyways.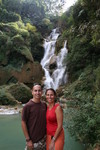 Enough bitching. On the surprise front, we decided to visit a well known waterfall and teamed up with a group of four we met on the street haggling for a tuk tuk. With six of us, we drove him to 25000kip each ($1.50 USD) for the round trip ride.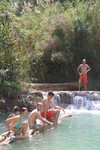 It turned out to be a really great day trip! We got to the falls before the tour groups and we had a small fall and lagoon all to ourselves for swimming. Afterwards we headed upstream to find more and larger falls and pools culminating in the monster pictured here. We took some photos and climbed almost to the top before it was time to head back. The ride to and from was about 40 minutes that we spent trading stories and info with Dick and Noreen from the Netherlands and Malcolm and Simone from Australia who are teaching English in Hanoi.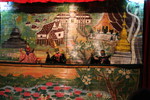 Back in town we went to an hour long puppet and dance performance at the Children's Cultural Center. This was so awesome to see these kids having some fun and learning art. They did a series of puppet sketches of stories important to Buddhism and local history and then a number of dance routines. It's interesting to see the similarities between Cambodian Apsara dancing and the Laotian variety. Lends more weight to the phrase "same same but different".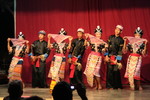 By the time the show was over, I was starting to feel quite ill. The tuna sandwich I grabbed from a street vendor at the waterfall was coming for revenge. Malcolm and I had warned Simone to skip the un-refrigerated mayo but I wonder if I didn't get a little bit in mine? Time for bed.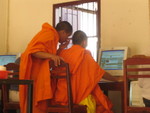 By the way, I couldn't help but post this funny picture of monks getting their Internet on.