Authored By Jennifer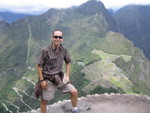 Before we even started our RTW trip, Brian knew he wanted to see Machu Picchu in Peru. We did some research and came across a company called Peru Treks in Cusco offering 4-day guided tours of the Inca Trail to Machu Picchu. Peru Treks provides community outreach programs and has an excellent porter policy. Their porters are the most highly paid of all of the trekking companies, are provided with boots, coats, sleeping bags and mattresses, and get plenty of food to eat.
These all seem like basic necessities, but only until a few years ago, that was not the case (porters use to carry up to 60kg (135lbs!) until they unionized and won 25kg limits). If you ever consider hiking the Inca Trail, we both very highly recommend using Peru Treks. You can learn more about their services and their policies here.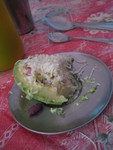 Not to mention, the food on the trip was fantastic. We would recommend them based on the food alone. Anyway, while we were in New Zealand we reserved our spot on the Inca Trail with Peru Treks and figured that if we could hike the 3-day Routeburn Track, we could manage the Inca Trail. How much harder could it be?
Here's a summary of the 4-day hike provided by Peru Treks: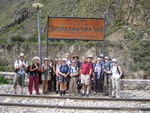 Day 1 (Easy): Trek from KM 82 (8,502 feet) to Wayllabamba (10,137 feet). Total distance: 7.5 miles, about 5 ½ hours
Day 2 (Challenging): Wayllabamba up to Dead Woman's Pass (13,776 feet, the highest pass on the trek). Dead Woman's Pass down to Paqaymayu (11,480 feet). Total distance: 7.5 miles, about 8 ½ hours
Day 3 (Unforgettable): Paqaymayu back up to the Second Pass (12,916 feet) down to Sayaqmarka (11,808 feet) back up to the Third Pass (12,000 feet) and finally down to Winay Wayna (8,829 feet). Total distance: 9.4 miles, 9 hours
Day 4 (Unique): Winay Wayna down to Machu Picchu (7,872 feet). Total distance: 3.75 miles, 3 hours.
Had we learned and carefully considered this information before we agreed to do it, we may have changed our minds.
Unlike all of our previous blogs, Brian and I decided to write this one jointly because we had such different and completely opposite experiences.
Day 1: Jennifer
Brian
(Not too shabby) I actually thought the first day was pretty easy. The path either was flat or rolling hills. I enjoyed the sites and was generally pretty happy. We didn't have porters to carry our stuff on the first day, so we were hiking with all our gear, which was about 14 pounds. Right before our campsite, we had to hike up a small but steep hill, and I knew I was in trouble. I am terribly out of shape, but the altitude really makes any physical activity difficult. That night we decided to hire a porter to carry half of our stuff for the next day.
The first day of the trek was fun and it was a good introduction to our 14 fellow hikers and the group of porters and guides that would be keeping us company. We started at Kilometer 81 with a group photo on the railroad tracks before our walking sticks were confiscated at the first checkpoint because they were 'native wood'. What a joke – the guides had been urging us to buy them! The hiking actually began with 12km of "Inca Flat" trail to our first campsite. "Inca Flat" means up and down but not too extreme in any one direction. At this altitude though, even a little up or down can mean heavy breathing.

We saw our first set of ruins, a set of restored green terraces (marred by giant hydroelectric towers and wires) before we climbed up a small peak for a photo opportunity and continued on into the valley away from the river. Our guide Freddy was fanatical about being a "Family" and explaining everything to us and his enthusiasm was great. My one complaint about this day was that we stopped excessively. After hiking for an hour, stopping for 30 minutes and letting your body cool down and stiffen up is terrible.

We also got our first taste of Andean peaks. As we turned away from the river and headed up the valley, we started to see the snow-capped peaks that form the backbone of Peru and South America. They are incredibly steep and rugged and rise straight up out of the valley floor. Even at this relatively low altitude there isn't much shrubbery away from the river.

Finally, we were introduced to our food. Not the dreary camp food we were expecting but stuffed avocado as an appetizer followed up by soups and meats and everything was delicious. This was just like the dive boats we had been on: activity, eat, sleep, repeat. Ok, not so much sleep.

Day 2: Jennifer
Brian
(Please let me die on this mountain so I don't have to take another step): We had to climb 3,600 feet to Dead Woman's Pass, the highest point on the trip. Our guide Freddie said it would be easy, switchbacks all the way up, and it would only take 6 hours, with stops every 2 hours. I'm not sure what the Spanish to English translation of switchbacks are, but clearly Freddie doesn't know what that word means. We just climbed up, up and up some more. And just when you thought you were done, you'd turn the corner and see the rest of the path reaching into the sky. I can't even begin to tell you how much it sucked.

Brian decided to take off without me after the first 2 hour rest stop. This did not sit very well with me because I didn't even want to do this hike in the first place. I was only doing it because Brian wanted to. And now that I was forced to do it alone, every step was even more miserable than the last. The altitude made it hard to breath and I started counting how many steps I could take before I had to sit and rest, 50, pretty pathetic. I put on my iPod hoping that would motivate me up a hill, and it did help a little. Two of the songs I randomly listened summed up my hike that day, "I Wish I Was Dead" by the Shout Out Louds and the chorus to Thom York's "Black Swan" which went "This is f*cked up, f*cked up." The part that really sucked was that I could see Dead Woman's Pass at the very top as I walked up the mountain, and I knew Brian was already there. I wanted to get to the top and push him over the edge.

When I finally arrived at the top, hours behind Brian, I made it pretty clear that I wasn't happy. Unfortunately, making it to the top wasn't the end of the day, we still had to walk down 1,000 steps and 2,200 feet in altitude to our camp. This was just as difficult as hiking up the mountain and I fell a couple of times before arriving at camp a few hours later, the last one out of 16 people, 3 of which were over the age of 60. It was a completely demoralizing day and if quitting and turning back would have been easier than going forward, I would have done it in a heartbeat. I swore to Brian that I would never, ever hike again.

I slept like crap last night and Freddy woke everyone up at 5:30am for day 2: 12km over the highest pass of the trek at 4215m (~13,000ft). With a filling breakfast and a hot cup of tea, we set out on a steady climb to our first break. At this point we were following a small stream and there were trees and plants and birds. The Europeans really excited at seeing hummingbirds which they don't seem to have.

The campsite and camp gear was solid and the porters had everything set up for us when we arrived and they broke it all down for us after we left. Then, they proceed to pack 25kg (~56lbs) up the trail faster than we can walk it with our 5kg packs. Weak!

After discovering that everyone else hired an extra third of a porter to carry their gear, we decided to hire a local to ensure we wouldn't die trying to summit. Our packs lost about 8lbs each which was a great feeling when we first started. Jennifer and I each donned our iPods for rally music and I set out at a comfortable, steady pace and worked my way up the mountain arriving to our breakpoint just behind James and Kormack who were having some kind of suicidal race up the hill. We sat down and enjoyed the view while the rest of the group caught up. It was when Jennifer walked up and informed me that she was never hiking again that I knew the rest of day 2 was probably going to be ugly. This was not even half-way.

The break was picturesque with nearby grazing alpacas and llamas. The air was crispy clear and the views of the valley were stunning. It was amazing to see how far we had already come up (300m / ~1000ft) and it felt great. Unfortunately we stopped for almost an hour so we were all starting off cold again when we set out for the top.

I am writing this passage without having read what Jennifer has written so I am not recounting anything other than my experience. The rest of the climb was evil. For the next couple of hours, I was pouring out sweat as I put one foot in front of the other with my iPod on blast, climbing stone stair after stone stair after stone stair. Every time I came around a corner that looked like it was close to the top, I was met with another vast expanse of upwardly winding Incan trail that disappeared still further away.

Before we set out, Freddy taught us how to chew on coca leaves to help with the altitude. You start with a little ash, roll up the leaves and then chew on them until your tongue goes numb and you spit it out. If you didn't feel stronger you would never try it because it tastes like lawn clippings. Gross! I'd much rather have four Red Bulls but at 6:30am, that's even a little too much for me.

In looking through my pictures, I can see I didn't take many shots because there was only one thing to do: Step forward. Step forward. Step forward. It sucked, but when I reached the 4215m summit and James and Kormack (who, once again, had raced to the top) clapped for me, it was exhilarating and completely worth the physical exhaustion. Top of the world!

There was an icy breeze on the ridge so I quickly put on my fleece and sat with the guys while the rest of the group arrived. We cheered on everyone for their monumental effort. Mary-Anne and Carol (both over 60), who have climbed Kilimanjaro, said this ascent was harder due to its steep pitch but we all made it, took a group photo and made a small offering of local Pisco to Pachu Mama (the Earth Mother who has been giving us good weather).

When Jennifer reached the peak we clapped for her but I saw she was having none of it. She explained to me that she felt like I had abandoned her to suffer through the climb alone and although my intent was to just go at a pace that worked for me (I prefer to go slow and steady instead of stopping frequently), I saw her point and we agreed that we would hike the rest of the trail together at whatever pace we needed to walk. I was hoping this would be like the Routeburn where much on-trek complaining was followed by much post-trek celebrating.

From the summit it was about 600m of descent down many big stairs to our campsite for the night and back under the bushline. Along the way we saw several types of orchids and the mysterious mountain mist came and went as it pleased. Jennifer and I attacked it together pulling up the rear of the group and came into camp around 5pm just in time for hot tea. I don't really like tea but I've been drinking about 6 cups per day plus several liters of water per day to account for the perspiration. And to wash the nasty taste of coca leaves out of my mouth.

Day 3: Jennifer
Brian
(Didn't Think it Would Be as Bad as Day 2, but it Was Pretty Damn Close): Brian generously agreed to stick with me on Day 3, which at this point I really didn't care about. The morning and most of the afternoon weren't too bad. We climbed two passes, not nearly as difficult as the day before, and the jungle we were walking through was beautiful. But shortly after lunch we had to climb down 2,000 steps to final campsite and I really thought I was going to fall off the cliff. My knees and ankles were swollen and in such pain. But the steps just never ended. Again I took up my spot in last position and our assistant guide Cesar stayed behind me and Brian. He told me it was only 10 more minutes, which I was depending on to keep going. But he meant10 more minutes until we would take the fork in the road which was another 40 minutes until we reached camp. The last part of the path was dirt, not so many steps, which was a little better, but I kept slipping and falling and each time I felt worse and worse about myself. I just wanted to be left alone, but I couldn't shake Cesar and Brian. Another bad ending to another bad day.
Looking at the elevation chart, this wasn't supposed to be a very hard day but my ears perked up when I heard someone whisper "Gringo Killer". Well, perked up as much as someone who hasn't slept well three nights in a row. It was going to be the longest day with two passes to clear but the initial ascent out of our camp past the ruins of Runcuracay to the second summit didn't seem so bad. Until a bunch of porters literally run by you on the uphill making you feel pathetic. Look at the calves on these dudes!

No, the real difficulty of this day wasn't in the climb but in the descent. After we reached our lunch stop (wonton soup and grilled Alpaca, by the way), we began a series of some 2000 stone steps to our final campsite. There's really nothing to convey the pain our knees felt during those 2 and a half hours. Look at some of these pictures and see how bloody steep are these stairs! And the physical effort is just half the picture; the mental focus required to ensure you don't miss a step and fall is just as exhausting. We pulled into camp last again but still in time for hot tea (and a cold Cusquena beer from the on-site vendor)!

Freddy and Cesar took us into the adjacent site of Winay Wayna to clean our chakras in the ceremonial fountains before our arrival to Machu Picchu. Winya Wayna was only discovered about 15 years ago. It seems impossible but there are still many undiscovered Incan ruins overgrown with jungle.

Day 4: Jennifer
Brian
(Thank God it's Over): We woke up at 4:30 am so that we could see the sunrise over Machu Picchu. It was only about 4 miles and was supposed to take 3 hours. I was motivated to just be done with the hike, and was hoping that would carry me through the early morning. But that last 4 miles also proved to be difficult and this point I had had enough of the Inca Trail. I wanted Brian to leave me alone and go up ahead because I was feeling guilty about keeping him from seeing the sunrise since I was so slow. He wouldn't leave me behind, he wanted us to do it together, and this resulted in an argument on the mountain when we should have been excited to finally be seeing Machu Picchu. Later I would feel terrible about this incident, but at the time I was exhausted mentally, physically and spiritually and just needed to be alone.

We finally reached Machu Picchu, and of course it was gorgeous. But I was so exhausted from the last 4 days, that I couldn't properly enjoy it. Our guide gave a 2 hour tour and the whole time I was dreaming about a shower and a bed. Brian decided to hike up the small mountain behind the ruins and it doesn't take a genius to know there was absolutely no way I would even consider doing it. After walking around the ruins one last time, I hopped on the bus and headed down the mountain, happy to be finished and wishing I had taken the train.

Finally a night of sleep! John, Denver MD gave me some of his "sleeping magic" and I was out like a light last night. It would have been great had it been for more than 7 hours but at this point I was willing to take whatever I could get. I felt like a new man, even at 4:30am!

Unfortunately, Jennifer and I started off rocky this morning. Hiking in the dark at 5am with flashlights was testing her patience. Although we started towards the front of the group, we slid backwards while people pushed on to see sunrise over Machu Picchu.

I tried to help by taking her pack but this just precipitated an argument and an order to leave her behind. Quite the opposite of what we had agreed to previously, we stuck it out together and made it to the Sun Gate last, but still with plenty of time to see first light over the ruins.

It's really an incredible thing to have hiked some 28 miles over the Andean mountains to find yourself staring into deserted ancient ruins. At 7 in the morning, there's not a soul wandering around the site and among the 50 or so hikers at the gate, there is a real sense of elation and accomplishment. There's no other way to account for the busy chatter and bright eyes at that time of the morning.

Freddy took us into the ruins for some explanations and a group photo from near the guard tower. The night previous we had been discussing what initially made us want to visit Machu Picchu and I couldn't recall what first interested me. It was from this vantage point that I remembered: National Geographic. The cover of National Geographic many years ago was a picture of Machu Picchu from this exact point and as I looked out over the spring-green terraces and cold grey stones, that picture sprang to mind. The seed that photograph had planted had finally matured and here I was, dirty and grimy, stinking to hell and standing at dawn among an ancient Incan city in the Andean highlands of Peru. Nice!!!

After our tour, most people headed down to Aguas Calientes for beers and leg resting. I decided to scale the 300m tall peak of Winay Picchu which overlooks the city of Machu Picchu. I headed to climb to the top alone, leave my rock offering for Pachu Mama and come back in a scant 74 minutes. The views of Machu Picchu and the surrounding valley are impressive.

Coming in from the Inca trail means you don't see the "commercialized" entry way at first. Where the "lazy people" ride a bus up the hill and go through the visitor center and ticket office, we hiked in the same way the Incans did with just a few dozen other people wandering around the site. Doing the hike on the shoulder season turned out to be a stroke of genius… it wasn't until I left the site around 12:30pm (after the tourist trains have arrived from Cusco) that it felt crowded. Even still, as I wandered out I found myself alone in the ruins most of the time.

After the exit, a bus ride into Aguas Calientes and a reunion pizza lunch (and more than one cerveza) with our group, we all boarded the backpacker train to Cusco for rest, rest and more rest! Except for James, who talked for the entire train ride.

Summary: Jennifer
Brian
I will never, ever hike another bloody day in my entire life. The 4 days of utter misery I endured on the Inca Trail were physically the hardest days I've experienced in all my 31 years. I felt so many emotions in those four days, most of them bad, and I never want to go through that again. It's important to support the one you love in the activities they enjoy, even if they aren't your choices. But sometimes, you need to just say no. You'll both be better off if you do.
A once-in-a-lifetime experience! We had phenomenal weather with basically zero rain (thanks to Pachu Mama), a great group, amazing views and fantastic food (the last night we had a damn cake and I gave a toast to the porters in Spanish). Nothing great comes easy. My legs will feel fine in a couple of days but I will always remember that first glimpse of Machu Picchu and looking down on the Condor-shaped ruins from atop Winay Picchu.

Although Jennifer feels terrible for being last to camp, I am so proud of her for sticking it out and completing what most people will never even attempt. It's not a race, it's a journey! I hope that she'll come to appreciate her own great accomplishments.

It's unnatural for me to consider doing something without Jennifer but we need to be more assertive about doing things separately. Time spent together under these kinds of conditions doesn't benefit either of us or our relationship.
Check out the pictures here!