Authored By Brian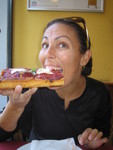 When we originally inserted a two week stop in Italy as part of our backpacker trip around the world, it was to celebrate surviving a month in India and to reward ourselves with some hard-earned rest and relaxation la dolce vita style.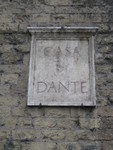 In our revised schedule (and budget) with me spending two and a half weeks in India and Jennifer lounging around Bali, Italy looked more and more like a money sinkhole and less like a party but when you actually set foot in Rome, it's impossible to feel like saying anything other than Mama mia! Italy is an old shoe that fits so well.
Jennifer flew into Rome from Sweden a day ahead of me and surprised me at the airport after I finished my 36-hour marathon of 5 flights and layovers to reach Italy. She was a sight for sore eyes and we shared an emotional reunion kiss. Traveling solo is so different and although very engaging, it is also wonderful to have someone you trust and love next to you.
After a night in a hotel, we caught up with my cousin Patrick who lives in Rome. He let us stay at his place and made us feel right at home like he has in the past. I am anxious for him to come to the states again so I can return the favor. He has a great apartment near Piazza Barberini about five minutes walking from the Trevi Fountain and San Crispino Gelateria (considered Rome's best).
We didn't do any sightseeing in Rome although the runs we made to bookstores and the post office expose you to more history than you see in most other cities in a week. We passed Circo Massimo, the Coliseum, Pantheon and endless ruins we can't identify. This is what enchants me about Rome; it is my favorite European city and a place I hope to learn Italian.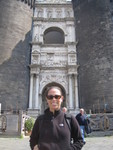 After a couple of days chilling out, we booked Eurostar tickets to Napoli where we have been for two days. Everyone, Patrick especially, has been warning us about getting screwed or the danger of Naples. There are definitely more obviously seedy guys here like the dudes around Piazza Garibaldi who pull mobile phones and laptops from their jackets to sell but we haven't felt unsafe anywhere, even when wandering down Spacconapoli's back alleys. The most dangerous part is avoiding the 12-year old Valentino Rossis riding motos at top speed.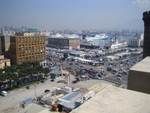 The first day we checked out Castel Nuovo and what I would call "modernish Napoli" while yesterday we did a walking tour of Old Napoli, visited the Museo Arcealogico Nazionale and took the underground Napoli Sottereanea tour.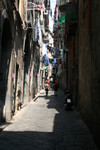 We felt like we had a solid taste (both figuratively and literally with all of the food sampling we were doing) of the grimy Italy you see in the movies.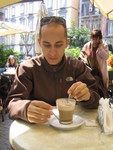 Characters of all types, young and old, male and female parade around these tiny streets, some of which date back to Roman times of 1st century AD, each a legend on their particular block. All of them fashionistas to the core (big boots, giant sunglasses and denim everywhere are currently the trends for women).
We were surprised at how dirty Napoli is; more reminiscent of SE Asia than Rome or Milan. Trash and graffiti everywhere. The Sotteranea tour took us into ancient ruins of a theatre and an aqueduct system used over the past two millennia.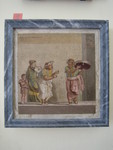 In the 1940s, the dry aqueduct system was to be converted into bomb shelters for WWII but the cisterns had been filled with 5 meters of garbage by the Neapolitans! Rather than take the trash out, they simply built over the top to save time so even today the tour walks on a thin layer of dirt over 15 feet of garbage. Gross!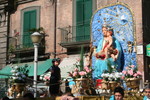 We are here during Easter weekend and it has been a bizarro twist to see Catholics parading in the streets with flags and religious images and singing and dancing after so much exposure to similar Buddhist rituals in SE Asia. Lots of Italians are in a festive mood and many people greet us with Buona Pasqual or "Happy Easter".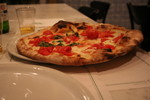 We are trying to keep the budget sane so we have eaten pizza about fifty times so far. Can't really go wrong with that. Especially in Napoli where they invented pizza and have the lock on Pizza Margherita. Last night we had an incredible pizza at Pizzeria Trianon, a three-story wood-fired pizza-generating madhouse.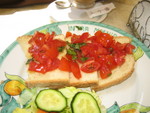 It's hard to explain what makes a pizza so much better that you feel obligated to use knife and fork for fear of insulting the cook. Let's just say that although we both love Goat Hill and New York pizza, these guys own the throne. Molto benne!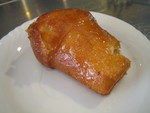 Outside of pizza, we have had almost exclusively delicious food like penne alla sorrentina, a penne with a tomato and mozzarella sauce and gnocchi and rabbit cacciatore. There have also been great street snacks like fried risotto balls and mozzarella sticks. The lone "yuck" experience was a breakfast pastry at 9am that turned out to be drenched in 150 proof rum. A bit much that early in the morning but… it seemed to be popular with the locals.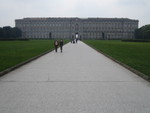 This morning we watched about two-thirds of the Malaysian Formula 1 race in the hotel lobby before it was pre-empted by the Pope for mass. It's hard to be mad at the Pope. We split our hotel and headed 22km by bus to Palazzo Reale which was the royal palace for Charles III. It was loosely based on Versailles and has a giant garden with long waterways and fountains with sculptures. Our goal was to enjoy some outdoors away from the city and it was perfect.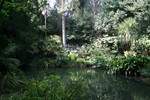 We also got some home gardening ideas in the English gardens.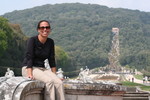 Returning to Napoli by train (Napoli has a great transport system; any ticket is valid for 60-180 minutes and can be used across any transport including bus, train, metro, etc.), we grabbed a snack of McDonald's fries before setting out for the top of the hill of Napoli to look out on the city and have a nice Easter dinner.
A nice Easter dinner devolved into another dinner at Trattoria di Carmine when we found both the cable car and Metro line B closed. Carmine's took a step backwards to any restaurant we could find open when it was shut. And sadly, just over an hour after we left McDonald's, I found myself re-entering the Golden Arches to suffer through a terrible, overpriced excuse for Easter sustenance.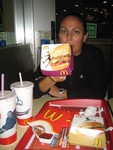 Jennifer loves McDonald's so I relent (and internationally, where the relative genius of Burger King has not reached, you often don't have a choice) but my two visits during this trip remind me why I haven't chosen it since college: the ketchup (which cost 13 cents) was colder than my drink (which tasted like coke mixed with Fanta), our burgers could not be mistaken for the ones on the menu in a burger version of "Criminal Line-up" and the whole thing cost just 2 euros shy of the pizza, two beers and water we enjoyed at Trianon. Please, someone explain to me what you see in that festering mess??
Tomorrow we leave for Amalfi by bus via Sorrento along the Mediterranean. We are planning on reading our books and resting our weary feet before we check out Pompeii and then head back to Rome and onwards to Peru.