Authored By Brian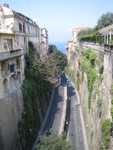 This is what my ears registered as my kidneys felt a one-two elbow from an Italian senior citizen pushing her way onto the already crowded bus. I was standing; make that, hovering, over the bus driver, cuddling the ticket validation machine, as the Campania region bus hurtled along the coast from Sorrento to Amalfi. Perched on towering cliffs over the Mediterranean, this makes California's Highway 1 look like a German autobahn as it winds back and forth on one to one and a half lanes of tarmac.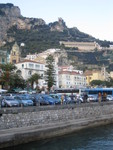 What should have been wonderful views from our comfortable seats turned out to be the worst bus experience we have had on this trip. Not the tiny seats without handles from Vang Vieng to Luang Prabang, nor the back of the two-hour stop-to-make-a-buck tuk-tuk ride to Vientiane and not even four-people-to-a-bench summit-cresting Darjeeling share jeep could stand up to the chaos of this southern Italian every-man-for-himself ride we were on.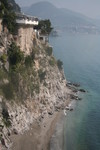 I had no idea where Jennifer was. I stayed outside long enough to put our bags in the underside storage and climbed aboard second to last. She was lost in the humanity in the back and I was hoping she found a seat. These people, these western, civilized people, were like hungry animals with their pushing and squirming. Score one point against Catholicism on the board, please; traveling on Easter Monday sucked.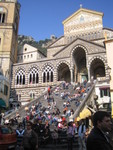 We didn't even know such a holiday existed when we left Napoli by train for Sorrento and planned to connect by bus to Amalfi for a night. We wanted to visit the Cositera Amalfitana and this was the path we were told to take.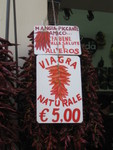 The good news is that eventually we did get seats as people got off the bus and, yes, the views were stupendous and yes, the Amalfi coast is as gorgeous as people say. I don't know if we thought that Amalfi was the best town… others nearby such as Positano looked a little more interesting and we both liked our lunch in Sorrento, but this area would be a great place to kill some time for a longer holiday.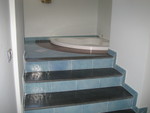 We booked a Junior Suite with a hot tub on the Internet right in the heart of tiny Amalfi and spent the late afternoon walking around and doing a little shopping. We enjoyed a nice dinner and purchased a bottle of wine to enjoy back in our room while we relaxed and caught up on a few episodes of Lost. One nice thing about having my laptop is that we can download episodes of Lost from iTunes for just a couple of bucks. It's great to be able to zone out and enjoy a little mindless television (in English…) once in awhile and it's one of the only shows we make a real point out of watching.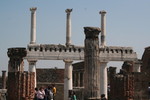 The next morning we were up early to catch the bus onwards to Salerno where we would catch another train up to Pompeii to check out the ruins. I didn't know much about Pompeii other than Mt. Vesuvius blew up and froze it in time but when you get your first glimpse, the large size of the complex is striking. The area must be over a square mile of ruins that have been excavated out of the ashes and rubble caused by Vesuvius. There was a theatre, residences, many shops, little street vendor food stands and, of course, a brothel.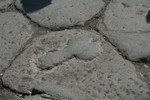 Here is some 1st century guerilla marketing by the brothel, carved into the main street of Pompeii.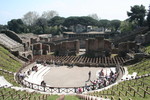 We didn't have a ton of time because we needed to be back in Napoli to catch our train on to Rome so we hooked up with a walking tour for about an hour and a half that hit the highlights and told us what was important. An interesting fact is that the civilization, as far back as the time of Christ, had lead pipes for running water!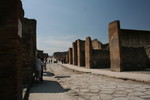 Pompeii is just one of several scaviis (excavations) in the area around Pompeii but it is the most complete (and most popular) because it was the easiest to dig out. Ercolano was covered in hard lava rock so digging down requires 10 times the effort. Pompeii was preserved so well that there are still many painted murals on the walls including the explicit ones in the brothel designed to function as a "menu" and beautiful mosaic tile pieces like the ones we saw in the national museum in Napoli.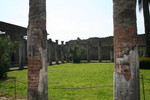 Had we known was a travel nightmare it was going to be to get to Amalfi and back, we probably wouldn't have gone but we're both really glad we saw Amalfi and Pompeii. We wanted to make it to Palermo and Sicily but it will have to wait until next time. Patrick thinks Sicily is the most beautiful part of Italy hands-down.
The last day and a half we are back in Rome, running some errands and preparing to leave our vacation-within-a-vacation for Peru. Jennifer had to fly to Paris this afternoon to reconnect with our RTW tickets while I leave tomorrow morning at 7am.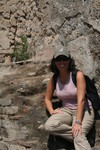 I joked about throwing a coin into Trevi fountain when we walked by last night but thinking about it now I realize there's no need. When you've got shoes that fit this well, you'll definitely put them on again in the future.