Authored By Brian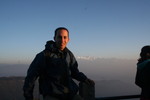 From Delhi to Darjeeling to Dooars, the ambient noise level hasn't changed much but just 1km off the road at the Jaldapara tourist lodge in Madarihat the sounds are completely different. Chirping birds, mooing cows and some kind of howling animal (a peacock I think). Despite the pack of stray dogs that kept me company from the bus drop-off to the hotel, I have only heard a couple of isolated barks this morning.
Today was a long and exciting way to travel from Darjeeling to Madarihat. The distance is not particularly far but I packed in three days of activities and transport to keep things exciting.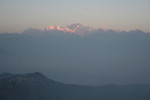 I started off by waking up at 4am so I could watch the sunrise from Tiger Hill above Darjeeling. The weather has been more clear the last day or two and from Tiger Hill you can watch the sun rise over 4 of the world's 5 tallest mountains. I made it just in time and took a wad of pictures but none of them can do justice for what it looked like in person. It was so beautiful (combined with lack of sleep?) it made my eyes well up.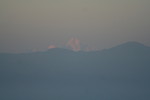 In the distance we could just see Mt. Everest too but the haze prevented us from seeing the other 2 mountains. Still, the "snowy 5 peak mountain fortress", as Kachenjunga roughly means in Tibetan, was more than enough as a solo act.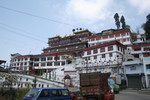 Our share jeep headed back into Darjeeling, stopping what seemed like a dozen times to let people see some Gompas and Batasia Loop but finally I was back at the share jeep stand and hailed myself a ride to Kalimpong. Kalimpong is to the east about two hours away through the mountains. I bought myself two seats so I would have a little more room and an older guy and I shared the back seat along with some cookies and tea at our half-way stop. Out the left side of the jeep was Kachenjunga in its full-morning glory and it is so tall that I had to really lean forward and crane my neck to be able to see the peaks. The rest of the time I was just looking at a sea of blue-gray into its hazy foothills.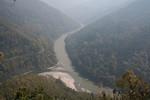 The ride was pretty easy with all the room but we did suffer a flat fire right near where the "Lover's Meet" – the Teesta and Rangit rivers come together in the valley floor below. This pit stop was no Formula 1 affair as it took about 25 minutes to change the tire. As I was waiting, another share van came by with a girl who was leaning out the window. I thought maybe she was just sightseeing but as they approached the hairpin corner, she projectile vomited at 25mph!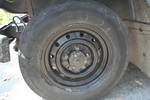 Not what I was expecting… thankfully I was out of the trajectory path. The repair culminated with the driver only putting 4 of the 5 lug nuts back on the wheel which gave me the warm fuzzies after I remembered how little effort it took him to knock them off in the first place. Safety first!
I was headed this route to Kalimpong because I wanted to do some white-water rafting on the Teesta river. There aren't too many places to do it in India and this is supposed to be pretty decent. Despite much mis-information about timing and costs, we eventually got underway with a couple of Hindi families from Kolkatta on holiday. The rafting was 2+ so nothing like New Zealand but we still got wet and it was a nice cruise along the river. We passed the Lover's Meet shortly after we started and I looked up to where I narrowly escaped the vomit.
Strangely, there were a couple of military fighter jets running overhead at low altitude and the people in the raft said it was just training exercises. Not exactly what you want to hear though…
Here's a snapshot of what is crazy about India: at the end of the rafting, we got out of the river and everyone was putting away their gear and helping to haul the boat out of the water. A couple of photographers had been trailing us in order to sell pictures to the other two families which I declined. As the guy re-loads his camera on the banks of the river, he takes his Kodak film box and just throws it on the ground! Now, I can appreciate that the average Joe might not care about the environment but this is a guy who makes his living from the river. Wouldn't it make for nicer photographs if there wasn't trash everywhere along the banks of the river? The difference between developing nations and developed nations is vision. Leadership and vision is a scarce commodity in countries where people are concerned with day-to-day survival but it is all too obvious what is happening to the planet with that kind of attitude. What do we do about the several billion people who can now (or soon) afford Kodak film but don't have a clue about what to do with the box?
Pissed off, I stood around forever waiting for the Jeep to go back to the rafting place where I had some local Ghorka food for lunch. Instead of bringing my bag in the return vehicle, they made me backtrack a half-hour to the start point and THEN hail a share jeep to Siliguri which drove by the very place we got out of the river.
Stopping several times, it didn't look like I was going to make my connecting bus east to Jaldapara Wildlife Sanctuary from Siliguri. I was getting pretty frustrated because I didn't want to waste a night in dumpy Siliguri which is effectively a transport stop. In a stroke of traveller's luck, the bus I needed was driving by as I pulled my bag from the jeep! It screeched to a stop and I got on! It couldn't have been planned any better by anyone.
Cesar Milan
like you wouldn't believe) surrounded and accompanied me from the highway down the scary dark road to the lodge about 1 kilometer.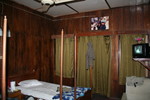 It was a respectable place (although the bathroom was pretty nasty) but honestly there weren't many choices so I took it. It was filled with Bengali tourists – out of the fifty or so rooms there, I only saw a couple of other Westerners.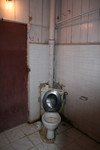 I sat down for dinner (all meals included in the $17/night price) and the power promptly went out for 30 minutes so I used my mobile phone as a flashlight. The good part was that this reduced the insane number of bugs flying around and made eating much easier. At least I couldn't see the "extra protein" that was landing in my rice.
The main thing to do here at Jaldapara is take an elephant safari so I signed up tonight and will be out in the jungle at 8am tomorrow. This sanctuary is home to the endangered one-horned rhino so I'll have the big zoom lens a-waiting.
As Monty Python says in The Search for the Holy Grail, "I'm not dead yet!", but it's still time for bed.