Authored By Brian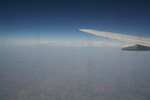 That's what I'm thinking right now as I take a break from reading the fascinating "The World is Flat" to look out the window of my top floor, wood-lined room with fireplace and sitting area out onto the small garden where someone is sweeping up leaves from the grass.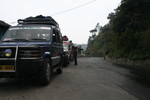 I have come and gone from this building some 15 times since checking in yesterday and I have yet to pass without seeing someone sweeping or painting. Clearly I am no longer in India.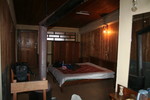 But I am in India! In the Queen of Hill Stations, Darjeeling, at the Hotel Bellevue. Since coming down with a cold, I decided to pay four times as much for a more comfortable pad. In contrast to my $4/night place Sunday with a hybrid toilet (kind of a raised squat toilet with footpads) and hot-water-in-a-bucket shower, this room is like a five-star hotel overlooking the cental Chowrasta square where I could envision myself staying a week.
I love this place. 48 hours and not a single person tried to con me into anything. I even asked for directions and received them!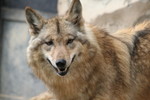 I wanted to check out the Himilayan Moutaineering Institute which details various attempts on Everest. It's inside the Zoo (a clever method of making you pay to see it) so I checked out the small zoo as well.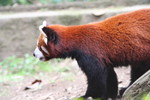 Compared to the animals on the streets, these were cared for very well and the zookeepers were diligent in keeping people from teasing the animals. I saw two beautiful pheasants (oddly, the national bird of both India and Burma are pheasants), common and snow leopards, clouded leopard, Siberian/Indian tiger, Tibetan wolves, Barking Deer, a fat Yak and cute Red Pandas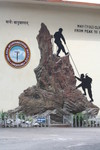 I eventually got into the Mountaineering Institute. As I walked up, there was a group of about 25 people kitted up in climbing gear taking a course on climbing. There are month-long courses that prepare you for serious mountain climbing like an ascent on Everest. I think it would be a rewarding challenge (and serious hard work) to attempt it someday. I like "vacations" with a goal.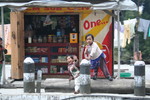 The people here in Darjeeling are quite different, most obvious is their appearance. There is far more Asian look with the mixing of Tibetan and Nepalese blood into the Indians. Darjeeling is also a tourist hotspot but not so much for Westerners as for middle-class Bengali citizens, many from Kolkatta (Calcutta). The people are dressed trendy, particularly the kids who are clearly watching and emulating MTV, and I even saw a couple of wannabe gangstas do the handshake and chest bump thing like they were straight outta Compton. The women wear make-up, particularly eye shadow in a unique way here that I haven't seen elsewhere. It has a weird effect of making the women look extremely similar which is a little eerie.
I also feel a little bit like I belong in the zoo too. Since arriving, I have been approached by random Indians who want to pose with me for a picture. I even held a one-year old baby in a hoodie for his parents. I can't tell if it's a goof or not but it feels a little bit like being from the species Raricus Aryanius Americanus. Regardless, it is beautiful here, quite cool compared to the flat lands and outside of the insanely steep hills, high altitude and lack of taxis, I am digging it!