Authored By Brian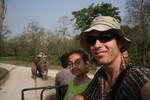 I feel like a pro as I dodge the bus station touts, pre-emptively wave off the beggard child and pit three taxi-wallahs against each other to save myself 40% off my taxi to the airport, finally ignoring his attempt to bait and switch me for an extra 50 rupees. India is my oyster; a polluted, trash-filled oyster whose own inhabitants don't give two shits, but an oyster nonetheless.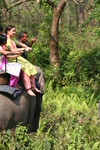 I am sitting at the airport about to begin a series of five flights from eastern India to Mumbai via Delhi and onwards to Paris and then Rome to reunite with Jennifer and meet up with my cousin Patrick. The last two and a half weeks have been a whirlwind but I can't wait to see Jennifer; this is the longest we've been apart for three years and I miss her!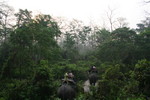 The last few days have been isolation and relaxation. I stayed near the Jaldapara wildlife refuge and spent my mornings on elephant safaris, my middays napping and reading and one of my afternoons on a jeep safari with a Swiss couple named Peter and Sarah.
The elephant safaris were way cool. The first day I got a late 8am time slot that started at 9am and only lasted 50 minutes but we saw three one-horned rhinos, an endangered species that this park is trying to save. Our elephant passed within 50 feet of one grazing on grass while the other two were in the bushes. We didn't really see much else besides a couple of peacocks.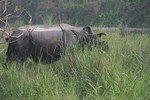 The second day, however, I got the 6am slot so I was up just before 5 to catch a taxi and share an elephant with an older couple from Fresno of all places. This ride lasted almost 90 minutes and we saw everything! We saw a rhino up close (missing his horn though!), deer (sanubars) in packs on the plain and singles in the jungle, peacocks, kingfisher birds, and the most unusual bit was this gigantic python that our elephant almost stepped on!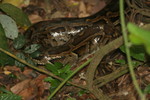 The camera memory card filled up as I tried to snap a better picture and this is what I wound up with. It was coiled up among the weeds and trees but the part I could see was easily 10 feet long and his head was massive. Really cool, even though I hate snakes. I was glad to be 10 feet off the ground, until the guy told me they hang from trees also.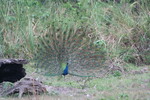 In the afternoon jeep safari, we stood on some observation towers and saw some bison (Indian Gores?) grazing, a few hog deer milling about and a ton of peacocks.
There wasn't much to do in the town nearby, not even an Internet café (*gasp*) so I finished reading The World is Flat and The Kite Runner (GREAT book recommended by Jennifer) and enjoyed my three square meals a day (food was included in my room price).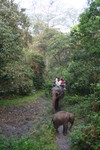 Eating was interesting because you don't order; you sit down and five minutes later you get some food. One breakfast this resulted in some buttered toast and flat omelet type thing while the Indian family I was sharing a table with received tasty looking puffy breads. For the next day, I asked for the Indian breakfast (puri and curry potatoes) which I liked better. I noticed, though, that the Indian families that morning were all eating the western breakfast instead. Made me laugh!
Well this entry is really about the pictures and not my blabbering but I have enjoyed my time here and I am glad I came.
I didn't get sick once despite eating on the street and from vendors and although the Indians that a tourist winds up dealing with (touts, rickshaw-wallahs, etc) can be overwhelming, the positive experiences here outweigh the negatives. It certainly takes a particular mindset and reserve of patience to navigate and enjoy but perseverence is everything!
Whether or not this outsourced development effort works out for my company, I am sure I will return some day to see (and eat!!) more.