Authored By Jennifer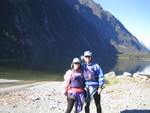 At any rate, it was absolutely beautiful. No rain, lots of sunshine, and no wind. Milford Sound looks a lot different in nice weather. You can see the difference in the pictures. We geared up and started out on the Sound. It was nice and still and was fun for about the first 20 minutes. Then I remembered why I hated kayaking when I used to teach it on Catalina Island all those years ago, it's hard work! My arms were so sore, mostly because I'm a wimp, but about 20 minutes later, Brian's arms were sore too.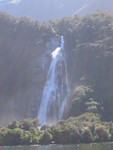 Then the wind started to pick up and the real fun began. For some reason, our guide was taking us straight up the middle of the sound, through the harsh wind and the now 2 to 3 feet swells. As hard as we were paddling, we felt like we weren't going anywhere. And since I was sitting in the front of our kayak, I was getting drenched by the waves.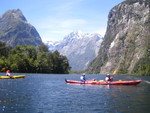 Luckily, a Singaporean couple were having a tougher time then we were and the guide decided to turn back because he didn't think they could make it. We were relieved! We "rafted up" the three kayaks on the tour and hoisted up a sail. Then we "sailed" back out of the sound. That part was actually kinda fun.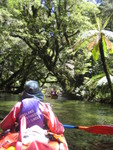 Not the best activity on the trip. And although Lonely Planet recommends seeing Milford Sound in a kayak, I really think a cruise is better. You just don't get to see as much in a kayak, and it's hard as hell. Also, before we got in the double-kayak, the guide said they're commonly known as the divorce boats.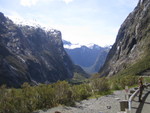 After 4 hours of me thinking I know everything about kayaking since I used to teach it, and Brian not listening to a word I was saying, I understand the guide's nickname for the boat. We have agreed to only use single kayaks in the future.