Authored By Jennifer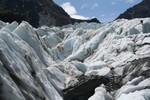 We finally left the Queenstown/Wanaka area after two weeks of calling it home. We headed up the West Coast to the Marlborough wine region before crossing Cook Strait to the North Island. We stopped at Fox Glacier for a day and took a full-day hike on the glacier.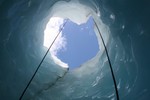 There are over 6,000 glaciers in NZ, but the Fox and Franz Josef are the two most popular. Nowhere in the world at this latitude have glaciers advanced so close to the sea. Both glaciers are actually advancing instead of receding, which is a phenomenon in itself, but they're advanced at a rate of 3 feet a day which is also incredible.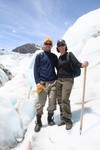 We took a short drive to the glacier and then hiked through a temperate rain forest before putting on our crampons and heading onto the ice. We weren't sure we wanted to do a full-day hike, but there was a lot more waiting around than hiking as our guide had to maintain the track on the glacier with his ice ax. But we still had a great time and enjoyed being on the glacier. The higher up we hiked, the more beautiful and blue the ice became. And we were lucky enough to see an ice cave.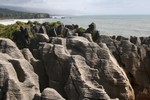 After the glacier we made our way up the West Coast. We stopped to check out the Pancake Rocks which are actually limestone and are incredible to look at. But otherwise, we just did a lot of driving.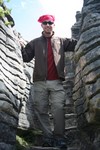 We finally made it to Blenheim, the heart of the Marlborough wine region. I'd been looking forward to doing some wine tasting for some time as Sauvignon Blanc is my favorite wine, and the Marlborough region is known for it. Outside of a wine tasting class I took with Melissa in college (mostly just another excuse to drink), and what I learned culinary school, I don't know much about wine. I know the difference between a good wine and a bad wine, but most importantly, I know what I like.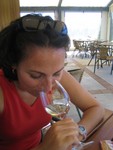 We took a tour of Montana (known as Brancot in the US), the largest winery in NZ. Although they are the largest in the country, they are still considered a boutique winery on a worldwide scale. They are expanding to accommodate the increase export business they're experiencing. Our guide said that the US is their fast growing market. The tour was very interesting and we left with a bottle of their Duetz Brut for me and a bottle of insanely sweet Late Harvest for Brian. He loves those dessert wines. I went in expecting to buy a Sauvignon Blanc, but just wasn't that impressed. It smelled wonderful, but left something to be desired in the taste. I actually really liked their Chardonnay, which surprised me as I usually write off Chardonnays as pretty boring wines. I was going to buy the Chardonnay, but was more impressed with the Brut. Wine is pretty cheap here compared to Napa Valley. Most are in the $15NZD to $25NZD range. The most expensive wine at Montana was only $35.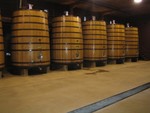 The next winery we visited was Matua Marlborough, which I recognized from the US, and read that they won awards for their Sauvignon Blanc. It was really hot outside, the first hot day we've had in NZ, and when we went in for a tasting, the lady served warm white wine. I thought this was weird, but didn't ask why because I didn't want to look like a dumbass. Maybe they serve NZ white wines warm for a reason? Luckily that didn't keep me from tasting. Their best wine was the Paretei Sauvignon Blanc. This is an award winning wine and the grapes are actually grown in a dry riverbed. The sun warms the rocks during the day and when it gets chilly at night, the rock emits the heat it's gathered from the sun. Pretty cool huh? The wine is delicious and was the best Sauvignon Blanc we tasted. As we were getting ready to leave, another guest asked why they were serving the wine warm. The answer: because they didn't want to keep going in the fridge across the room. What a terrible reason. Shouldn't you serve your wine at its ideal temperature so that people will love it and buy it?
Our next stop was Forrest Estates. We stopped more for the gardens then the wine although the wine was pretty good. They are the only winery in the region that produces a Chenin Blanc which I really liked, but not enough to buy.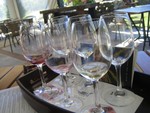 On the way up we were listening to the radio and a wine expert mentioned his top 5 places for wine in NZ. One of these places was Herzog Winery. He mentioned their extensive wine list and excellent food. Their winery is just outside Blenheim so we decided to go check out the menu and possibly fit in some tasting. The owners of the winery, Hans and Therese Herzog, used to have a winery and two-star Michelin rated restaurant in Switzerland. They decided to pack their bags and move to the Marlborough region and I am so happy they did. I can't say enough about this winery. It's absolutely amazing! It's a very small boutique winery producing only 30,000 cases a year on as few as 27 acres. They grow all their own fruit and produce and bottle their wine on the premises. We paid $10 for 3 tastings and I chose their Viognier, Chardonnay, and the Merlot/Cabernet Sauvignon. Surprisingly, they don't make a Sauvignon Blanc. But it didn't matter, the wines they do make are phenomenal. After I tried their divine Merlot/Cabernet, I mentioned I really liked big red wines and the lady serving us gave me a taste of their Montepulciano. Absolutely fabulous! Of course I had to have it and of course it was the most expensive wine we'd seen all day at $50.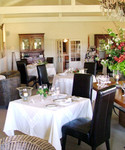 We loved the wine and the winery so much we decided to splurge on dinner. (We "convinced" ourselves the $200 USD dinner would be our Christmas dinner, and we'd do something cheap for the actual holiday). We put on our best clothes (cargo pants, a button up shirt and tennis shoes) and headed to the small restaurant. We sat outside on the patio overlooking the vineyard and the Eucalyptus trees enjoying an appetizer and their sparkling Rose. The atmosphere was perfect. The sun was low in the sky, it was warm and there was a slight breeze. It was absolutely beautiful and the wine was perfect. Once our table was ready we went inside the dining room. There are only 10 tables, but the dining room is pretty large. We were inside an old cottage with high ceilings, a huge fireplace on one side and windows all around looking out over the vineyard. And they had a Christmas tree made out of dried grape vines, which was really pretty. We ordered the three course meal with wine pairings. We both had the tomato ravioli to start. It came in a parmesan and butter froth which was so good I had to keep Brian from licking the bowl. It was so yummy! Already this is the best meal we've had in NZ. For the second course Brian had the steak with spinach and garlic mashed potatoes, and I had the halibut with gnocchi and a vegetable I can't remember. The fish was really good, but not as good as Brian's steak which was to die for! I always order fish, because I like it a lot, but it's never as good as the steak that Brian always orders. So far our meal was incredible and we were having a wonderful time. Then it appeared as though our bad-table karma hopped a direct flight to NZ.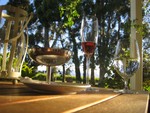 No matter where we go, our bad-table karma follows us. The funny thing is, we actually had a very good table, but the three waiters that were serving only 8 other guests, chose to ignore us for the next hour. At least if we had some wine, it wouldn't have been so bad. But our glasses were empty! They filled our water glasses twice, but didn't ask us if we wanted more wine let alone bring us our third course. When the German waiter finally came with my cheese course and Brian's Elderflower granite, he asked us if the wait was too long. I said yes and he offered me another slice of cheese. How generous.
Regardless, we had a great meal and thoroughly enjoyed the evening. We thought that this must be similar to The French Laundry, except for the hour wait of course. We are saving our bottle of Montepulciano, and the Manaka Chocolate Caramels we bought from the boutique chocolate factory down the street, for Christmas. I can't wait!