Authored By Jennifer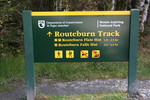 One of the most popular activities in New Zealand is tramping (hiking or trekkng in Kiwi speak). There are thousands of kilometers of tracks and a network of huts throughout New Zealand and it's a great way to see the natural beauty of the country. The Department of Conservation (DOC) administers the tracks and has named 9 of the tracks "Great Walks" which are the most popular tracks. The Routeburn Track is one of the best Great Walks with 13,000 visitors annually and Lonely Planet's 2006 Blue List names it one of the best tracks in the world.
After doing all of the research on our trip to New Zealand, I became more and more interested in doing some tramping, especially the Routeburn. But I wasn't sure if we could physically do it. The Routeburn is 32 kilometers (20 miles) long and went through some pretty high mountains. The highest point, Harris Saddle is 1,255 meters (about 4,000 feet). The biggest obstacle was that it would take 3 days to complete and we'd have to pack in all our gear, about 30 pounds of gear each.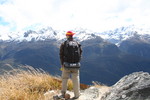 Clothes for any type of weather, food, sleeping bags, first aid kit, everything! After some consideration, we decided to go for it. We went down to the DOC and signed up to start the Routeburn on a Thursday. There are four huts along the way and we reserved a spot in two of them. We also went to the store and bought a bunch of freeze-dried food, then arranged our transportation. The Routeburn Track is not a circuit track and there are over 350 kilometers (217 miles) of road transport required. We were a little late to rent our gear (sleeping bags, rain pants, pots) so we intended to do that the day we started the track.
We wake up Thursday morning ready to go. And of course it's pouring down rain, freezing cold, and there's just been a fresh snow fall in the mountains. Great! Suddenly, we were both dreading the next 3 days. We headed down to the DOC office to check the weather, and to our great surprise, they closed the track! Apparently it was snowing at 600 meters and was unsafe. YIPPEEEE! But deep inside we were a little bummed so we decided reschedule for the next opening, which was Sunday.
Sunday was beautiful and we finally started our journey. I could go on and on about the track, how beautiful it was, how hard it was, and how accomplished we felt when we finished it. But I thought I'd just give a brief description and let the pictures do the talking.
As I mentioned before, the Routeburn is 32 kilometers and traverses two national parks, Mt. Aspiring and Fiordland. It is also part of Te Wahipounamu-South West New Zealand, which is a World Heritage Area and is located in the Southern Alps. Since it's located near latitiude 45 degrees south, the weather delivers high rainfall and changeable weather patterns. We completed the track in 3 days, staying at the Routeburn Falls and McKenzie Huts. Below is a summary of what we saw each day: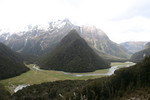 Day 1: (5.5 miles, 4 hours) From the Routeburn Shelter at the beginning of the track, we crossed several streams and a couple of swing brides while winding our way through the Routeburn Gorge. We came to the open grassed flats before starting a steep steady climb up to Routeburn Falls Hut. Make that a very steep and very stead, grueling climb. Pass a couple more swing bridges and you get some excellent views of Routeburn Valley below the Routeburn Falls. We're at about 3,500 feet now, and ready for some rest.
A note about the huts, they have only the basics, a bunk house where 40-50 people sleep in the same area in bunk beds, a kitchen with little gas burns, and toilets. No showers, no hot water, no electricity (except for a few hours at night). There's a wood burning stove, but only in the kitchen. Needless to say, it was cold!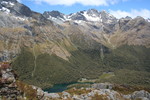 Day 2: (7 miles, 5-6 hours) This is a sub-alpine section of the track and very exposed. The track climbs steadily to Lake Harris and through moraine and bluffs to the Harris Saddle, the highest point on the track at 1,255 m (about 4,000 feet). From the Saddle the track drops steeply down a gully along the Hollyford bluffs. The Hollyford Valley is below and the tops of the mountains are just slightly above. Finally, we did a zig-zag descent into the bush to Lake McKenzie.
On the second day we chatted up some fellow hikers, a girl from Canada, an English girl who worked in Ethiopia removing land mines, James from Ireland who spent a summer working at Pier 23 in SF, and James and Brent from the Midwest who were studying in Australia and on holiday in NZ. They taught us how to play Egyptian Rat Screw.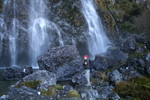 Day 3: (7.5 miles, 4 hours) After crossing a small flat, we climbed up a steep path toward the bushline. Then a gradual descent past ribbonwood trees to Earland Falls (about 570 feet) and on to the Howden Hut. A short stop for lunch before a 15 minute climb out of the valley and finally a gradual downhill walk through silver beech forest.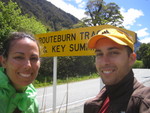 And then we were done. I have to admit, I was soooo happy to be done. I had my fill of hiking and I stank pretty badly. All I could think about was taking my shoes off and taking a nice, long, hot shower. But we were both very happy that we did it, and will remember it as one of the highlights of NZ.
Here's the photographic journey of the Routeburn Track.