Authored By Brian
Here's what has happened since leaving Zihuatanejo, Mexico on Sunday morning:
Arrived at LAX
Found no commuter flights would put us in SFO before our flight back to LAX for our connection to Tokyo and eventually Auckland
Brainstormed genius idea of renting a car and hauling ass up I-5
Rented car and hauled ass up I-5
Arrived in San Mateo at 5:45am, washed face, picked up luggage, refilled rental car and back at SFO by 6:25am
Flew business class to LAX on Alaska
Got denied business class for our LAX-NRT flight via the pass-the-buck game. The desk lady at Northwest told us business class was full and as we were boarding I heard her say there were still seats available!
Sat on a plane for 13 hours. Watched bad dancing-related movies.
Landed in Narita Tuesday afternoon stinking like hell, went through immigration with Yung Joc and his homies, caught bus to Tokyo, showered and laid in the prone position for the first time since Saturday night.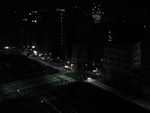 It's 4:30am Wednesday morning in Tokyo and here is the view outside our hotel. I'll fill in the blanks from Mexico later.