Authored By Brian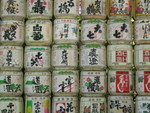 Tokyo is nuts. We arrived at the Narita airport at 3pm, navigated customs, arranged for a hotel and caught a limo bus into Tokyo. Working on very little sleep in the past few days, I know I nodded off at least a couple of times on the way in jerking upright once my mind realized my body had passed out. We made it to our tiny but functional hotel room near Ginza and got right to bed around 8pm.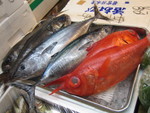 I woke up around 4:30am and surfed an unprotected wi-fi spot for a few minutes letting Jennifer catch up on some sleep. She has been sick for several days now and needs it even more than I do. Around 5:30 she woke up and we got ready and skipped out to see the famous Tokyo Fish Market. I don't really like seafood but this place was incredibly cool.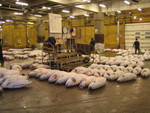 Everything was specialized from the knives and tools used by the market workers to the little go-karts they drove around hauling giant frozen Tunas on the back. It would work great as a Star Wars set. Lots of octopus, squid and all kinds of other crazy stuff that I didn't recognize.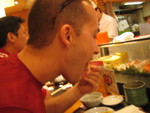 We ditched the fish market and the unthinkable happened: I ate sushi. There isn't anything else to be said.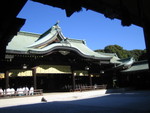 Next was the subway to the Mejii Shrine thanks to the recommendation from Mas and Shawna. This is near the famed Harajuku station and the shrine itself is in the middle of a giant park. Once in the park, you couldn't tell you were in Tokyo any longer; there were lots of birds chirping and really loud crows cawing and the sound of the wind in the trees. Well, it did feel like Tokyo because there were still a ton of Japanese in the park. We watched part of a religious ceremony at the shrine before walking back and trying to find some Harajuku girls. We only had 5 minutes and came up empty so we hopped the subway to grab our bags and go back to the airport on the express train.
[We haven't uploaded Jennifer's pictures yet, but they will be here shortly along with my few selections]
By this time, I was feeling a sore throat coming on. Another 13 hours on a plane (this time in business class) and we landed in Auckland. Let me tell you how addictive business class is. On our LAX-NAR flight, I must have got up to stretch from my coach seat about 5 times. In business I got up twice only to pee. It doesn't come with a magic cloak though and my throat was scratchy and my head pounding by the time we arrived.
Now comes immigrations and customs. New Zealand entry requirements for Americans are simple; all you need is proof of an onward flight within 90 days of entry. Because we had our RTW ticket but hadn't booked our NZ-AU flight yet, immigration detained us for a short period before granting us a 30 day visa. We can extend it longer after buying our ticket and presenting it to an immigration officer which we'll do later this week.
We grabbed a super shuttle into downtown Auckland and to the Auckland International Hostel off Queen Street and once again performed the "enter accommodation and pass out" routine after first treating ourselves to a couple of just-add-hot-water ramen packages from the reception desk. Done.
I'm totally sick at this point and Jennifer is feeling crappy still too. The last two days we've done basically nothing besides some necessary errands (I picked up a Vodafone sim card so my phone will work and we did some shopping for some things we're missing) and eating. Last night we saw the Borat movie and it was hilarious. We felt a little awkward in the audience hoping not everyone believes Americans are as ridiculous as some of the clowns that Sasha Cohen goofs on but we laughed pretty hard.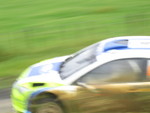 Today we rented a car and drove south near Hamilton to catch part of the World Rally Championship "Rally New Zealand". This is an off-road timed rally race on dirt roads in rural New Zealand that features competitors from all over the planet and entries from top car manufacturers like Ford, Citroen, Subaru and Peugeot. After driving on the wrong side of the road once or twice (NZ is a right-hand-drive country like England), we were at the spectator viewing point standing in the rain and watching the race cars go flying by at warp speed. The coverage wasn't as good as on TV but it was neat to see the cars and names up close (~15ft from us).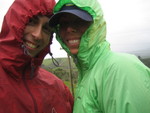 Jennifer was really supportive but it was clear that I now "owe her one". I won't repeat the terrible things she said I might have to endure. The day turned out to be really relaxing though as we spent most of our time touring the uber-green rolling hillsides south of Auckland in a toasty warm and comfortable car. Here are a few more crappy pictures I snapped.
It sucks to be sick right now but we're hoping we'll get it out of our system and get on with it. The weather here is pretty overcast with occasional rain so it's not exactly prime outdoors weather yet. We found ourselves a much nicer hotel (Formule 1 – what a knock-off name!) at a cheaper price so we're at least happy about that. Our fingers are crossed that we'll feel better tomorrow.
Tokyo is definitely a place we'll return to explore further with some more time. It was really, REALLY quiet… the cars were almost silent and there weren't as many people as I imagined there would be which made navigating everything (subways, streets, etc) easier. I guess in my mind I had some godzilla-like picture that was totally ridiculous but propped up by those 5-second clips of a million people crossing the street that the American news uses. Tokyo now feels more like New York to me.