Authored By Brian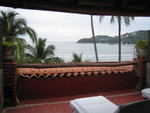 Our first stop is Zihuatanejo, Mexico to see our good friends Kevin and Natalie tie the knot. Kevin and I race sports cars with the SCCA and have shared a 2-car trailer for the past two seasons. Zihautanejo is a small town near Ixtapa on the Pacific coast. Our hotel has been fantastic, the people very kind and welcoming (and tolerant of my poor Spanish) and it has been a great place to start the process of relaxing.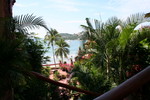 Living in a city, there is the pressure to accomplish, accomplish, accomplish. Everything moves quickly. Drive fast, eat fast, live fast. I can notice the difference just by driving a few hours north to Redding where things are slightly more relaxed. But it's not relaxed. Unless you're some kind of monk, inner peace isn't immediately found after disembarking from a two-stop 13-hour plane flight.
Luckily Zihuatanejo is about as perfect as we could ask for a first stop. Our hotel is right on the beach, the ocean is bathtub-warm and even someone who doesn't go ga-ga over the ocean has been out body boarding every day. And there is fantastic Mexican food all around us.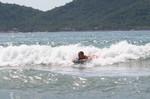 Jennifer's friend from culinary school, Mick, recommended our hotel and several of the restaurants that we've eaten at so far and his taste has been spot on. Compared to what other folks in the wedding party are paying, our hotel has fully exceeded our expectations in every way and one of our favorite attributes is our very small and less crowded beach (Playa Madera). This helps keeps things chill when the cruise ships come to town and start dumping off their passengers.
Two days ago we tried to connect with Kevin and Natalie but we couldn't get the phones to work with their toll-free hotel number. It wasn't far so we walked (not far != not steep :O ) to their hotel: Casa Que La Canta. This was just rated the #9 luxury hotel in the world and parts of "When a Man Loves a Woman" were filmed here. We found them about to eat lunch and sat with them to catch up. That night we joined the full group at Playa La Ropa for dinner and drinks at Paty's on the beach. We were treated to a short tropical storm out of nowhere (Kevin, his brother Mark and I all went swimming in the storm and crashing surf) and watched a giant sea turtle try to lay its eggs on the beach. While it's possible to walk from our beach to their beach, the $2.50 cab ride is money well spent avoiding the steep hill that separates us. It's customary to not tip the taxis here (although you would tip a gas station attendant?)
Yesterday was our morning of shopping in the downtown area, some beach time and body boarding and the rehearsal dinner at Il Mare, an Italian Restaurant near their hotel. The majority of the "touristy" places in Zihau are priced more or less like non-urban American places. Drinks run $3-5, a nice dinner costs $20-40/head, etc. Kevin and Natalie rented out Il Mare from 6 to midnight for their group and everyone attended for an open bar, a great bay view and filet mignon (at least that's what we ate). The catch was that we had to pay for our dinner which is not really customary (and was rather pricey by Mexican standards) but we traveled all of this way to be part of their celebration and felt like this was a necessary part of the weekend.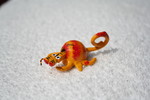 Today was the wedding and we just returned a few minutes ago. This morning was a little bit of lounging around and some body boarding. Normally when the walking salespeople approach me I say no but I couldn't help but buy this little trinket from a 4 or 5-year old Mexican girl after we had a short conversation and she told me this one was her favorite.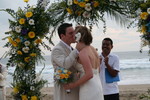 The wedding itself was at Casa Kau-Kan outside of Zihua towards the airport. It was about a 20 minute bus ride and is a private hotel right on the beach outside of the bay. The surf is larger and the ceremony was held right on the beach before sunset for a picture-perfect "I do". There was a cool mix of Irish and Scottish family members from Natalie and Kevin's parents respectively. Jennifer hasn't been feeling well today and we visited a Farmacia for some throat lozenges and mosquito bite cream.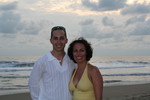 It was an all-water affair for her tonight and after congratulating the lovely couple, having some cake and a slow dance, we called it a night and came back. In the bus ride back, we introduced ourselves to another couple who asked how we knew Kevin. As soon as I mentioned that we raced together the lady said, "Oh, and you share the trailer and you two are taking a big trip I hear and I'm sorry that you're not feeling well". Word certainly travels!

One more morning and we split for the Airport for the real trip to begin. I am pretty sure Kevin and Natalie are reading this, so to the two of you: As Natalie said last night, it's been barely two years since the three of us sat down for lunch on Chestnut street in San Francisco to see whether or not we could be teammates and share a trailer. But racing is like living in a dorm – lots of time together speeds the intimacy of relationships and although Kevin and I may regret ever buying that piece of crap we store our cars in, Jennifer and I love you both and are so happy we could be part of your celebration and your lives. Here's hoping we meet somewhere in the next 7 months when your boss realizes you need more vacation time!