Authored By Brian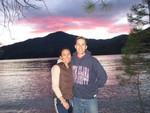 Since I'm sending lots of emails to old friends, colleagues and family, this may be the first post you'll see in my travelogue. Thanks for taking a look, I am sorry it's been so long since we've been in touch and I'm trying to improve my record in that category. I'm about to embark on a pretty big journey and I hope you'll keep an eye on me through this site.
Let me bring you up to date on my life in a couple of paragraphs. I just turned 30 and I live in San Francisco for another 21 days. I have a girlfriend of 3 years next Friday, Jennifer, who will also be writing a few things from the road. She was a roommate of the girl who married my roommate and is from Vacaville.
Depending from how far back you know me, the short story is I graduated from Santa Clara University with a degree in Mechanical Engineering and promptly co-founded an Internet consultancy. My parents loved that one. We sold our firm to a larger agency in 2002 and I stayed through 2004 until I took a 4-month sabbatical.
In-Car Video
Watch this in car footage chasing the #2 and #3 drivers in the country at Sears Point (125MB QT but the first 2 minutes are the best)

Since 2000, my "hobby" has been a slippery slope of driving cars on racetracks. Starting with an occasional high performance driving school in my street car to racing wheel-to-wheel with a dedicated racecar, diesel truck and 40′ trailer. This passion for motorsports is what led me to start my current company which provides tools for motorsport event organizers. I'm turning my passion into my business! And there are some tax advantages to it too.

And so 21 days from today, Jennifer and I hit the road for almost 7 months starting in Mexico for a wedding and then to New Zealand, Australia, Vietnam, Cambodia, Thailand, South Korea, India, Italy, Peru, Ecuador, Panama and Costa Rica. I believe I will conquer my fear of seafood. Or I will be very skinny.
It's going to be a long and incredible journey. We're keeping this travelogue so we can share it with you as if we were across the street. Many people tell me they wish they could pick up and leave too – you can do it. Whether your dream is to travel the world or simply spend more time with loved ones, I hope that our stories will inspire you to move one step closer to realizing your goal.
Thanks again for checking this out. Don't be shy; leave a comment!