Authored By Brian
The weather here makes me not miss San Francisco much. This time of year, when most of the northern hemisphere is enjoying warm sunny weather, San Francisco is hidden beneath a layer of fog. It might be 65F in the city while 5 miles to the East, South or North it will be 85F. Explains the pasty people. Of course with October fast approaching, SF is set to enjoy its two weeks of Indian summer… those are good times to be around.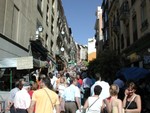 But in Madrid, where every day seems to be 75-80F, this weekend was a great chance to get outside and enjoy some free entertainment. El Rastro is a giant outdoor flea market near the Acacias metro station in the southwest part of Madrid. It is huge. It took me almost an hour to walk up one of the streets lined with vendors and there were at least 5 or 6 other streets just like it. It's every claustrophobics' worst nightmare as people are streaming by and being less than courteous about it. Common sense isn't running high as people cram into the crowd with child strollers pummeling your Achilles tendon like a meat tenderizer. Parents are scolding their children at every step to stay close and shoppers have a tight grasp on their wallets and bags.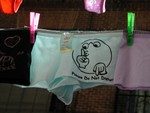 I tell people that you can buy literally anything on Ebay. El Rastro is the perfect anthropomorphic representation of Ebay. Sure, there are the typical t-shirts and clothing, pirated DVD and knickknack type booths. But there are also people selling various kinds of packing tape. And people selling plumbing supplies. And porn. And chainsaws. And knives… big, big knives. And hamster cages. And junk piled chaotically high in some seemingly ordered manner designed to seduce your disposable dinero efectivo. The only thing missing, and somewhat conspicuously, were food vendors.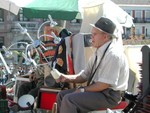 I put my money to work in the economy and bought an 8€ Umbro Rio soccer ball to play with in the park and then started heading out. It was getting close to 1pm and I was headed to Casa del Campo where the final stage of La Vuelta was going to start at 2pm.
La Vuelta is the Spanish equivalent to the Tour de France
Sure, calling La Vuelta the "Spanish Tour de France" trivializes the fact that 2004 is the 59th time the race has been run and is a brutal competition in its own right, but after three friends in a row say "I have no idea what La Vuelta is", you need a quick reference point. It has been all over Spanish TV for the last three weeks as it circled the country with the grand finale taking place across Madrid.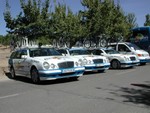 Sundays are fairly quiet around here which is a good thing because they shut down Gran Via, Alcala, Paseo de Recoletos and a bunch of other big streets. I started by wandering around the paddock at the start and checking out the hardware. This final stage was an individual time trial so everyone had their trickest equipment out for use. Full-aero equipment and specialized wheels were the basics.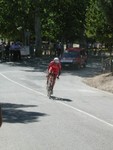 After watching a few of the riders take off, I decided to catch the Metro back into town and hang out near the finish. I hopped off on at Plaza de Espana and walked basically the rest of the course down to Gran Via and to Alcala before it turned onto Paseo de Recoletos. Recoletos is one-half a block from my apartment making it incredibly convenient. As I watched the support vehicles carry their VIPs around, I thought back to riding in the San Francisco Gran Prix where my buddy Steve Tam hooked me up. I took a bunch of pictures for him.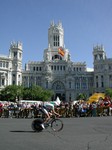 My digital camera is a real piece of junk – it can't capture a moving snail without blurring. After seeing that Canon the other night, I think I'm going to have to upgrade soon. Anyways, it was a nice weekend.
This morning, I woke up to the buzzer going like crazy and thought someone else had gotten it. Unfortunately not and too bad – it was FedEx with my new phone! Sweet! I won a Sony Ericsson T630 on Ebay last week. I've been mobile-less since I cancelled Sprint PCS and my 90210-style Motorola Startac back in July. No phone = no fun in Europe. These people are obsessed with text messaging and mobiles. Now I get to be a cool kid too.