Authored By Brian
Apparently Saturday is the new launch day for websites. C|Net relaunched their site (at 1024×768 no less) as did Ebay. The new C|Net site certainly is sexy looking but I haven't used it enough yet to know if it's working. C|Net is one of those sites that I have used pretty much since they started but it's very hit or miss as to whether or not I get what I need from it. Digital camera reviews are a perfect example; last night I went to a sort of open-mic event with some singing and flamenco dancing at Clan with Judith, her roommate and some of her local friends. A girl from Taiwan had this sweet Canon that was 4 megapixels but tiny. I fire up C|Net this morning to go looking for it but it's not really easy to see if they have a review on it or something like it. I don't know, maybe I need to work harder but with the Google toolbar sitting mere inches away, I'm gone in a "flash". Ah, what I'm really looking for is the Canon Digital IXUS which in the states is the SD10 Digital Elph. A little more searching on dcresource.com and I see there is now a 5 megapixel version called the SD20. That's one dope camera.
On a side note, the flamenco was really neat. The rythm and style of clapping to accompany the music and dancing was interesting although I was a bit annoyed by the constant "sssh"ing by the performers. This is a live event, there's going to be noise, get over it. This was my first introduction to flamenco and hopefully I will see some more. Our group shared some tapas for dinner and a caña or two. Somewhere around 2am I think we decided to leave and I made sure all the girls had taxis before I shared one first to Puerta del Sol to drop off the girls and then onwards another 5 minutes to my apartment in Chueca.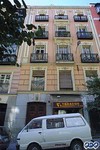 When we arrive at Puerta del Sol, the girls get out and I explain where I want to go. The taxi driver tells me no and when I ask why not (in Spanish no less), he tells me it is a "bad neighborhood". I argued with him for a minute or two but it was clear he wasn't driving me home so I hopped out and walked back. It's not really that far but it feels like a long ways to be walking alone that time of night through a bunch of alleys. I haven't really feared for my safety at any point when I've been in Madrid but I know of several people (mostly girls) who have had their bags or purses stolen from them the first week they were here.