Authored By Brian
The last two days have been a whirlwind as they consititute our entire time in Athens for the Olympics. Our 270€/night hotel was not exactly stellar but hey, we're in Athens for the 2004 Olympics, it's not so bad. So we went to sleep…
At 4am I woke up in a cold sweat, sat straight up in bed and realized that I had left my attaché case on the catamaran. After yelling obscenities and waking Jennifer up, I explained this was the second time in nine months I had lost that bag.
You control your emotions, this is the time to exercise control over yourself and show you can beat a tough situation
I laid wide awake fuming for almost two hours. Despite the fun I was having, I was frustrated and pissed that I had forgotten the bag on the boat and it would cost me another $250 to replace everything… again. I don't mind spending money for fun, but spending money for stupid things like this angers me to no end. I was really ready to just give up and forget about going to Egypt and instead go to Spain or Italy again and take it easy for the rest of the time Jennifer was here. Around 5:30am, I told myself, "you control your emotions, this is the time to exercise control over yourself and show you can beat a tough situation". It is, after all, why I am abroad. I don't want to just be in a comfy hotel 24 hours a day, I want to be challenged and work to enjoy life. This was a setback, but it would be a silly thing to let ruin my trip. By 6am I was sleeping and a bit more relaxed.
I woke up a couple hours later, still angry, but in control and ready to have some fun. Let the games begin!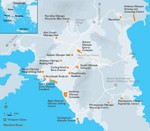 Jennifer and I negotiated the metro with the help of some Olympic assistance guides (who all spoke excellent English) to the primary OAKA venue to buy tickets and see what we could catch. Unfortunately it was 100% sold out for the day so we bought tickets to women's basketball at Helliniko (the opposite side of Athens) which featured USA vs. Spain. We also picked up Athletics finals that night for the 10,000km mens final. For Saturday we bought table tennis finals at Galatsi at noon and Italy-Mali football semifinals at Karaiskaki at 6pm. Most of the venues had two classes of tickets: "anywhere" and "best", where "best" was supposed to represent preferred seating and of course, cost a premium. We opted for "best" where it was available as we wanted to see as much of the action as we could. It's not the last 30 euros that kills you… it's the first 1000 of airfare and hotel. Live with some gusto!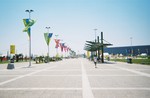 When we got to Helliniko, we had to walk from the bus to the stadium and it was hot! There was hardly a person in sight as everyone was indoors or watching an event. The temperatures were right around 100F. The only thing I wanted at that moment was air conditioning and we found it in the basketball venue.
Women's basketball was great – a fairly close game until a late run by the USA led to a healthy 15 point victory. Spain was much better represented in the stands (those Spaniards know how to chant!) but our pros like Lisa Leslie and Sheryl Swoopes were just too much. We sat in a section with a couple of other Americans but we weren't a very rowdy group.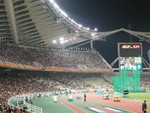 We made our way to the primary Olympic venue for the evening Athletics event. This is the cool looking stadium with the tubes running along the top and is flanked by a number of large reflection pools. On our way in I snapped this picture at sunset over one of the pools. The arches on the right form a walkway we had just come through.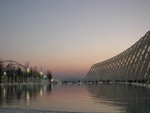 It was extremely impressive in person as was the entire complex. They may have only finished it a couple of days before the event started, but the concrete was all dry and it looked fabulous. An upside? Nothing was around long enough to need cleaning beforehand.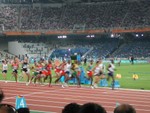 Athletics were a bit chaotic… our "best seats" were on the opposite end of the stadium from the high jump and shotput but only 11 rows back from the track which afforded a good close-up of the running. We were sitting next to a huge group of Ethiopians there to cheer on the favorites for the 10km race which added a great, positive and rowdy attitude to the stands.
This was Haile Gebrselassie's final ever track event and along with his favored countrymen Bekele and Sihine, there was a lot of cheering, dancing and singing from the Ethiopian contingent. We were on the big screen several times during the race (you might have noticed us – the white folks – in the picture).
Rose Wylie
Travel 100 Group
847.256.2108 x163
Friday night we came back to our hotel and negotiated a "friendly discount" bringing the fee to just 250€ for an extra night. We agreed that it would be our final night in Athens as the cost was just out of control. I fired an email to my travel agent, Rose Wylie at Travel 100 Group, to find a cheap fare to Cairo and a crazy discounted Abercombie & Kent Nile Cruise between Aswan and Luxor. We're going to take the overnight Wagonslit Sleeper train from Cairo to Aswan for about $50 USD and will pick it back up in Luxor to return to Cairo before ending our trip. Rose has been a phenomenal agent for a customer who rarely knows what he wants and makes lots of changes from multiple corners of the world. I doubt she wants more customers like me, but if I could refer just one or two people to her that were mildly less obnoxious, I would feel much better.