Authored By Brian
I can't wait to finish writing about our time in Santorini although Athens has already been classic last-minute-planning. A basic recap: we had no reservations or anything lined in Athens. I knew that we would find a number of touts at the port waiting to pick up people and find them "deals". We weren't arriving particularly late but after total upscale luxury of the Atlantis, I didn't think Jennifer would take to sleeping in the streets.
We found a nice guy who gave us a flat-rate ride into town. He acted as a tour guide and explained the general lay of the land (how the moutains "frame" the city) and took a few detours to show us interesting bits. With a couple of phone calls, he found us a hotel close to the metro near Placa (downtown). The bargain rate? 270€/night!
After we stopped choking on our own spit, we were awestruck by the next thing he pointed out – the Acropolis! It sits on the top of a mountain in the center of Athens and is visible from nearly anywhere. We were told that it represents a symbol of freedom to the Greek people. We arrived at the hotel moments later and after wrapping up with some food, we're now in the room getting ready for some rest.
Back to Santorini.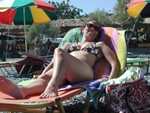 After visiting Ancient Thira Tuesday, we went to the town of Kamari at the base of the mountain for lunch and lounging. We ate at a small table under a thatched type roof butted up against the beach. The sun was out, there was a nice breeze and lots of people were starting to show up to get their tan on. Kamari's beach was very different from Red beach – it was a rocky beach with big, round, dark-colored pebbles.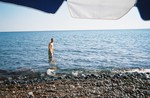 It featured the same chaise lounge and umbrella setup so we paid our seven euros for a spot and got busy doing nothing. The water here is very calm – there are essentially no waves on the mediterreanean so no surfing or body boarding. You can rent jet skis but it seems kind of boring. We crawled around some rock outcroppings and I tried to get my salt intake for the day with a short swim.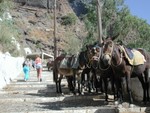 Monday we had purchased tickets for a boat tour of the caldera, the volcanic islands and some hot springs. We got back to Thira early because we would have to make our way down switchbacks to the bottom of the cliffs where the boats dock. Most people opt to either ride a donkey or take the gondola up or down but we chose to walk and that meant dodging the endless donkeys. I've never seen children as scared as when mounted on a might-be-out-of-control donkey on steep cobblestone.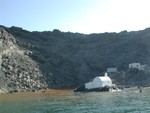 We boarded the boat with about 10 other people. Santorini is a global destination; we were joined by Europeans and Asians representing 3 continents. The boat ride started out going around one of the islands and then started to pull into a small cove. At this point the captain instructs us that "the hot springs are over thar!" If we wanted to feel them for ourselves, we had to jump and swim into the dirty water. This was a bit of a let down. Yeah, the water was lukewarm. And yeah, there were bubbles coming out of the ground, but seriously. Most of us got back on the boat with sulfur-stained swimsuits and more exercise than we bargained for.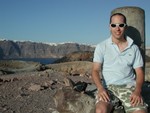 The next part was better. We pulled around to the other island and docked to disembark. We were going to hike as a group to the top of the still-remaining crater. But our trusty captain warned us "be back in forty-five minutes or else! arrrrrr…." The hike was neat; it was very desolate (a lot like hiking Mt. Lassen as a kid in California) and raw. At various points along the way, there were signs for us to read about the island and its volcanic activity and history. Once we reached the summit, there was a marker making for a nice photo opportunity before we turned around. Jennifer and I were the last ones off the top as we were wearing sandals instead of shoes. We still chose the long way down so I could peek at the sulfur-emitting holes in the ground near the rim of the crater. You can see the yellow smoke puffing out and feel the heat!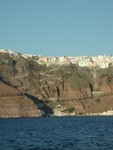 We only held the group up a little bit by the time we got back to the bottom (and I snuck aside for a bathroom break) and our weathered captain got us headed back to the port. This is a picture of what we hiked down – you can see the endless switchbacks.
Now it was decision time – gondola or donkey? There was no way we were hiking back up the hill and in the spirit of adventure we opted for donkeys. It was 3 euros each and would earn us a fun memory. And maybe some emotional scars? I swear my donkey had the spirit of Michael Schumacher in him!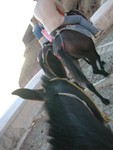 He was carving to the apex of the switchback corners and fending off dive-bomb pass attempts from other donkeys. This donkey would accept nothing less than the top step of the switchback podium! Most frightening was the constant slipping and tripping on each step. There were at least 100 moments when my heart skipped a beat fearing I would be thrown beneath my speedy steed and trampled by the brigade of burdened beasts!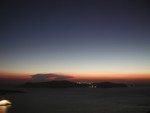 As I am writing this travelogue today, you can gather I am alive and safe. In return for our displays of bravery, Jennifer and I ate at an incredible restaurant overlooking the caldera. I had this amazing dish roughly called Yiaourtlou. It was yogurt, onion and spicy tomato sauce over a meat patty with pita bread. The tomato sauce was the secret. I haven't been able to find an equivalent with the name, I wish I could learn how to make it here. Regardless, we were treated to one of the most amazing sunsets on our trip. If you click through on this picture, there are more in my gallery.
We were supposed to leave Wednesday but were having such a great time that we extended our stay by a day. We changed our tickets and kept our room at the Atlantic so we would have one more day to putt around and have fun in the sun.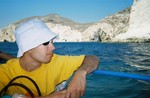 We started Wednesday with an early breakfast and quick email check to see what was happening in the world and then went back to Red beach. This time we took the small boat instead of walking around the corner. The guy kept yelling, "Red beach! White beach! Black beach!" We didn't know that meant we would go to those beaches in reverse order… the upside was we got to see each of the beaches but they were very isolated so we returned to Red beach.
We spent more time here than we probably meant to but it was so worth it. Total relaxation, we got to read our books and just kick back with a couple of swims.
In the afternoon we headed back and wanted to go to Oia, on the other end of the island, for some shopping and sunset dinner. Instead of dealing with the taxi debacle, we were going to ride our scooter. While it seemed like we had enough time, the sun seemed to accelerate towards the horizon as we were riding at top speed. We pulled into Oia just as the sun started to disappear and ran through a labyrinth of hallways trying to find a place to see it set. I knew Jennifer was going to be disappointed so I hoisted her up onto the top of the wall next to us and jumped up along side so we could at least watch the last couple of minutes. No real photo opportunities but a couple quiet minutes watching the day end.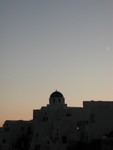 We walked up into the main part of Oia and found the restaurant we wanted to eat at. The menu looked good and it smelled great but it was frequented by a bunch of cats too. We didn't know if that was a good or bad sign. They seemed friendly so I tossed them some scraps. I know, I know, don't feed the bears…
Now, Santorini was typically warm so we were dressed pretty lightly. But once the sun goes down and you're riding a scooter at 30mph from Oia to Thira… it's not quite as nice out. Jennifer was holding me as tight as she could and my teeth were chattering while we bombed along the road in the darkness. We couldn't really go too much slower because of the cars tearing up and down the road. In my mind, I felt it was better to be really cold for a short ride than be kinda cold for a longer ride. I don't know if that was right but I do know I'm going to buy some more "technical" multi-weather gear for my next big trip so I can layer more effectively.
Beware the tourist tax
Thursday morning was our last time on the island. We packed up and did a little shopping in the stores of Thira. There are tons of jewelry and watch boutiques hawking both global brands as well as locally made goods. With a few extra goodies in tow, we checked out and the hotel secured us a taxi. We rode with a Greek couple in the back for the 6 or 7 km ride to the port. This wasn't the same port where we grabbed the little boat but where the bigger boats like cruise ships and high speed ferries dock. When we arrived at the docks, the driver collected about 5 euros from the Greek couple and then proceeded to charge me 8 euros!@# I really need to get a bigger backbone and fight these guys. Sure, it's only 3 euros, but my old business partner Rob would smack me for this.
The high speed Hellas Flying Dolphin catamaran was awesome! It is gigantic. The mouth of the boat opened after it parked and all of the people and cars began entering it like you would imagine Noah's Ark. We had purchased business class tickets so we sat in the very front of the boat and we could look out the windshield. The seats were comfortable and it was nicely air conditioned inside. This was Europe though; people could smoke inside the business class cabin "at the bar" which was a small food and drink station about 30 feet from our seats. It was about as effective as the old smoking and non-smoking sections in restaurants.
Maybe halfway through the ride while I was writing the previous entry, I began to feel a little nauseous from the motion of the boat. We got up and went to the back deck where lots of people were hanging out and tried focusing on the horizon to get the feeling to leave. Despite a few minutes of fresh air and sunshine, I think I felt as nasty as when I got up so we headed back inside and I closed my eyes instead. I don't remember if I dozed off or not but I can really settle my stomach by closing my eyes. It works on planes and it worked on the boat too, thankfully.
Because the boat is like a bus, we made a couple of stops along the way at other Greek islands to pick up and drop off. When we finally arrived at Piraeus (outside Athens), the port was chockfull of giant cruise liners that were being used as hotels for the Olympics. In the same way that people jump up when the plane lands to try and be first off, everyone crammed into the hull with all of the cars spitting out carbon monoxide standing around like cattle waiting for the door to open. Noah's people were patient and when finally lowered, we all exited in a calm manner – welcome to Athens!
At least we have a place to sleep tonight!