Authored By Brian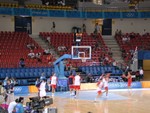 If the first day was any indication, there were not a lot of Americans at the games. But more obviously, there just weren't a lot of people. The women's basketball game was a semifinal and the stadium was maybe 1/3rd full. The atheletics event was better attended but still, it was maybe 50% of capacity.
We speculated a lot about the whys – the pricing I had looked at earlier in the Summer was ridiculous. Hotels for 700 euros per night! I think the Greeks were greedy and may have priced people who normally would have attended the games out of doing so. There certainly is the weather to contend with as well… it wasn't the kind of heat Athens frequently gets midsummer (110+F) and other than mid-day, it was hot but bearable. There was a constant buzz about security and terrorism and I felt safe during my time there. It was clear how the Olympic committee had spent their $1B USD on security. There were people *everywhere*. Not necessarily armed guards or policemen but just people. It would have been very difficult to not be noticed if you were doing anything even remotely suspicious and the bag checkpoints at all entries were thorough.
I suppose it's nice to not be crammed in like sardines but it's also sad to look out in the stands and see so few people cheering on their athletes. We weren't able to buy tickets for the water events like diving or swimming and it seems as though the pool venues are packed. The Americans that we did see (either with flags, or cheering for the women's basketball for example) were all pretty reserved. It wasn't the normal (somewhat fanatical) patriotism I've come to expect. We definitely sensed a purposeful, conservative nature on the behalf of most red, white and blue backers. I haven't felt unsafe as an American abroad but I don't try and call excessive attention to myself either.
Saturday was all about a personal favorite game of mine, ping pong – err, Table Tennis as it is properly called. I suppose it's probably appropriate because the game that these people were playing was not much like the ping pong I played in the IconMedialab office. Once again our "best seats" were some of the furthest from the action and were in-line with the tables. That is, we were watching from behind what would be the baseline of a tennis court. These matches were for the Bronze and Gold finals for doubles. We saw some Russians play some Finns and the crowd was going crazy that the Finns weren't getting totally annihilated.
We also watched a couple of matches of women's play and they were equally impressive. These players (I refrain from calling them athletes, per se, despite the intensity of these games) move at an incredible speed with awesome agility. Returning the ball is sometimes a miracle. The moves they make wind up part bad dancing and part kung fu fighting as they grunt and try muscling the ball with body english. I personally love table tennis. I think Jennifer was a bit bored (although amused) but I thought it was great fun.
We had a bit of time before the football match at 6pm so we hopped the bus back into downtown near our hotel. We had heard about an American Express "recharge" station with free drinks and air conditioning and decided that we could use something like that. Now… I have to admit, I'm not really an American Express fan. I have one, and I use it extensively, but it's mostly because I'm trapped in this "I almost have enough frequent flier miles on Delta through my card" situation. I don't particularly care for Delta either after they left me to sleep on the floor at JFK once.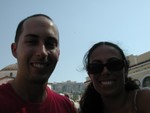 But being a critic doesn't mean you should be loathe to give credit where credit is due. This AMEX hospitality suite was dope! Free soft drinks, ice cold air conditioning, TV coverage of the olympics and food made this my #1 favorite place in the entire city at that point. Mind you, I was sitting about 100 yards from where I took this picture under the Parthenon! Thank you American Express! (But not too much after "forgetting" about the account I closed two years ago and then dicking me with a collection agency – boo!).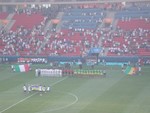 Back to football. We hopped the metro (along with what seemed like half the city) and headed out to Karaistaki stadium for the quarter final battle between Italy and Mali. We expected this to be sold out and although it was much more full than the other events we had seen, it was still probably at 75% capacity. Considering Italy is a hop, skip and jump away, I would have thought more would have made the journey to cheer on their world-class team. As we had come to expect, our "best seats" were at what would be something like the 35-yard line on the field but were 75% of the way to the top. It didn't matter much as we were moving seats left and right as the sun set to avoid its direct glare. First we were in the shade, and we progressively started moving higher and higher until even the top seats were in the sun. At halftime, we went about 75% of the rows to the field and grabbed better seats once again in the shade. If you look at these two pics, you can see they have different vantage points.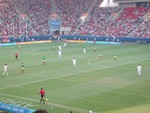 The game was great – the crowd was a typical European soccer crowd and there was no end to the whistling (booing) for the officials' calls. It was a duel with neither Italy nor Mali scoring in regular play. They started overtime but unfortunately Jennifer and I had to leave in order to make our flight to Egypt. Italy wound up winning 1-0 with a penalty kick goal. Quite a game! Of probably equal interest to most fans that day was that Iraq played Australia and won. If I was from Iraq, I think I'd want to be on the national football team and spend most of my time outside Iraq too.
A quick stop off at our hotel to pick up our bags and we jumped back on the super-easy and quick metro to the airport. While we had travelled all weekend free of charge by having our Olympic tickets, a guy in front of us on the metro did not have his ticket and was cited by an Athenian officer. The guy argued to no end but the cop made it clear: no ticket = citation. Tough love… but I guess they have to make back that billion dollar cost overrun somehow.

We were dropped off across the street from the airport and strolled in, got our tickets and earned ourselves an Athens passport stamp. On the plane and on our way to Egypt! I can't wait!!
A few things that the Olympics are doing right:
Traffic management (vehicles and persons)
No price gouging on water and drinks in the insane heat – water was always 1 euro
Everyone speaks great English
Metro transit is free for Olympic ticket holders
Information booths and "Ask Me Anything" people stationed everywhere in the city with cheery dispositions
Things the games didn't do so well:
Food shortages: concession stands routinely served 2-4 of the 30 items on the menu, even as early as 11am. If the seats aren't full, where's the food at!?
Seats, like at Galatsi, are really uncomfortable. Remember, we're here to sit…
What exactly do "best seats" mean? And why could we count on them being far, far away from the action?
Not a very long list of complaints. All told, I think Athens did a fantastic job with the exception of the lodging costs. Bravo!