Authored By Brian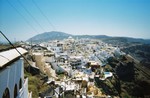 What a difference twelve hours can make! We made our connection in Athens and hopped a thirty minute flight to Santorini. Although the faxed reservation we had made for Hotel Keti were somehow lost in the shuffle, we managed to negotiate a reasonable price from a tout at the airport. A guy who could only mumble sounds and wave his arms drove us to the Hotel Palladion. It's a stones throw from Thira which is where we wanted to stay so it's not all bad.
We spent the afternoon wandering about the tiny streets and walkways of Thira. It's very confusing geographically because to the East you can see the sea and it doesn't look to be very far away. However, the maps show Thira on the west coast having cliffs over the caldera. It's not until you actually walk out from behind a building and see the volcanic islands do you believe you're actually in the right place. But behold it you do and it is breathtaking. These little streets meander up and down the cliff top with restaurant followed by bar followed by hotel followed by restaurant all over again. It matters little, because you spend your time gazing out at the slowly setting sun over the little islands above the Mediterranean.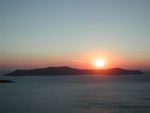 One thing I insisted was that we use our slow evening to find one of the recommended restaurants in the Lonely Planet guide. The map is quite awful and the signage non existent so it took a few tries before we found Nikolas' tavern. It's a traditional Greek place that delivered on reasonably priced food with friendly staff and a packed house. I had roast lamb with grilled potatoes and rice and Jennifer had zucchini with meat and rice. We shared a Mythos lager and Greek salad for an appetizer. Although the bill included an additional appetizer that we ordered but never received, we paid the bill plus tip happily based on the quality of the meal. 27€ sounded like a bargain after a disappointing meal or two in London costing twice that.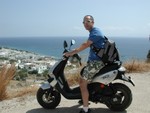 We're back at the hotel now and I just watched a little fireworks show from the balcony of our room. Today is the feast of the assumption and it is a Greek holiday so there are some celebrations going on. We rented a little scooter so we'll see if we can get ourselves into some trouble in the coming days.