Authored By Brian
On a high speed catamaran to Athens, I have a few spare moments to recount the last few days of Greek island living at its best in the island of Santorini…
With a monstrous 80cc scooter at our disposal, we kicked off Monday morning with a ride across the island to visit the ruins of ancient Thira. On the map, this looks like it might be 30 miles away. In reality, it's about a 15 minute scooter ride and that includes time for a couple of wrong turns and stops for map consultations. Our ride was all for naught however as the ruins are closed on Mondays (lucky timing).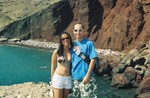 We turned our ship around and headed instead for the Red, White and Black beaches at the south end of the island. These adjacent beaches are famous because their respective colors are a result of the volcanic rocks that contribute their sand. It takes a short hike around a corner and over some boulders to actually reach the Red beach but your first view is gratifying: a very sheer cliff of red rock with a stubby beach dotted by umbrellas and beach chairs the full length of the beach. It is contrast at its very best.
About three hours of maximum relaxing and a couple of refreshing swims later (that water is salty!), we collected our belongings and scooted back to Thira to sort out our hotel situation and set up our travel back to Athens. The latter was quite easy by purchasing a couple of Hellas Flying Dolphin high speed catamaran tickets for Wednesday that would take us via business class in about 5 hours across the Mediterranean. For 50€, it sounded like a pretty good deal.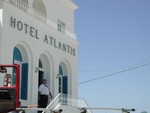 Putting the Hotel Palladion behind us, we searched high and low for new digs. Everything in Thira is rather expensive though given the dramatic views that most places afford. Interestingly the famous Hotel Atlantis, with views of the caldera, is only about 10€/night more than the Best Western, which merely looks inland at the town. Easy decision then; Hotel Atlantis, here we come!
One problem – we need to get our bags from the Palladion to the Atlantis which is uphill and further than I would like to walk. A taxi would do the job but the hotel can't get one for us because it's nearly sunset. The cabbies won't take our fare because it's not as much as they can get driving people to and from Oia at the end of the island. We even offered to pay double or triple but still no luck.
Now, no one can tell me I didn't learn something from strapping my three bags together and towing them through airports, metros, hotels and city streets. Sure, it might be a pain in the ass but that builds character, right? It also builds a bit of ingenuity when you need to get your mini tractor-trailer around some tight corners and into tiny European elevators.
With taxis refusing to take our fare, I stapped our luggage to the back of the scooter and towed it to the hotel much to the locals' surprise
Based on this experience I decided that we could get the two 26" pieces of Costco Kirkland wheeled luggage from one hotel and up the hill to the other by towing it behind the scooter using one of my luggage straps. I figured we could stay on the side of the road and go slowly to keep everything in control. The wheels on the luggage are like inline skate wheels so it seemed plausible. In fact, I was sure it would work, especially after a little demo run in the parking lot including a test backing up case. It wasn't until we were about to pull onto the roadway and the passing motorists, one after another, looked at our luggage, our scooter and us and then immediately turned to each other with whatever "did you just see that?" translates to in their language.
I was about to break and reconsider… but the bottom line was that we had to get the luggage to the other hotel and I wasn't about to walk it all the way up to the other place so I gunned the scooter and away we went, luggage in tow. We started off with Jennifer's bag and her riding shotgun keeping an eye on things and it worked about as well as I could have hoped. No major dramas, no damage to anything (scooter, luggage or passengers), and it was bloody quick.
Frankly, I surprised myself.
I dropped Jennifer off with her bag just before the hotel and decided I could handle my bag on my own as to not waste too much time. I didn't want to abuse the generosity of the original hotel that had let us leave our bags all day there free of charge. I raced back with the strap in hand and latched up my bag to the scooter. I had a bit more riding on this transport because my IBM T41 laptop was inside. Any drastic situations might render the box dead a second time. In fact, I wasn't even sure about the vibration but I figured with everything off and the drives parked, it would probably be fine. It certainly couldn't be much worse than what it would go through if checked on a plane.
Many, many surprised and shocked looks later, both of us, our luggage, and the scooter arrived safely at our luxe hotel where we were promptly shown to our room and allowed to catch our breath.
And that's just Tuesday.