Authored By Brian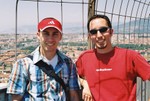 What can you really say about Florence? It is a center of art, history and culture and stands as one of the most beautiful and famous cities in the world. The fact that it sits squarely in Tuscany means it has amazing food to boot. Oh, and Michelangelo's statue of David stands in the Uffizi.
We arrived into Florence from Milan and the traffic immediately made my dad nervous. For me, it was a lot like going into turn 2 at Sears Point on the start of a race – yeah, it's busy, but just watch yourself and you'll come out OK. The Italians aren't bashful about creatively squeezing cars into lanes that don't exist. Our first order of business was to find a hotel and we secured a nice place just a couple of blocks from the Duomo for three nights. I stand alone among many of my family members and friends when I say that lodging quality is not high on my list. Sure, I like to stay in nice places, but when all I'm doing is sitting down my bag and sleeping for a few hours a night, I can rough it in some sketchy places. I remember staying just off Puerta del Sol in Madrid in a tiny little room for 60euros/night that had a questionable cleanliness factor but hey, I'm not there to love the hotel. For my dad, this didn't pass muster. Our hotel in Florence was sweet.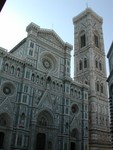 Just two blocks away was the Duomo of Florence dedicated to Santa Maria del Fiore and its adjacent Giotto belltower. One of our first activities was to wander around this monstrous church and then ascend the belltower's 414 steps to its highest level. There are four landings as you climb the tower that offer intermediate views of the city as you climb towards the top. The higher you go, the more excited you become as you start to see more and more of the skyline.
That evening we wandered for food and came to the piazza near the Uffizi. There was a big show going on with strobe lights and breakdancing and we stopped to watch for a few minutes. These guys were masters of the cardboard, which is a good thing, because breakdancing on cobblestone seems like a bad idea.
Note; when we got to Rome, I found out why
]
The next day was our plan for the Galleria dell'Accademia. First, there are some by-phone or Internet ways to acquire tickets ahead of time for museums and other attractions in Florence. They advertise skipping to the front of the line when you show up. We read this in Lonely Planet and to be honest, were a bit skeptical. Lo and behold, we will called our tickets for the Accademia and bypassed what looked to be a 2-hour queue. They literally unhooked the velvet rope and let us go straight in. That felt pretty good.

towers
above the people craning their necks. As amazing as the rest of the museum is, there is nothing that really holds a candle to the David. So I'll leave it at that.
The next morning we visited the Uffizi which had a pretty short line. At some point, I started to get museum-itis. I can only take in so many amazing things in a short period of time. The Uffizi is neat in that it's right along the banks of the river Arno. The Uffizi has these really long and beautiful hallways and at the end of the building you can see Ponte Vecchio just outside. Afterwards we walked across the bridge to find every jewelry store in the country with a small booth there hawking their goods. It seemed like a prime spot for pickpockets and the tourists were thick.
I'm writing this a bit after I've been so my details are a bit light. From Florence we were to head to Rome via Pisa and driving down the Mediterranean coast where we were going to meet up with my cousin Patrick.