Authored By Brian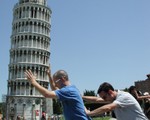 For the Florence to Rome leg of our tour, we decided to take the scenic route and forego the autobahn in favor of the coastal highway. This gave us a chance to drive through Pisa and see the famous leaning tower (there's no way to go there and not take a picture like the one to the left). The tower has been closed for several years to people climbing its steps for a view from the top but had reopened just a week before we arrived. This seemed like a stroke of luck until we learned that tickets were sold out for many hours. If we had any chance of making Rome that night, there would be no stair master action. In retrospect, I'm not sure it was a real loss as from the top, I'm not sure if there would be much to see (here is a view on VirtualTourist.com, I think we made the right call).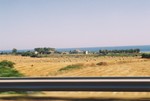 In fact, we definitely made the right call, because leaving mid-day gave us a chance to see the mediterranean coast for the first time as we rolled along the highway passing beach towns and quaint villages. The Italian mediterranean is an incredibly popular vacation spot not just for Italians but all Europeans. We passed beach areas where there were literally thousands of scooters and cars parked in every which direction and on top of each other in pursuit of some rays.
Unfortunately our timing also meant we would arrive in Rome at precisely the same time as many beach-goers and a multi-car accident that was blocking the highway.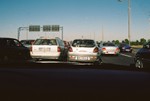 Although driving in Florence scared my dad, my experience on a racetrack made it seem pretty easy. Rome would be a different beast. If a piece of pavement could see the sky, a car would soon cover it. Lanes mean nothing – space is everything. If there is room, it's a lane. This is true at 90km/hr as well as in stop and go traffic. I find this brilliant… use common sense and good driving skills to get everyone where they're going as quickly as possible.
Once in Rome proper, it was more like a racetrack than a highway and it was fun. We made it to our hotel without a problem and called it a night after a quick meal.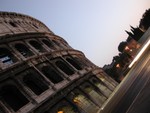 There is really no way to prepare for it. The first time you glimpse the Colosseum, it simply fills your entire vision. It's like the new generation of baseball stadiums that are built right in the middle of urban areas – SBC Park in San Francisco or Coors Field in Denver or Fenway in Boston. These spaces simply dominate their surroundings but at the same time surprise you. We were looking to return our rental car to the main train terminal and needed to fill up first. While driving around looking for a gas station, we rounded a corner and saw the Colosseum for the first time. We've seen it in pictures and books a thousand times but the sheer size of something built so long ago is a marvel of engineering and technology.