Authored By Brian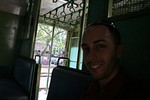 Adding time to Thailand meant taking away time in India so my plan is to move fast and just see the highlights – the kind of travel I normally shun but duty calls. I had ambitious plans for day 2 in Mumbai but I had to stay up late to call E-trade on the east coast. Long story short, they froze my funds because I logged in from SE Asian internet cafes and shipped me a security keyfob that I have to carry with me to sign in. Unfortunately I am broke and overdrawn because they keep canceling my transfers. I think we solved the issue last night but I didn't get to bed until after midnight.
Waking up late meant I missed the fish market so I reversed my itinerary and hiked back to Churchgate to grab a local train to Malahxami Dhobi Ghat. I opted for a first class ticket which cost $1 and was relatively easy to obtain.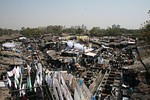 The Dhobi Ghat is a giant outdoor clothes washing operation. Some 5000kg (12,250lbs) of dirty clothes are washed here every day. By hand.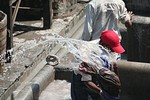 I didn't get any closer than these pictures but I can tell you it looks like a hell of a lot of backbreaking effort. And maybe not as nice for your clothes as the "gentle" cycle with fabric softener. The only plus is they work in water which would be nice in the heat (its about 90-95 with a touch of humidity). The best viewpoint (according to CotLP) is from the bridge over the train tracks. There was one other guy snapping a photo when I walked up and when I turned around 10 mins later there was a group of 15 people and beggars making their pleas. In accordance with our policy, I shrugged them off (like the kids that hit you up as you leave the ticket window in the train station) but I felt a little ashamed as I tucked Jennifer's Canon SLR with new 300mm lens back into my bag.
Back to the train station, I wanted to go two stations backwards to see Mani Bhavan, where Ghandi lived when in Bombay. I was going to go first class again because I knew I would have tons of room like on my first ride but the teller didn't think I knew what I was doing and called over another teller who innocently guilted me into taking a second class ticket. I figured for 10 minutes I could deal with it and it only took a moderate amount of shoving and foot stomping to get into the crowded car before the train started moving again. This ticket cost 4 rupees. That's about 8 cents. Would you ride public transportation more often if it was a dime?
Finding Mani Bhavan with my photocopied Lonely Planet turned out to be quite a task and after 30 minutes of walking I got a taxi. This guy drove around for about 10 minutes until he pulled over and asked me where to go again. We eventually wound up driving within just a couple of minutes of where we started!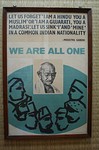 The 3-story house has been converted into a nice museum with many pictures and stories from Ghandi's life as well as letters he wrote to Hitler, Roosevelt and Tolstoy. They also preserved his sleeping quarters as they were when he was assasinated.
Something I didn't know (bad for sleeping in world history…) was that Ghandi initiated and drove the movement to end British rule in the late 40s called "Quit India". His non-violent civil disobedient activities transformed India.
Another second class train experience (complete with standard stares and lack of personal space) and I was back in Colaba.
I caught a tuk tuk (which, here, is an auto rickshaw) to the train station for my overnight sleeper to Delhi. Despite a small fender bender I arrived well ahead of time and chilled out with my first vendor food of some vegetable samosas with spicy red sauce before leaving. I have been hesitant to dip into street food here for fear of starting the diarrhea but I am writing this several hours later and so far, so good.
The train was perfect: relaxing, uneventful and I met some nice people (two Brits Tony and Tara and an Indian guy who worked for the railways and spoke great English). I wish trains were either faster or cheaper back home because I really enjoy them.