Authored By Brian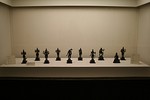 The rest of my first day in India included some walking about (including a second trip to the train station to finish my rail tickets where two guys tried for 15 minutes to convince me with stories of hardship that I should buy them shoe shine boxes).
In the Fort area, the former Prince of Wales museum resides in an interesting domed building. Former because, in-line with changing British names back to their Indian predecessors (Mumbai instead of Bombay, etc), now it has a 37-syllable Indian name. The free audio guide was narrated very well and highlighted a number of pieces I would have otherwise skipped over. An ivory jewelry box may be the highlight of the building. Thin sheets of ivory were intricately carved creating a see-through container that almost looked translucent. Each face had a unique geometric design.
There was an incongruous section of large format European paintings and a very cool collection of Hindu sculptures of Shiva, Vishnu and Ganesh. I will admit I do not have the best memory but when each god can have 10-15 different incarnations and names, it makes it really hard to keep track. Further confusing the matter is that Hindus consider Buddha as one of their gods but Buddhists reject this. Having typed that, I suppose that's a lot like Jesus and the Jews.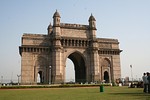 Afterwards I walked to the Gateway of India and sat in the small park in front of the gate. This truly giant arch was supposed to be a symbol of British power but only a few years after its completion the British left India in a ceremony through this gate when India gained its independence.
While sitting in the park, a large group of children gathered to have a snack, sitting in two long lines. I was making some notes in my book when a big group of kids came over and formed a semi circle around me. I looked up and smiled as they were smiling at me and went back to the long division I was trying to solve (how much I had spent on train tickets so I could keep accurate tabs in Jennifer's notebook). These kids just continued crowding around until I couldn't help but look up again and try to talk to them. Unfortunately none of them spoke English but we did a little pantomiming which made them laugh and they eventually ran away.
As the rest of the kids left, a couple of them asked me my name and then started repeating it in all kinds of funny ways. I have come to really appreciate kids as we have traveled because of their genuine curiosity and friendliness (even when trying to hawk you a postcard or a photocopied book).
I finished off by visiting the Taj Mahal Tower and Palace hotel and then getting lost on my way back to my hotel in a maze of side alleys and a hidden bazaar. As I wandered past the cooped chickens and free roaming goats, there were countless stands of colorful fruits and vegetables and my favorite sight: no whiteys. Although I was just a few meters from the Tommy Hilfiger and Adidas stores on the Colaba Causeway, a left instead of a right made a big difference.
I skipped lunch in all this frivolity so I returned to Leopold's where I had breakfast and scored a delicious chicken tikka masala and some crazy tasty garlic-cheese naan. Delicious!! The upstairs area was air-conditioned and was playing songs that were straight from my Ipod it seemed. A cold beer was a fine end to my first day in India.
Last night I switched from the double with TV that I had (full of Indian only channels I can't understand) for a single. Since all rooms here have shared bathrooms, this room is about the same size as the cells at Alcatraz. Not much room for dancing but clean and ok for sleeping with a powerful fan to keep me cool.