Authored By Brian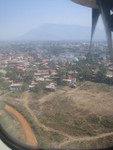 We are on an 18-hour overnight train from Bangkok to Hat Yai in the south of Thailand so I am catching up on Laos.
We flew from Angkor and Siem Reap to Pakse in southern Laos. This guaranteed us a visa on arrival. The dual turbo prop Lao Airlines plane was on time and comfortable and they served us a light meal on a one hour flight which was sweet.
Pakse was nothing special and after initially checking into a hotel, we renegotiated and bought overnight bus tickets to Vientiane. This was our original plan because it was significantly cheaper than flying to Vientiane but we didn't think we would be skipping town quite so fast.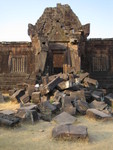 Instead we decided to check out an Angkorian outpost 30km south called Wat Phu (say it "Poo"). The hotel wanted to charge us $60 something USD which was crazy considering our bus tickets to go 600+ km were only $14 each! Instead we rented a scooter from Nazim's Indian restaurant and rode off independent style for $7.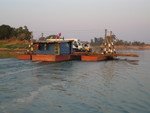 Turns out Wat Phu is more like 50km and a short river ferry ride away and it was hot outside. Aside from not wearing a helmet, I was having fun. The heat was mitigated by the breeze at about 40-50km/hr. We rode thru some very rural areas before exploring the unreconstructed ruins in the dwindling sunlight.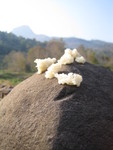 People make pilgrimages to this temple as Buddhists. They leave little offerings of sticky rice everywhere around the temple including on the phallus statues that line the original entry road.
The sun was disappearing so we hightailed it back to Pakse and ate some Indian food while our waiter told us some acronyms including "CHAMPS" he had learned working at Pizza Hut in India for guaranteeing customer satisfaction and how SE Asian businesses didn't get it.
Finally we boarded our VIP bus around 8pm. This was like business class plane tickets with face cleansing towellettes, cold water, movies and food service all included. The seats reclined waaay back and included leg support. Before we knew it we were waking up somewhere outside of Vientiane about 9 hours later. I did manage a glimpse of how these buses complete make the long journey so much faster than everyone else: they caravan in large groups at night and completely ignore all speed limits. I noticed us entering a 30km/hr town at one point while we steadily cruised 60+km/hr.
We waited at the bus station until about 7am and then caught a songthaew (tuk-tuk) with a couple of monks. Jennifer had tried to give them a loaf of bread but they wouldn't take it directly from her (according to their customs, which we were a little groggy to recall). The tuk-tuk driver acted as the intermediary and placed it on their lap where they could then pick it up. They silently consumed it on our ride into town eating it from the inside out.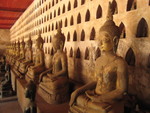 Vientiane is on the Mekong River and is the capital. It has a couple of important Wats but when you have seen a few Wats, it starts to feel like you have seen them all. There is one, however, that is interesting as the inside walls are lined with little cubbyholes that are loaded with Buddha images. Big and small, broken and fancy; there are something like 10,000 total Buddha statues in the temple.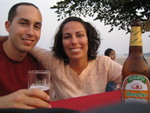 We had a good couple of street meals including some BBQ pork and a Beer Lao at sunset by the river and ate at a Scandinavian bakery place before splitting the next day.
Our original plan was to do a bus and kayak trip to Vang Vieng but Jennifer was feeling sick so we postponed and grabbed a regular bus for the 4-hour, 125km journey into the mountains. Yes, average speed of around 20mph.
Check out more pictures here and leave us a comment below!