Authored By Brian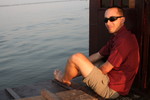 This morning I was standing on the banks of the Mekong River in Vietnam, looking at the rising morning sun and listening to chanted Buddhist hymns. It wasn't a show; just a local working towards enlightenment. The red sun was initially covered by clouds but had broken free and felt warm on my face. I regretted packing the sunblock in my large bag stored away on a boat somewhere.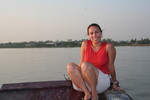 Jennifer and I had just been rowed up the river by a friendly old lady who shared an apple with us as our small group made a few stops on the second day of our delta tour. We were headed to Cambodia via the Mekong river and the tour company planned a few stops for us. It's a kickback game as far as I can tell as everyone is ready and prepped to sell you everything when you land. The boat rowers are keen enough to get your $1 or $2 tip before the tour guide mentions that they pay them about $0.50 per boatload for a couple hours of rowing. This is pretty typical… but I remind myself that it means far more to them than it does to me and I don't feel bad about it.
A couple hours of boat later and we're plying much the same route as Sheen in Apocalypse Now, headed up the river in search of Colonel Kurtz in Cambodia. The Mekong varies in width and as we head further upstream, the number of houses and boats along the banks decreases and the amount of farmland directly bordering the water grows. The noise of the boat is a constant drone and lets me focus on the book I'm reading, "First They Killed My Father", a story about a 5-year old girl who grew up during the Pol Pot regime during the 70s. Reading a book like that certainly puts things in perspective like a slightly uncomfortable seat or a somewhat obnoxious French person sitting nearby or the chain-smoking Australian we're sharing the boat with. If that's what you can term, "perspective".
The boat slowed several times without warning on our journey and I was curious how we would know when you entered Cambodia and left Vietnam. When we finally did slow for the border, the only hint was a handful of colored flags on the West bank of the river. As we pulled close, it was a scene out of the Pirates of the Caribbean as five or six 10-year olds leapt from a docked boat and boarded our ship like a band of wild chimpanzees all shouting in Cambodian. They were there to act as porters and carry luggage up the hill to the immigration checkpoint but both Jennifer and I held tight to our bags. At the top, these little entrepreneurs were extorting $2USD for the 100-meter haul. Even the Frenchies gave in after they started crying and yelling "madame! madame!!!" and motioning as though they hurt their shoulder carrying their heavy bags.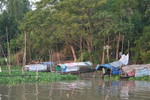 Immigration was pretty easy as our tour company had taken our money and passports ahead of us and pre-processed the majority of the paperwork. The problem is that governments are now issuing full-page visas for your passport instead of using a stamp that takes up just 1/4 of a page. In an American passport with approximately 16 pages of visa-holding space, that's not much room. Jennifer's passport didn't have a completely free page available for the visa so our tour guide came back and relayed that the border guard said it would be an extra $10 for the visa. It was already in her passport; this was just a scam. Not much to do about this since the alternative was to head back to Saigon and get a new passport from the US Embassy with free pages. Yeah, right. And so the guard got his $10. Our tour guide lamented that this was bad for tourists but for all we know, she's in on it sharing $5. Still, you can't be too cynical. It's just that bastard back in Hanoi who scammed us on the train tickets that makes you mistrust everyone else.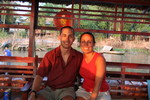 The beauty of Vietnam is the friendliness of the people. In the book "Making Friends and Influencing People", Dale Carnegie talks about the simple power of a smile. Particularly, in a place where you can't speak the language beyond Hello and Thank You, a smile is worth a thousand words. A friendly smile to a gazing (or even gawking) stranger has resulted in countless grins or waves back, especially with the children who feel nothing towards us as falang (foreigners). It feels a bit like being an ambassador.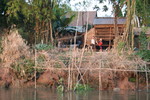 That's one thing that was so great about our trip upstream versus grabbing a bus from Saigon to Phnom Penh: the children along the river. They would run out to the banks as soon as they saw our boat yelling "Hellooooooo!!!" and waving and jumping up and down. All they wanted back was a return wave and they went nuts with excitement. This lasted from the time we hit the Mekong near Chau Doc well up into Cambodia until the river widened and we were far from the shore.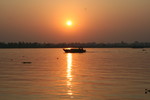 When we finally arrived into our final dock for the day, we transferred to an air-conditioned bus and spent another 90 minutes heading towards Phnom Penh. To our left was a fierce red sunset. It looked just like the morning sunrise but inside the bus with the A/C on max, I didn't feel the warmth this time. Same same but different as they say here (and print on t-shirts). It was only a short nap before getting dumped at the King guest house. Our tour guide in Saigon told us the bus would take us wherever we wanted and just like Ford letting you have your Model T in any color so long as it was black, we could go to any guest house so long as it was King guest house.
Since we had already arranged for a place down near the river two days prior, we grabbed a motorcycle tuk-tuk (like a chariot attached to a motorcycle) and wheeled over to Cafe California 2. An American we met in Hoi An had recommended it as the guest house of his friend (also an American). He told us they have Huevos Rancheros for breakfast and we were sold.
So that's where we're at. We're going to check out the genocide museum and the killing fields tomorrow and then most likely grab a speedboat up to Siem Reap. That's the base for exploring Angkor Wat and the surrounding temples where we'll probably spend 3 days or so before heading into Laos and then turning south again through Thailand.