Authored By Brian
We arrived in Ho Chi Minh City (Saigon) today on a Pacific Airways flight from Danang. When confronted with a choice between a 17-hour $39 train ride and a 57-minute $55 plane flight, we plunked down our credit card about as fast as we could.
In our last update, I noted that while I was enjoying the culture and found Vietnam interesting, Jennifer was having less fun. In a gross underestimation, the reality is that Jennifer hated Vietnam. She'll write a bit to fill in her feelings on the matter but we're trying to find a balance of comfort and sights and travel itineraries that will meet our respective standards and prove interesting without just skipping off to Bali and saying sayonara to our budget.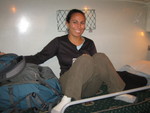 Three days ago we took an overnight train from Hanoi for our first stop in central Vietnam of Hue. We had a four-person berth in an air-conditioned sleeper car and shared it with two French people. Our conductor had the quote of the week when he asked if the Frenchies were Americans. When told no, he continued that he was pretty good at figuring out which English accent belonged to whom and that the guy sounded like an American. I guess when the French formerly colonized and exploited your country you might take the odd opportunity to kick a brother in the junk and we secretly laughed about it.
We also met Matt from Kentucky and his girlfriend Maria from London before we all turned in to try and catch some sleep. Waking up every hour on the hour, scared we were going to miss our stop, the night went by slowly. And when the train did stop around our expected arrival time of 7:30, nobody got off. About an hour later and still going, we began to get nervous that we had missed our stop but sure enough, the next station was Hue and the conductors herded us off the cars like cats. It was definitely warmer in Hue but still grey which we scored as a 1-1 draw.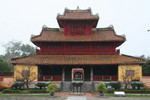 Hue is the ancient capital of Vietnam but today there's not a ton to see so we covered most of it by motorbike. With less traffic, I convinced Jennifer that it was "safe" and for $2 the price was right. First stop was the ancient citadel and Purple Forbidden City.
It was modeled after Beijing, China and features a series of walls and moats to isolate the royalty from the peasants and provide protection against nasty outsiders. There has been a nice mix of restoration and conservation that gives you some idea as to what the site would look like post-bombing by the Americans as well as what it once looked like in its heyday.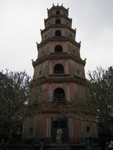 Ever seen the cover of the Rage Against the Machine CD with the monk burning himself to death on it? That monk, Thich Quang Duc, came from the Thien Mu pagoda in Hue. We visited the octagon-shaped structure and the front part of the site.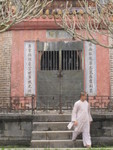 There was a lot of construction going on inside the walls so we didn't poke around too much. The car that drove Duc to Saigon to immolate himself is still there somewhere and revered as a sacred relic. There were some young teenagers in the pagoda lightning incense and praying with a monk while we were visiting.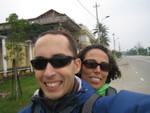 Before our last stop at Dong Ba market, our scooter ran out of gas on the street. I thought we were going to have to push it but it turns out there are guys selling petrol up and down the sidewalk. It's more or less stored in 2-liter plastic bottles for $1/liter (that's a 50% markup over the real price of about 66c/liter) and within just a minute or two we were back on our way to the market. This market was crazy… row after row after row of vendors selling the exact same stuff. I mean… carbon copies of each other. They even have the same sales pitch, "YOU! YOU!! YOU!!!" as they try to get you to tour their junk.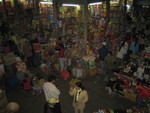 We noticed when in Halong Bay that every woman rowing a boat with candies and snack had the same setup. And I mean the same identical setup in the way that ad agencies wish they could execute for their big customers. These stores are similar. It's no different than back home; at the flea market at the Honolulu stadium, each concentric ring of vendors is just a copy cat of the one inside or outside of it. They are, however, a bit more suave with their sales pitch.

We ate a couple of meals with Matt and Maria as well as with a German couple Katchya and Yenz and decided collectively to split Hue and head to Hoi An. Hoi An is a world heritage site (the entire town) and has well preserved architecture as well as a laid back feel. It's also a top place to have clothes tailored for you and their silk is famous.
We hopped a $3 open bus for the 4-hour, 150km ride (calculate that out, 150km = 94miles / 4 hours = average speed of 24mph). After suffering through the same DVD of bad 80s music videos twice, salvation was delivered to us at the Hoi An bus station when we deboarded at the first hotel in town. It had really nice, clean double rooms with A/C, satellite TV, free internet and free breakfast for $15/night. Done deal.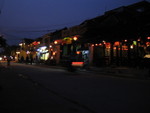 After Hue, everyone's spirits were lifted by the small town charm and fun streets of Hoi An. We joined Matt and Maria for some cruising of the lantern-lit streets near the river and some food.
The big thing in Hoi An is having clothes made for you and whether we wanted them or not, we found ourselves in the central market being prodded for measurements and material selection. It was an uphill battle that I eventually loss and I decided (or "relented", depending on how you look at it) to get a suit made. I've got a couple of nice dark suits but I could use a lighter suit for summers; particularly for attending weddings since my nonexistent day job doesn't require formal garb. It's a nice material and they did jacket and pants in a gray with light blue lining for $45 USD. I was pretty bent on not spending that much money but I figured that if I wore it even a couple of times before it fell apart that I would have gotten my money out of it. Plus, it's a fun conversation piece.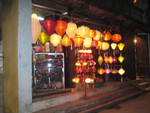 We also bought six silk lanterns in orange and purple to light some future deck we hope to own (or rent if it's San Francisco… sigh). Everyone thought six was crazy but we have a plan in mind. The first lantern shop we stopped at wanted $10 for the large size, the second wanted $6, the third $4 and by the time we actually bought them, we paid somewhere around $2.90/ea for handmade bamboo and silk lanterns. It pays to ask more than one vendor!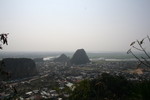 Try as they might, they couldn't convince Jennifer to have anything made. Maria on the other hand told us she had a closet-full of clothing with her name on it. I was really surprised at Jennifer's restraint… I have to say, I was a bit suspicious.

It took a day to make the suit so we had a morning to kill. We rented another motorbike and headed about 20km to the Marble Mountains. I would love to know how these things are formed… they're 5 marble/limestone outcroppings opposite the famous US military R&R spot China Beach that sit between 1 and 3km from the ocean. They look like a skyscraper in how they come up out of the surrounding ground. There is no slope; they are just cliffs rising out of the pancake-flat sandy area around it with no explanation.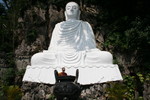 On the biggest, you can climb to the top to visit a series of caves that have Buddha statues and shrines in them as well as an operational pagoda. The pagoda is tall enough that it has a red light on the top of it to warn planes at night.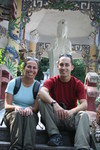 We were harassed by this crazy old woman whose mouth was blood red with chew into buying a pack of incense for the giant white Buddha. To our surprise, she led us around the rest of the complex and shows us various caves and shrines and lit our incense for us and told us how to pay our respects and where to place them. It was quite cool… she spoke next to zero English but we're pretty sure she told us the full background in Vietnamese. Sweet!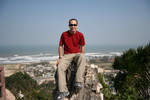 From there we hiked "From Heaven to Hell"; first scurrying through a looks-like-a-dead-end passageway to the outside and onto the top of the mountain for a 360" view of the surrounding area. Looking out onto China Beach, it was easy to imagine GIs catching some surf on the waves. Then we slid down the outside to descend into Noa Nghiem cave and go deep underground.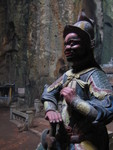 This was the highlight of our hike. It's a massive underground cavern with several shrines and statues and a "skylight" courtesy of US bombing during the Vietnam War. The cave was once used as a Vietcong hospital and caught the ire of some jet fighters before being returned to its religious use like today.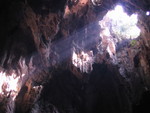 When we first walked in, we were the only two people in there besides a woman praying. We decided it was time to go when a Japanese tour group showed up 10 minutes later. A cold Pepsi for 66 cents on the way down the mountain, some haggling at the marble shop where we parked our scooter and we were back on the road to Hoi An to pick up my suit.
By the way, if you ever need a 2 meter tall pair of matching marble lions for your driveway or foyer or something, let me know. We must have seen 40 or 50 of those things in addition to the various Buddhist, Christian and other random crap carved in marble. From the top of the mountain, all we could see were marble shops and all we could hear were chainsaws carving marble.
Back in Hoi An, we hit the market to try on my suit. The pants were cut a bit "European" so they went back and gave me a little more room around the crotch. The jacket came out nice and the light blue lining we picked looks really nice against the grey of the wool. We'll see what happens after I wear it once or twice but it's going to be a nice addition to my wardrobe and for just $45! I can hear Jerry Tam vomiting as I write that.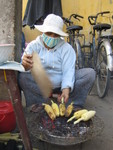 We also had some smoking street vendor food including a spicy sauce covered grilled corn and Vietnamese sandwiches made of lettuce, some type of pate and a spicy chili sauce. The street food is the best; I think the corn cost us about 60 cents for two pieces and it easily rivals my all-time favorite corn from Café Havana in New York City.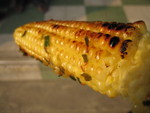 Plus, we get to see the lady go through the process of roasting it on a street-side grill complete with cardboard fan. Back in SF, my business partner Rob introduced me to a little Vietnamese sandwich place near City Hall that we would roll to occasionally for a $2.25 lunch. The sandwiches here are pretty much the same but they cost 50 cents and they're a whole lot spicier. Mmmm… Food!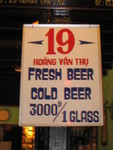 That brings us up to today… we woke up, did some Internet, ate some breakfast, caught the taxi and flew out. Jennifer enjoyed Hoi An much better and I gave in to the airplane flight so things are better than they were. It was good fun to meet up with Matt and Maria as well and share some stories and beers (by the way, the fresh beer goes for 3000d which is roughly 20c/glass).
We're just barely into Ho Chi Minh City now and it's so much different. In just the 10 minute ride to the hotel, you can see the much stronger Western influence as well as the general wealth of the people here. There is much more English (like on signs and so forth and so forth) and the people dress a notch up. In most of Vietnam, people are wearing western clothes either manufactured here or duplicated here or smuggled here but it's not in a particularly style-conscious way. In HCMC, there is definitely a flourishing middle class of up-and-comers who are wearing their BeBe and Seven jeans and riding their fancy scooters. Of course, two of those three are probably fake but the looks count here.
We also mailed our goodies home today. It was a somewhat daunting process of paperwork and extensive duct-taping but we shipped just over 5kg for $35 via sea. That's been the cheapest yet to send back home.
Tomorrow we're checking out the War Remnants Museum (previously called the "American Atrocities Museum") and a couple of other local sites. The day after we're going to try and hook up with Matt and Maria for a tour of the Cu Chi tunnels and a wacky Cao Dai temple before we head off into the Mekong Delta to head to Phnom Penh in Cambodia. Our plan is to cross the border by boat, following a similar route to the movie Apocalypse Now, if we can get our paperwork in order and then head up to Siem Reap to see Angkor.