Authored By Jennifer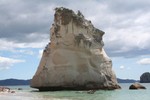 First, we apologize for slacking on the blog entries. We've been pretty busy here in Australia and are just now making the time to catch up. A few quick notes on some other sites we visited in New Zealand. Just before we left we headed to the Coromandel Peninsula for some beach time. We went to Cathedral Cove and did some hiking and then went to Hot Water Beach. Two hours before and after low tide, you can dig yourself a spa at Hot Water Beach.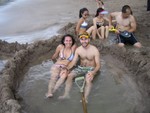 Just below the beach are thermal springs and as you dig in the sand, the hole fills with hot water. Sometimes it's boiling hot water, so you have to be careful where you dig. And digging a hole wide enough and deep enough is actually pretty hard work. I have to admit that Brian did most of the muscle work. But he did a great job and we enjoyed our spa for quite a long time until the tide came in.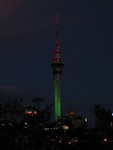 We spent Christmas in Auckland, NZ looking at Christmas lights, attending Midnight Mass where the choir sang in Maori, Tongan, Samoan and English, talking to our families, and enjoying our Herzog Montepulciano wine and Makana chocolates.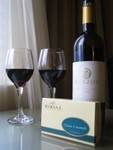 Delicious! The next day (Boxing Day, so named because in Britain people would stay in with their families on Christmas and on the day after Christmas deliver their boxes of presents to everyone else) we flew to Brisbane, Australia and caught a bus up to Fraser Island.
While my friend Petra was still at Andersen, she spent three months in Brisbane on an exchange program, and one of the trips she still raves about is her trip to Fraser Island. After talking to Petra and reading about it, a tour of the world's largest sand island was on my must-do list. Although Fraser is completely made of sand, it contains rain forests, gorges, streams and over 200 freshwater lakes, and it's on the World Heritage List. We booked a tour with Trailblazer Tours and headed out for a three-day adventure.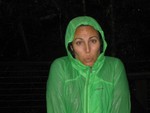 First a flashback to set up the rest of the story… Remember how it rained almost everyday while we were in NZ? When we arrived in Brisbane, it was POURING. During our bus ride up to Fraser, it was POURING. On the day we left for our Fraser tour, it was POURING. I think you get the idea. But unlike NZ, it was pouring and cold, which was a welcome change.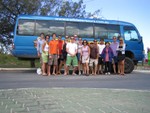 We traveled in a 4WD mini van that sat 14. Along for the ride was a family from Sweden, some singles from the UK, Germany, Brazil and Montana and a Swedish couple that would become our good friends, Martin and Kajsa. Rounding out our international crowd was a 76 year old Japanese woman who has been retired for 20 years and has spent most of that time traveling alone. She lives in Hawaii but spends 7 months out of the year living in hostels and seeing the world. She was amazing. We did a 1K walk through a rain forest and she said, "One K, that's it?" And she had a little crush on Brian, which was cute.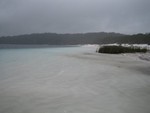 There are some sand roads throughout Fraser, but most people just drive on the beach when the tides are out. The first day of our trip we drove up to our campsite, some pretty nice cabins, and then took in a couple of sites. It was cool, but not that cool because remember it's still raining. We went to what would have been an absolutely gorgeous lake, but the rain definitely put a damper on it. A few of us went in the water anyway, and it was actually quite warm. Otherwise, not too much happening on Day 1.
The next morning, more rain. We went touring around anyway, and saw a cool wreck that was washed up on shore. We headed out to a point to see some marine life, but the water was too choppy from the storm. We also walked through a fresh water creek, which was a lot less fun since it was raining on us.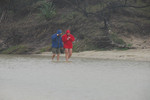 Finally, we stopped for lunch under a shelter in a small town, and then our guide decided we would just hang out at the bar for a couple of hours until the tide went out. Not very exciting. We could have taken the roads in the middle of the island, but he didn't want to for some reason. He was kinda weird.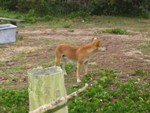 Once the tide went out we drove back down the beach and headed to camp. Since there wasn't much else to do, we drank and played card games, and actually had a really good time. Oh, and we saw some dingoes. They're pretty small, but three of them cornered Kajsa and scared the shit out of her.
Finally on the third day the sun came out! Our guide took us to a trailhead, and then made us walk across hot sand for 45 minutes to get to a lake. At times I felt like we were in the desert. Probably because it was hot and there was sand everywhere. But the lake was pretty and it was nice to finally do something. After we swam for a couple hours we had to walk back to where our guide would pick us up and then we were headed home.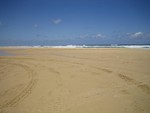 I didn't get as much out of Fraser Island as Petra did, but I still had a good time. It was the first time that Brian and I actually met and hung out with other people. It was nice to spent time with people other than each other after being holed up together in a campervan for 5 weeks.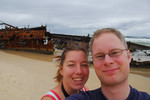 And we really connected with Martin and Kajsa. Like us, they were headed north to Cairns and we made arrangements to meet at a bar there at a certain date so we could hang out again. Our first mates!