Authored By Jennifer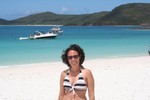 On NYE I turned 31. I didn't think it was so bad until I was filling out a form and had to check the 31-40 box. Ugh!
After a 12 hour bus ride north, the rain finally stopped and we were ready to hit the beach! We arrived in Airlie Beach and the Whitsunday Islands just off the coast. Contrary to its name however, there's no beach in Airlie Beach, only a man-made lagoon.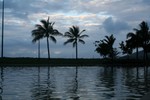 The lagoon is actually pretty nice and you don't have to worry about the stingers. During the summer in Queensland, Australia (the state we spent most of our time in), jelly fish infest the ocean water. So you can't actually go in the water at the beach or you risk getting stung. You can rent a lycra-stinger suit that protects you from the jellyfish, but it just takes away from the whole experience.
There are over 90 islands included in the Whitsunday Islands, and they epitomize the idea of an island paradise. The islands are lush and green and surround by clear, turquoise water. Plus some of the beaches are beautiful white sand beaches. You can understand why I wanted to spend my birthday here.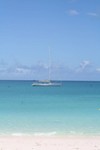 On NYE we took a sailing trip on the Maxi Ragamuffin. It's an 80 foot sailboat that has won several impressive regattas in Australia. We took a 3-hour sail out to Whitehaven Beach, a picture perfect white sand beach. We enjoyed lunch at the beach and some time in the water (with our stinger suits of course) and then sailed back to Airlie Beach. We didn't actually sail though. The sails were up, and I even helped raise them, but we motored the whole time.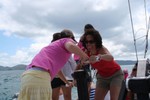 Not enough wind and something about being late.
Back on shore, I enjoyed some sushi (my fave) at one of those sushi boat places. Brian hates sushi, and they didn't really have chicken teriyaki. But they did have breaded chicken in a sushi roll. (Clearly not a very good sushi place). Brian went a little hungry, but I had a good time. And after dinner we had a few drinks and then sat on the beach to watch the fireworks. But we didn't get to see the fireworks because our ride came to pick us up before they started.
We didn't actually stay in Airlie Beach because it was completely booked up unless you wanted to spend heaps of money, which we didn't. I found a guy on Lonely Planet's Thorntree Forum, Bob, who helped us find accommodations. The only thing left was in Proserpine, a town 30K outside of Airlie Beach. Since our hotel was really far from where most, I mean all, of the action, Bob taxied us back and forth. It was very generous of him and we were very surprised he offered to do this for us. But it meant we were stuck in Proserpine on New Years Day because we didn't want to bother Bob. That day we were starving, and there was nothing open in Proserpine. We wandered around for a good hour in the bloody heat and humidity looking for food, and the only thing open was a Chinese restaurant. It was actually really, really good food, but we would have eaten anything at that point. We decided we were ready to head out after that and booked another long bus ride to Townsville and Magnetic Island.
A very funny thing happened that I have to share. On NYE we went to a bar and I ordered a margarita on the rocks. The guy said, we can't make that, go across the street to the other bar. I couldn't figure out why he couldn't make it, he had a fully-stocked bar, but we went across the street anyway. At that bar, I asked again for a margarita on the rocks. Right before she starts to make it, the bartender says, "You mean you want that blended?"
"No, on the rocks please"
"You mean, you don't want that blended? Just over ice?"
"Yes, just over ice."
"Ok, so I'm just going to make the margarita and put it in a glass with some ice."
"Yep, salt too please."
"Uh, okay"
Are you kidding me? Is Australia really that far removed from Mexico that they don't know how to make a proper margarita?